LeBron James Retiring? Ain't Happening Soon! Not With Son Bronny's Bouncing Back!
Bronny's Eligible for 2024 Draft!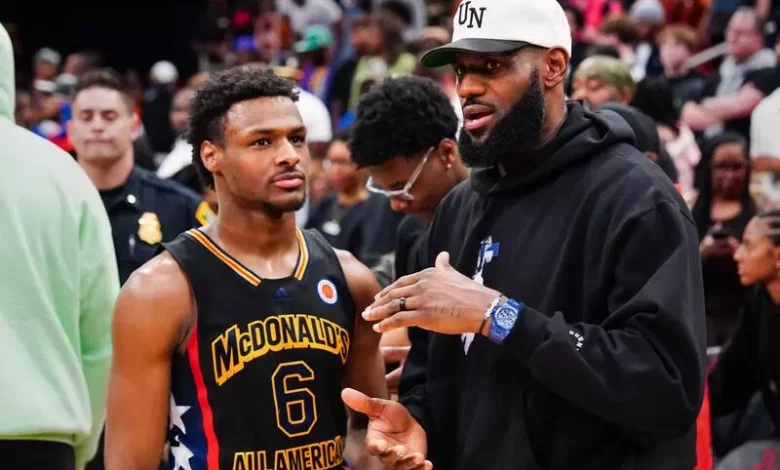 At Los Angeles Lakers' Monday media day, basketball legend LeBron James had some great news to share about his son, Bronny James.
The USC freshman had a tough time, suffering a cardiac arrest in late July. But here's the kicker: according to his dad, he's making a strong comeback and aiming to hit the court for the Trojans this winter in a slam dunk recovery!
LeBron's Hoops Future
But that's not all. LeBron James, the future Hall of Famer himself, also opened up about his own playing future. He's still got some game left in him, and he's not ready to hang up his sneakers just yet. He admitted he wasn't sure if the 2023-24 season would be his final dance in the NBA, but LeBron James retiring is out of the picture.
LeBron's been talking about this for ages, practically forever. He's been saying for months, and maybe even years, that he's sticking around the NBA long enough to share the hardwood with his 18-year-old son. Bronny is set to be eligible for the draft in 2024, and LeBron's determined to make that dream come true.
LeBron's Memorable Game 4 Showdown
LeBron James may be pushing 40, but he's still got the moves! Remember when he raised eyebrows by hinting at a possible LeBron James retiring after the Lakers' tough loss to the Denver Nuggets in the Western Conference Finals?
In that memorable NBA Game 4 showdown against the eventual-champion Nuggets, LeBron was an absolute powerhouse, dropping a whopping 40 points (31 in the first half) and dishing out nine assists while securing 10 rebounds. He was on fire, shooting an impressive 15-for-25 from the field (including 4-for-7 from beyond the arc). The man played nearly the entire game, and only a last-minute block by Denver Nuggets forward Aaron Gordon kept him from sending it to overtime.
Well, those retirement rumors fizzled out like a damp firecracker. LeBron's back and ready for his 21st season, 'cause even in a series loss, he proved he's still one of the best in the game, averaging 27.8 points, 10 assists, and 9.5 rebounds per game. LeBron James stats are one thing, but age is just a number when you're him.
Come back every day for more: NBA odds, NBA scores, NBA it all! Only at Point Spreads!!
---
Want more articles like this? Check these out: