Biggest 2023 Fantasy Football Sleeper as of Now
Who Will It Be?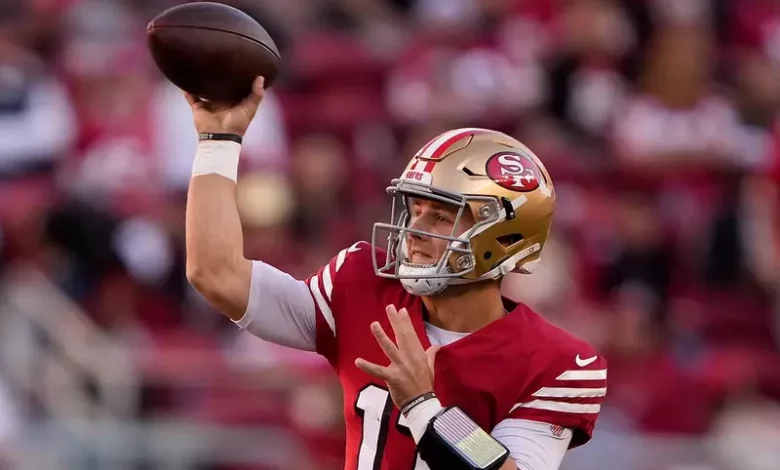 In the world of Fantasy Football news, it's good to always keep in the loop on who are the under-the-radar players who can make or break your season.
As we nosedive into the 2023 NFL season, some unexpected stars are emerging as the potential biggest 2023 Fantasy Football sleeper or sleepers that we have to keep in mind.
Check out the top contenders for the title of the biggest 2023 Fantasy Football sleeper:
1. Brock Purdy – The Rising Quarterback
When it comes to quarterbacks, everyone knows the big names, but keep an eye on San Francisco 49ers' signal-caller Brock Purdy. He's currently started in only 60-70% of fantasy leagues, ranked as QB15, but he's proving himself on the field. In Week 2, he threw for 426 yards, two touchdowns, and even rushed for another score, surprising many. Those Fantasy Football odds are really reeling!
2. Puka Nacua – Rookie Sensation
Rookie wide receiver Puka Nacua from the 2023 NFL Draft is making waves. He set a rookie record with 15 receptions in a single game, totaling 25 catches in just two weeks. While he hasn't found the end zone yet, his fantasy stock is soaring.
3. Jake Ferguson – Tight End Gem
Dallas Cowboys' tight end Jake Ferguson might be under the radar, but he's making his mark. Owned in only 38% of fantasy leagues, he caught five passes for 22 yards and a touchdown in Week 2. With a favorable matchup against the Arizona Cardinals in Week 3, he's a sleeper worth considering.
4. Gus Edwards – The Running Back Surprise
Gus Edwards of the Baltimore Ravens is stepping up after an injury to J.K. Dobbins. In Week 2, he rushed for 62 yards and recorded a touchdown. While he hasn't contributed in the receiving game yet, he's a running back to watch as he competes for RB1 status.
These players are shining bright in the early weeks of the 2023 NFL season, but fantasy football is full of surprises. Which one will be the fastest in the running for the biggest 2023 Fantasy Football sleeper?
Stay tuned to Point Spreads as Week 3 promises to reveal even more hidden gems in the quest for the ultimate 2023 Fantasy Football sleeper, plus Fantasy Football rankings.
---
Want more articles like this? Check these out: