Lopsided Alimkhanuly vs Bentley Odds Suggest Easy Win
12 Rounds of Middleweight Action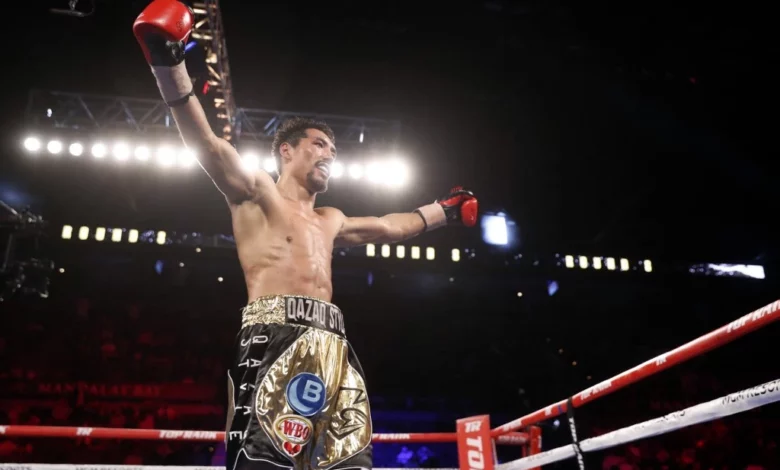 Alimkhanuly vs Bentley odds heavily favors 12-0 Zhanibek Alimkhanuly at -2000, which is about as short as it gets in boxing markets. Looking to cause an upset is Denzel Bentley, who has an impressive 17-1-1 record and poses a threat to the Kazakhstan fighter, who currently holds the WBO interim world middleweight title.
The total rounds line is 4½, so bookmakers expect the fight to be over soon after the opening bell.
Janibek vs Bentley
Date, time (TV):
Location: Palms Casino Resort Las Vegas
Alimkhanuly Proving Difficult to Beat
There aren't many fighters willing to face the 29-year-old, who knocked out 14-0-1 Danny Dignum in the second round of their interim title fight in May.
The win is why boxing betting lines have Alimkhanuly at such short odds and he's the worthy favorite. Eight of his 12 wins have come by knockout and he hasn't faced easy opponents, such as Rob Brant and Albert Onolunose.
Bettors could struggle to find value with Alimkhanuly vs Bentley odds, but he's at a more value price of -600 to win by knockout.
He's currently ranked eighth in the world but we expect that ranking to improve if he beats Bentley. It won't be an easy fight against the British champion, but there aren't many betting against the champion to extend his unbeaten streak.
His last three opponents have 78 wins combined, so he's beating top-level guys and he's making them look second-rate. We don't think Bentley is on the same wavelength, hence the massive +850 odds for the underdog.
Bentley Going for Gold
Give Bentley credit for taking the fight and attempting to win the belt. The 27-year-old Brit scored a knockout win over Marcus Morrison only two months ago, so he's ring ready.
Despite his boxing odds not giving him a chance to win, he owns 14 knockout wins from 19 fights and that can't be overlooked. However, despite his most recent knockout, his form prior is concerning.
He lost to Felix Cash with a third-round knockout before beating Linus Udofia by a split decision. He needs to put away fighters of that nature with more ease, but he believes he has a chance to win.
"It will be a good and exciting fight and I think it is a fight I can win," said Bentley. So why not go out there and enjoy the theatrics of Las Vegas and come back with a world title. So I said yes to the fight straight away, 100%. It is a great opportunity for a world title and what fighter doesn't want to be in this position?
"Genuinely believe I can beat him and he is beatable. Everybody says he is scary, but I don't see it. Maybe I am missing something. We will find out when we get in the ring anyway."
Boxing fighters need confidence and it would pay if Bentley didn't look at the Alimkhanuly vs Bentley odds market. Bookmakers are giving him no chance to win and they think he'll do well to make it past the fourth round.
Bentley is good enough to go deep into the fight but there is supreme confidence in an Alimkhanuly finish and it's bound to happen.
Follow us on Twitter
---
Here's more!