Rocket League Championship Series Odds: Winter Major Odds
$310,000 On The Line, Will G2 Secure Another?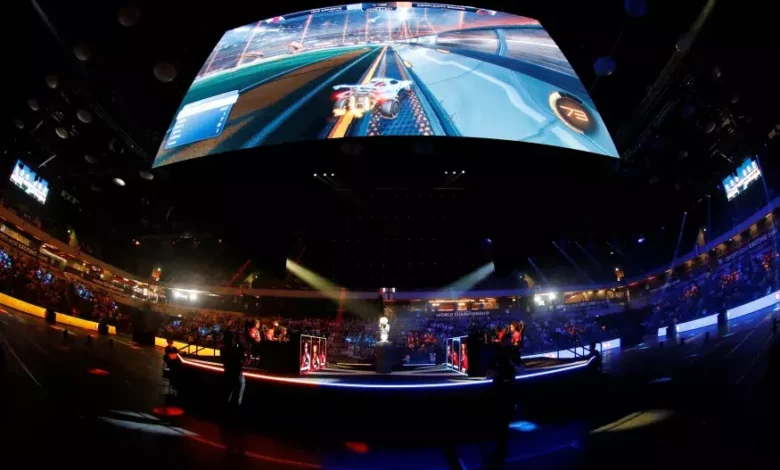 With the Rocket League Championship Series Odds winter split regional play now over, it's almost time for the Winter Major. The second Major of the season starts April 6th to the 9th. The tournament will include 16 of the best Rocket League teams worldwide.
The teams will compete for Rocket League Championship Series Odds points and a cash prize pool of $ 310'000. Will G2 secure another Winter Major win, or will the tournament favorites knock them down before they get the chance?
RLCS Winter Major 2023 Odds Format
Teams have been placed into four groups, playing in a round-robin format with Bo5 matches. From there, teams will then qualify for a single elimination Playoff stage. The second and third in each group will play in the first round, and the first-place Group Stage teams will go straight to the Quarterfinals.
Twelve teams move forward into the playoffs. The winner of each group from the Group Stage receives a bye into the Quarterfinals. It will be a single elimination bracket with Bo5 Round 1 and Bo7 for the rest of the matches.
Participating Teams
Here are the 16 years who qualified for the Rocket League Championship Series Winter Major. Along with the listed teams, their esports odds will also be listed.
Rocket League Championship Series Winter Major
Gen.G (+450)
FaZe Clan (+600)
Karmine Group (+600)
Team Liquid (+800)
G2 Esports (+900)
Complexity Gaming (+1100)
Oxygen Gaming (+1100)
Team Vitality (+1100)
Dignitas (+1200)
Team Secret (+1200)
G1 (+1400)
Team Falcons (+1400)
RLCS Winter Major Groups
A
FaZe Clan (NA)
G2 Esports (NA)
KRU (SAM)
G1 (EU)
B
Karmine Corp (EU)
Team Vitality (EU)
Dignitas (NA)
Team Falcons (MENA)
C
Team Secret (SAM)
Team Liquid (EU)
Ground Zero Gaming (OCE)
Gaming Gladiators (APAC)
D
Gen.G Mobil1 Racing (NA)
Oxygen Exports (EU)
Complexity (NA)
Pioneers (OCE)
Rocket League Championship Teams to Watch
While FaZe, Gen.G, and Karmine group are some of the favorites to win the Rocket League Championship Series Odds Winter Major, there are four other teams esports bettors should watch during the group stage. Those teams are G2, Dignitas, Team Secret, and Team Vitality.
G2 Esports (+900)
G2 won the RLCS Winter Major last year in California. Will history repeat itself? Despite not being an obvious favorite like fellow North American teams Gen.G and FaZe, G2 is still a threat to winning this tournament. Jacob "JKnaps" Knapman and Reed "Chicago" Wilen are two of the most experienced Rocket League pros, and together with Massimo "Atomic" Franceschi, they have been one of the best teams over the past year.
Dignitas (+1200)
Dignitas used to be a European powerhouse in the Rocket League Championship Series Odds. They won the Season 5 Finals, were finalists at the Season 6 Finals, and were semi-finalists in Season 7. Now, they'll debut on the international stage representing North America. Dignitas battled to claim the fifth and final spot at the Major for North America during the third regional event. The young team of Andrew "Andy" Nolan, Andres "dreaz" Jordan, and Jordan "Evoh" Manley took advantage of a bootcamp at Nerd Street's own Localhost Philadelphia venue to qualify.
Team Secret(+1200)
Team Secret had their breakout performance at the Fall Major, where they beat Version1 in the quarterfinals and finished in the top four alongside European and North American powerhouse teams. They rode that wave of success to a solid winter split in which they won one regional and finished second at another. Another playoff run wouldn't be surprising, and there's a good chance they at least reach the quarterfinals of this Major too.
Team Vitality (+1100)
Team Vitality is back on the international stage for the first time since the 2021 Fall Major. The team has undergone a lot of changes since then. RLCS champs Victor "Fairy Peak" Locquet and Alexandre "Kaydop" Courant are no longer on the team, and only Yanis "Alpha54" Champenois remains from that Fall Major team. Newcomers Andrea "Radosin" Radovanović and Thiméo "saizen" Corcuff will hope to return the French organization to its former glory.
Follow us on Twitter
---
Can't get enough? Here's more!