Japanese Grand Prix 2023: Verstappen, Red Bull set for bounce back
After the team's worst result of the season, Suzuka could offer venue for strong results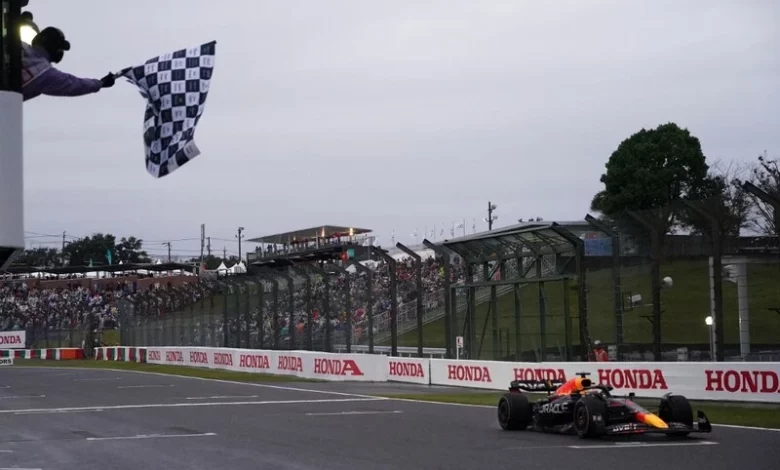 Red Bull's campaign for a clean sweep of the 2023 Formula 1 season is officially over. Like many dominant cars before it, the RB19 fell short of a perfect record. The Singapore Grand Prix was one of Red Bull's worst races in the last decade on pace alone. Now, the grid turns to the Suzuka Circuit for the Japanese Grand Prix 2023 and oddsmakers like Red Bull to bounce back in a big way.
Explore all the excitement of the Japanese Grand Prix at Point Spreads
Similar top two favorites despite Singapore problems
Red Bull's Max Verstappen (-350) and teammate Sergio Pérez (+1000) had a very rough outing in Singapore. The car looked unsettled during practice, neither driver made it out of Q2 in qualifying, and a combination of strategy and circuit characteristics kept them from making up ground in the race. Verstappen finished outside of the top two for the first time in 16 F1 races. Pérez's eighth-place finish is the second-worst of the 2023 F1 schedule this year, behind his one-off in Monaco.
But that's behind both drivers. The Suzuka Circuit is a classic circuit that's been on the calendar for decades and combines high speeds and overtaking opportunities.
Last year, Verstappen took pole by just a hundredth of a second but won the race by nearly 30 seconds to secure his second consecutive championship. He's qualified and raced well in Suzuka even before driving championship-caliber cars. He'll very likely take the win here.
Lando Norris is next at +14000 for victory outside the two Red Bull drivers. This makes sense given his pace and performance in Singapore and at prior tracks like Silverstone and Hungary. It'd take a lot for the top two to be out of contention, but Norris' pace shows he'll be right in the mix in case of an issue.
Pole position and podium odds for the Japanese Grand Prix 2023
Much like the odds for the win, pole position odds start with Verstappen at -225. At a track that's more suited to the Red Bull's strengths, he'll be hard to catch in qualifying. Norris is second in odds at +900. He's qualified in the top three four times, all at tracks similar to Suzuka. He'll be close, but the Red Bull will still have the edge here.
Since the summer break, George Russell (+1800) has been on a tear, especially in qualifying. His race came to a frustrating end in Singapore, and he could be on for a good Saturday once again. Pole may be a big ask, but his odds give you a much better payout than Norris in Formula 1 betting.
Oddsmakers like Verstappen (-700) and Pérez (-165) to make the podium this weekend. Norris (+135) and Lewis Hamilton (+175) are close for the final spot. Of the two, Hamilton is the better choice. Norris' improving with yet another upgrade for the McLaren, but Hamilton's track record at Suzuka is stellar. He's made the top three in six of his last seven races there. They both could be formidable enough to hold off Pérez on race day.
Points finish odds for the Japanese Grand Prix
Oddsmakers like 11 drivers to finish in the points this weekend. Verstappen (-1000), Pérez (-800), Norris (-700), Carlos Sainz (-550), Charles Leclerc (-550), Russell (-550), Hamilton (-550), Oscar Piastri (-400), Fernando Alonso (-350), Yuki Tsunoda (-120), and Esteban Ocon (-110).
That group makes sense for this weekend. For the most part, Red Bull, Ferrari, McLaren, and Mercedes are the top class of the field, with Alonso in the mix as well.
Like Zandvoort, Spa-Francorchamps, and Australia, Suzuka is a front-limited track. The majority of Suzuka's turns are medium- to high-speed, which emphasizes entry speed. Getting proper grip from the front end will be at a premium.
Because of this, look for Tsunoda to be the odd man out of the group. Ocon's had four DNFs in the last six races, but Alpine could be in for a good weekend here. Pierre Gasly (+110) could be a surprise points finisher, given his strong form in Zandvoort. A few points here could move him up the F1 points standings past Stoll for ninth in the F1 championship.
Japanese Grand Prix 2023 predictions
Singapore was one of the best races of the season. The tense battle at the front and lack of Red Bull dominance was a welcome treat for 2023. But this weekend, we will likely see a return to the typical form this season.
Verstappen's the pick to win this race. Given how frustrating last weekend was, he'll use this race to put himself in position to win the title a week later in Qatar. He'll sweep pole as well but Norris could be a shocker.
A podium of Verstappen, Norris, and Hamilton looks like a solid choice. Look for Gasly to sneak into the top 10 for a points finish as well.
For F1 news, odds analysis, and more, visit Point Spreads Sports Magazine.
---
Can't get enough? Here's more!