Lewis Hamilton's Net Worth: He's Got Titles but Does He Have Bags?
F1's Biggest Star is Rich - But How Rich?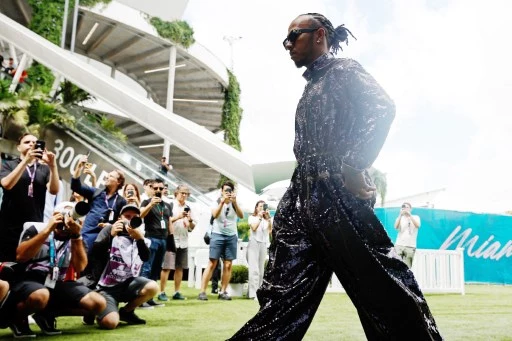 Sir Lewis Hamilton may not win another F1 title, but he doesn't need to. He's a legend of the sport and remains one of the biggest stars. But how much is Lewis Hamilton's net worth? The 38-year-old Briton is said to be worth around $285 million as of 2023. To put it into perspective, he was ranked as history's richest British sports star in 2020.
Lewis Hamilton's Net Worth in 2023
Hamilton's Duckets Come From His Salary + Endorsements
Like most of the world's richest athletes, a big chunk of Hamilton's net worth comes from his salary. Hamilton signed a mega deal with his team, Mercedes, which Forbes estimated paid him around $57 million in 2022 alone. The seven-time world champion inked the two-year deal with Mercedes back in 2021, which makes him a free agent after this season.
With his contract expiring, Hamilton may switch F1 teams. That has become the subject of speculation among both fans and media. Even at his age, Hamilton may still demand a hefty price with a new contract even if he is nowhere near winning another championship.
But other than his salary, Hamilton also bags at least another $8 million a year with his endorsements. Among Hamilton's endorsers include some top brands like Tommy Hilfiger, Sony, and Monster Energy.
Lewis Hamilton's Profile and F1 Achievements
Hamilton's net worth was largely built over the span of his 20-year career. He won the 2006 GP2 series then debuted in Formula 1 with McLaren in 2007. The following year, he became the then-youngest driver to capture an F1 championship at 23 years of age.
In 2013, he joined Mercedes with whom he would set several records including wins in Formula 1 races (103), pole positions (103), and podium finishes (192) among others. He also tied Michael Schumacher in F1 titles with seven.
Last Season's Stats
However, Hamilton and Mercedes' run at the top came to a stop in 2021. Verstappen and Red Bull wrestled the title away and Hamilton has yet to recover. He finished in sixth in 2022, which is his lowest finish as an F1 driver ever. Hamilton also failed to win a race for the first time in his Formula 1 career, earning zero F1 points.
2022 F1 STATS
Races: 22
Wins: 0
Poles: 0
Fastest Laps: 2
Podiums: 9
Points: 240
Into 2023, Hamilton and Mercedes are still far behind Red Bull. Fernando Alonso, now with Aston Martin, has also improved significantly. Thus, Hamilton's chances of winning another F1 title are minimal at best.
But Hamilton's Most Priceless Asset is…
Shakira? The former world champion was spotted with the newly single musical icon. It's yet to be confirmed if the two are truly an item as Hamilton was reportedly also seen with Dua Lipa, another songstress in the spotlight. Between the two and Hamilton's ex, Nicole Scherzinger, the $285-million dollar man has a taste for superstar singers.
Follow us on Twitter
---
Can't get enough? Here's more!