Qatar 2022 World Cup Draw Recap, Analysis
32-Team Field Set for End-of-Year Spectacle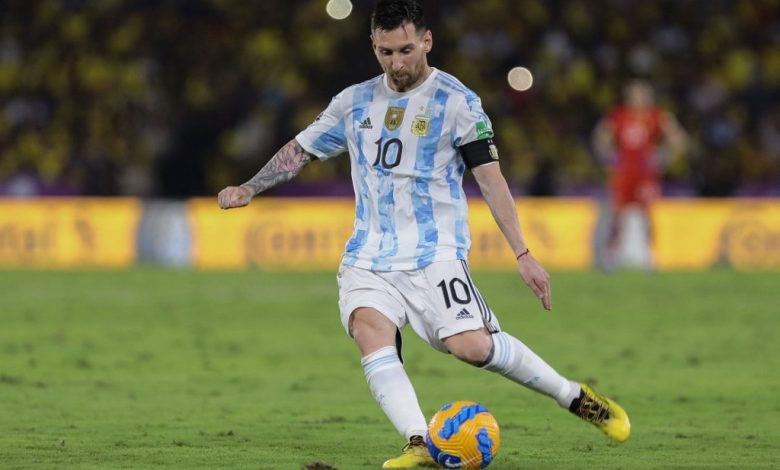 U.S., England in Same Group
The 32-team field at an atypical Qatar 2022 World Cup is still to be determined but the draw has just concluded. The tournament, which usually happens in the summer, is being hosted in the Middle East for the first time and will take place from Nov. 21 to Dec. 18 because of high summertime temperatures.
The change will cause Europe's top leagues to institute a six-week break.
While there are some undoubtedly interesting groups, this is the first World Cup in a long time without a clear "Group of Death." Prior to the draw, the World Cup odds listed Brazil as the most likely team to win, but there are a bunch of strong contenders in the field.
Three places are still up for grabs while the other 29 teams can rest easy knowing they'll be competing on international soccer's biggest stage. The winner of the postponed Scotland vs. Ukraine UEFA playoff semifinal will play against Wales for a place in November's tournament.
The last two spots will be filled by the winners of the intercontinental playoffs, which will take place in Qatar in June. New Zealand will take on Costa Rica while Peru will face the winner of Australia and United Arab Emirates.
Groups are as follows:
Group A: Qatar, Netherlands, Senegal, Ecuador
Group B: England, USA, Iran, Wales/Ukraine/Scotland
Group C: Argentina, Mexico, Poland, Saudi Arabia
Group D: France, Denmark, Tunisia, Peru/Australia/UAE
Group E: Spain, Germany, Japan, Costa Rica/New Zealand
Group F: Belgium, Croatia, Morocco, Canada
Group G: Brazil, Switzerland, Serbia, Cameroon
Group H: Portugal, Uruguay, Korea Republic, Ghana
Levels to Group B
The World Cup odds will strongly favor England to finish first in Group B but this has the potential to be one of the most interesting groups for both sporting and political reasons. With the United States, Iran and either Ukraine, Scotland or Wales rounding out the group, it's anyone's guess who will finish second.
Who could forget the last time the U.S. team met with England in the 2010 World Cup and Three Lions goalkeeper Robert Green's error allowed the Americans to steal a 1-1 draw? Furthermore, if Scotland or Wales go through, they'll relish their match vs. England and will go all out to beat their British rivals.
Given the situation in Ukraine, they'll be a popular rooting interest for neutrals if they're miraculously able to qualify. Given U.S. sanctions on Iran, their meeting could also be hotly contested. Iran has a sneaky good team that picked up the most points in the final round of Asian qualifying.
Spain, Germany Paired in Group E
When Germany was drawn after Spain in Group E, it certainly looked like it would be the dreaded Group of Death. Then, Japan and either Costa Rica or New Zealand were selected to round out the group. While Japan isn't a bad side and Costa Rica/New Zealand could make things difficult, both Spain and Germany will be heavily favored by the World Cup odds to make the round of 16.
Every soccer fan's should mark Nov. 27 on their calendar as Spain vs. Germany is the most anticipated game of the Group Stage. New-look Spain did well to make the Euro 2020 semifinals and they have an exciting group of young players coming through the ranks.
Germany is in the midst of a resurgence as Hansi Flick took over as national team boss after Joachim Löw stepped down following Euro 2020. Flick is undefeated in nine games as coach and Germany is jam-packed with talent.
Last Chance for Messi, Ronaldo?
Lionel Messi and Cristiano Ronaldo are two of the best players in soccer history, but there's one thing they're both missing: a World Cup trophy. By the time the 2026 World Cup rolls around, Messi will be 39 and Ronaldo will be 41. That means that this is very likely their last chance to win international soccer's most prestigious honor.
According to pre-draw World Cup betting odds, their teams both have decent shots to win it all. Messi's Argentina were listed at +1000 to win while Ronaldo's Portugal had +1400 odds.
Argentina has a couple of tricky matchups vs. Mexico and Poland but should come out as Group C winners. Meanwhile, Portugal's match vs. Uruguay should be one of the best games of the Group Stage but they'll be heavily favored vs. both Korea and Ghana.
No matter who lifts the trophy, Qatar 2022 is shaping up to be the sporting event of the year.