Michigan State vs Duke Devils Betting Analysis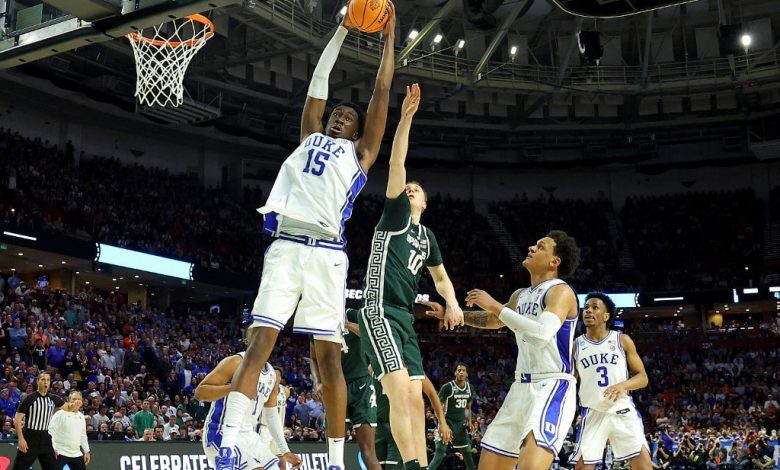 Michigan State vs Duke betting ended favorably for Blue Devils bettors as Duke defeated the Spartans 85-76 in the NCAA Tournament's Round of 32 in Greenville, South Carolina Sunday evening.
The thrilling affair, headlined by the Tom Izzo-Mike Krzyzewski coaching matchup, saw the Spartans, who did not have the best odds to make March Madness in the first place, give up a one-point lead with just over two minutes left as Duke's overwhelming individual talent took over.
Michigan State gave the Atlantic Coast Conference regular-season champions all they could handle but did not even end up covering the 6.5-point spread in defeat.
Duke Triumphs
Michigan State vs Duke betting was a highly-debated topic before the tip-off; the Blue Devils were, on paper, the superior team, but they had only managed narrow victories in their recent appearances on the court— excluding their opening-round game against CSU Fullerton— whereas Michigan state showed a lot of life in their victory over popular upset pick Davidson.
Jeremy Roach made the biggest shot of the night, sinking a three-pointer near the end of the shot clock that put Duke up with 1:18 left. Paola Banchero, the presumptive number-one pick in the summer's NBA draft, also had his fingerprints all over the game, as did defensive stalwart Mark Williams.
Marcus Bingham Jr. and Gabe Brown combined for 34 points for the losing Spartans; Banchero's 19 points were the game-high.
Duke's latest victory and cover moved them to 18-16-2 against the spread this season, making them an interesting betting proposition against 1.5 points spread favorite (per March Madness odds) Texas Tech on Friday.
What Michigan State vs Duke betting showed was that Duke, while appearing vulnerable for long stretches, can always fall back on its individual talent late in the game to pull out the victory.
Looking Ahead
Duke is getting one of the nation's best defensive units in Texas Tech in the Sweet 16 in what could be Coach K's last game— just as they could all be.
The key for the Blue Devils to cover the small spread, much less come out on the winning side, is to get Banchero engaged as early as possible. Mark Williams has been playing like the best individual defender in the entire tournament thus far, so if Duke can get Banchero scoring consistently against the stingy Red Raiders defense, they will force Texas Tech into an uncomfortable position.
March Madness betting odds tend to shrink the spread between talented teams, so spread betting for this particular contest is about as close to an even spread as can be without actually having the same odds.
Another reason to pick Duke in this game, should you be so inclined, is that Texas Tech is one of the worst free-throw shooting teams in America with just a 69.9% standard at the line. In a game with such a small spread, if the score is close near the end, this could end up biting Red Raiders' bettors.
The Michigan State Spartans gave it a good go, but it is all Duke until their early weekend battle with third-seed Texas Tech.