2023 MLB Stats Leaders: Alonso Powering Way to Home Run Lead
Aaron Judge Favored to Win Home Run Title +250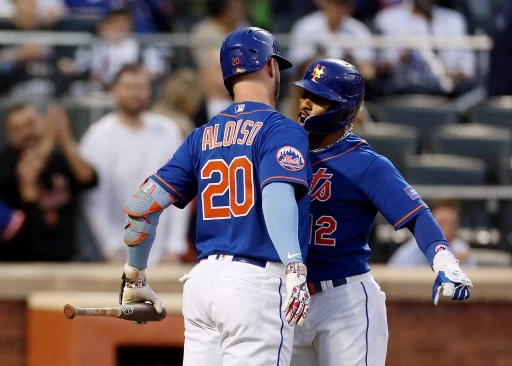 The MLB schedule has flipped to June, which means the action is heating up across MLB ballparks. With the season roughly one-third complete, it's an opportune time to review the 2023 MLB stats leaders.
Home Runs: Pete Alonso, Mets
First baseman Pete Alonso has slugged his way to the Major League home run lead, with 20 homers in 57 games. Alonso is on pace to break his career-high of 53, set in 2019. Those 53 homer's were the most by a rookie in baseball history, eclipsing the previous record held by Yankees outfielder Aaron Judge.
Despite a stint on the 10-day Injured List, Judge is second in the majors with 18 homers. Judge, who went deep an American League-record 62 times last season, is a +250 favorite to overtake Alonso for the home run lead. Alonso is priced at +375, well ahead of both Miami outfielder Jorge Soler and Atlanta first baseman Matt Olson, both at +1000.
Soler, Olson and Dodgers third baseman Max Muncy each has 17 home runs.
Batting Average: Luis Arraez, Marlins
After hitting an AL-best .316 last season with Minnesota, second baseman Luis Arraez is positioned to win a second straight batting title — in a different league, no less. Arraez, traded to Miami in the offseason in exchange for pitcher Pablo Lopez and a pair of prospects, leads the majors with a .382 average.
The 26-year-old Arraez — who was pulled from Thursday's 10-1 loss to San Diego with leg cramps — has a healthy lead on Dodgers first baseman Freddie Freeman (.346).
Blue Jays shortstop Bo Bichette, the 2023 MLB Stats Leader in hits (81), is third with a .332 average. Braves outfielder Ronald Acuna Jr. (.324) and Rockies catcher Elias Diaz round out the top five (.314).
RBI: Adolis Garcia, Rangers
Texas outfielder Adolis Garcia has been baseball's top run producer, with a major league-leading 49 RBI. Garcia, a first-time All-Star in 2021, has a slight edge on Astros outfielder Yordan Alvarez and Red Sox third baseman Rafael Devers, both with 48.Alonso currently leads the National League with 46 RBI.
The 30-year-old Garcia is also top 10 in the majors with 14 home runs, per MLB results. His career-high for RBI is 101, set last season.
Stolen Bases: Esteury Ruiz, Athletics
The 24-year-old outfielder has been a bright spot for the lowly Athletics, leading the majors with 28 stolen bases. Ruiz, who has a success rate of 84.8%, has five more than Acuna Jr. Rays shortstop Wander Franco is third in stolen bases with 20, followed by Royals shortstop Bobby Witt Jr. (17).
Ruiz — acquired last offseason in a three-team trade that sent All-Star catcher Sean Murphy to Atlanta and William Contreras, Joel Payamps and Justin Yeager to Milwaukee — is batting .269 with a healthy .335 on-base percentage.
Wins: Shane McClanahan, Rays
The 26-year-old All-Star has anchored the Rays' rotation, pitching to a 2.07 ERA over 69.2 innings. He also is the 2023 MLB stats leader with eight wins, putting him in the conversation to win his first Cy Young. At +400, McClanahan and Yankees ace Gerrit Cole share the best odds for the coveted award.
Six pitchers — Kyle Gibson, Nathan Eovaldi, Zach Eflin, Mitch Keller, Zac Gallen and Joe Ryan — each has seven victories.
Strikeouts: Spencer Strider, Braves
Following injuries to Max Fried and Kyle Wright (shoulder), Strider has emerged as the Braves' ace. The 24-year-old right-hander leads the majors with 106 strikeouts, six more than Toronto's Kevin Gausman. Strider's strikeout rate (15.0 K/9) is also tops. Cincinnati's Hunter Greene is next in line with 12.8 K/9.
Saves: Emmanuel Clase, Guardians
Clase is baseball's best shutdown closer outside of New York's Edwin Diaz, who will miss the season with a torn patellar tendon. The Guardians right-hander has an MLB-leading 17 saves, though he's blown five chances. He also led baseball in saves last season with 42.
For MLB division odds, betting news, analysis and more, visit pointspreads.com
Follow us on Twitter
---
Can't get enough? Here's more!