2023 National League Cy Young Odds: Alcantara Boasts Prohibitive Favorite Price
Heading into MLB Spring Training, Familiar Ace Tops NL Cy Young Odds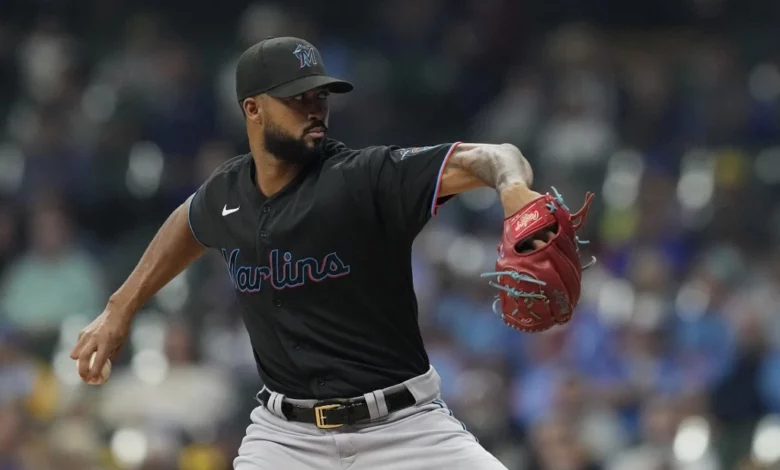 The last three seasons have seen a first-time Cy Young winner in the National League, with Sandy Alcantara following the footsteps of Trevor Bauer and Corbin Burnes to take home the prized award in 2022. Will that trend continue this season, or will a previous winner add another trophy to his collection? Let's take a closer look at some of the 2023 National League Cy Young odds.
THE FAVORITES
Sandy Alcantara, Marlins (+450 via BetUS)
It's no wonder Sandy Alcantara comes in as the odds-on favorite. The Miami Marlins ace was an unanimous selection last season, the NL's first since Clayton Kershaw in 2014. Durability was Alcantara's calling card: the 27-year-old right-hander pitched 228.2 innings, 23.2 more than any pitcher in the majors, and tossed six complete games.
He tossed at least eight innings in 14 of his 32 starts, a rare feat in the age of five-inning starters.
Given his age and yes, durability – Alcantara should make a serious run at becoming the NL's first repeat winner since Jacob deGrom in 2019. The 2023 National League Cy Young odds say as much.
Corbin Burnes, Brewers (+500)
The burly right-hander was a workhorse last year — notice a trend? — pitching 202 innings, fourth in the NL behind Alcantara, Aaron Nola and Miles Mikolas. His 33 starts led the majors, tied with three others. Burnes brings elite swing-and-miss stuff, having struck out over 200 batters in back-to-back seasons. That will play, especially now that MLB is outlawing the shift.
Burnes was dominant in the first half (7-4, 2.14 ERA) before a rocky August (4.81 ERA in six starts) ended whatever chance he had of defending his 2021 title. Still, Burnes finished seventh in the voting. As long as his strikeout rate remains high, Burnes will be on the shortlist of contenders.
Justin Verlander, Mets (+600)
Continuing to defy Father Time, Verlander won his third AL Cy Young last year at the age of 39. Even more impressively, he did so coming off Tommy John surgery, having thrown just six innings the previous two seasons. Now, Verlander finds himself in the NL, where he'll team with fellow future hall of famer Max Scherzer (more on him later) atop one of the game's most dynamic rotations.
Given his nearly impeccable track record, it's difficult to bet against Verlander (both literally and figuratively). Verlander led the AL in wins (18) and paced the majors in both ERA (1.75) and WHIP (0.83) in 2022, carrying the Houston Astros to their first World Series title since 2017. Then again, Verlander is due to slow down at some point. We think, when you factor in price – Verlander is not the favorite choice when betting on the MLB awards.
Max Scherzer, Mets (+ 800)
Scherzer is on the short list of pitchers — along with active starters Kershaw and Verlander — who have collected three Cy Young Awards. He's thrown more than 2,600 innings and struck out 3,193 batters, including 173 in 2022.
Scherzer's numbers were up to par in his first season as a New York Met. He turned in a career-best 2.29 ERA and recorded a sub-1.00 WHIP (0.91) for the seventh time in eight years.
That said, the 38-year-old also showed his age at times, missing more than a month with an oblique injury. He was hit uncharacteristically hard in his lone playoff start, allowed seven runs (four home runs) in just 4.2 innings in a Wild Card loss to the San Diego Padres. We expect Scherzer to remain among the game's elite, but like Verlander, his age gives some pause when factoring the 2023 National League Cy Young odds.
Max Fried, Braves (+1000)
Fried's 21 quality starts ranked fourth in the NL and top-10 in the majors in 2022. His ERA (2.48) was elite, as was his K/BB rate (5.3). Not to mention, he won his third consecutive Gold Glove Award. So long as he stays healthy and continues to pitch deep into games, it seems a matter of not if but when the 29-year-old lefty takes home his first Cy Young. Expect the Braves ace to have another strong season.
DARK HORSE CANDIDATES (Odds +2000 or better)
Julio Urias, Dodgers (+2000)
With no disrespect to Kershaw, Urias is slowing taking over as the Dodgers' ace. Urias ranked third in MLB in wins (17) and top-10 in WHIP (0.96) in WHIP in 2022. Much is riding on the 26-year-old southpaw this season as Los Angeles aims to return to the World Series.
Yu Darvish, Padres (+2200)
It's no wonder the high-spending Padres inked Darvish to a six-year, $108 million extension this offseason. Darvish led the Padres in wins (16) and strikeouts (197) last season and threw 194.2 innings, the most since 2013. Even at his age (36), he's a top-of-the-rotation arm. When factoring in the 2023 National League Cy Young odds, we like this value.
Edwin Diaz, Mets (+6600)
Not since Eric Gagne in 2003 has a relief pitcher won the Cy Young. Voters tend to side with pitchers with more significant bodies of work. That said, it's hard to overlook one of the game's most overpowering arms. The Mets closer was spectacular last season, posting a 1.31 ERA with 32 saves and a whopping 118 strikeouts over 62 innings. His 50.2 % strikeout rate ranked third-best among relievers in history. The latest MLB betting news lists Diaz at 66/1, which is worth a sprinkle.
Follow us on Twitter
---
Can't get enough? Here's more!