Athletics vs Astros Series Odds: First Place Stros Look to Roll A's
Best and Worst in AL Set for Four Game Series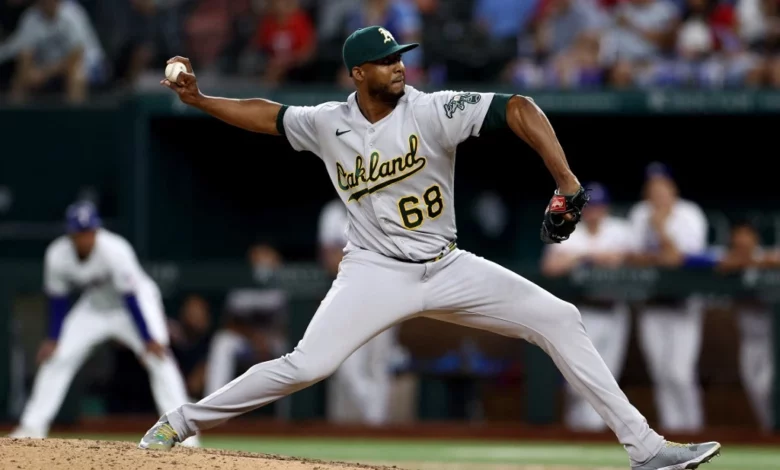 First Place Astros Look for Another Sweep of Oakland
The two teams headed in different directions will be facing off in a four-game series with the Athletics vs Astros series odds predictably favoring the home team.
Houston has a six-game lead on the Yankees for the best record in the American League and a 12.5-game advantage on second-place Seattle in the AL West. Oakland joins Detroit as the only American League team eliminated from playoff contention.
The Astros won all three games the last time the teams played a series in Houston. When looking at the MLB standings 2022 season, Houston is tied for the second-most home wins in the AL while Oakland is just 29-43 on the road.
The Astros (+400) trail only the Los Angeles Dodgers in the odds to win the World Series.
Athletics vs Astros Game Information
Location: Minute Maid Park, Houston
Date/Time: Thursday, 7:20 p.m. ET (teams also play on Friday at 8:10 p.m., Saturday at 7:10 p.m., and Sunday at 2:10 p.m.)
Television: Thursday's game is on FOX
Oakland Bats Heating Up
It will be another season without a postseason appearance for the Oakland Athletics. Now it is time for the younger players to show what they are capable of with Oakland eliminated from playoff contention.
Oakland scored 25 runs in the last three games. It started with a 10-2 win over the Chicago White Sox and then a split of two games with Texas.
In Wednesday's 8-7 win over Texas, the Athletics rallied from an early four-run deficit. Vimael Machin had two hits and two RBIs to lead the way. Even with that result, the Athletics vs Astros series odds does not favor Oakland.
Astros Going After Fifth Consecutive Win
The schedule has been kind to the Astros recently with series against the Los Angeles Angels, Detroit Tigers and now the Oakland Athletics allowing Houston to add to its already impressive numbers in the Astros standings 2022. Not surprisingly, the Astros have been piling up the wins. The Athletics vs Astros series odds favor Houston in the four-game set.
Houston has won four straight games. Cristian Javier allowed two hits and struck out eight in six scoreless innings in a 2-1 win over Detroit that capped a three-game sweep. Including a 12-4 win over the Angels when Houston hit five home runs; the Astros will take a four-game winning streak into this series.
One potential negative could be the availability of Justin Verlander, one of the front-runners for the American League Cy Young Award race, and Yordan Alvarez, who leads the Astros with 33 home runs.
Probable Pitching Matchups
Thursday: James Kaprielian (Athletics) Lance McCullers Jr. (Astros)
Friday: Adrian Martinez (Athletics) Astros starter is yet to be announced
Saturday: Cole Irvin (Athletics) Jose Urquidy (Astros)
Sunday: Ken Waldichuk (Athletics) Luis Garcia (Astros)
Who's Hot
Domingo Acevedo, Athletics P: Acevedo hasn't allowed a run in six of his last seven outings.
Yordan Alvarez, Astros DH: Alvarez is batting .438 with three doubles, two home runs, and six runs scored in his last six games.
Tony Kemp, Athletics 2B: Kemp has homered in each of the last two games and has at least one hit in nine of the 10 games he played in during the month of September.
Ryne Stanek, Astros P: Stanek hasn't allowed a run in his last seven outings. He has allowed two hits and struck out eight batters in seven innings during that stretch.
Who's Not
Martin Maldonado, Astros C: Maldonado is 1 for 15 with no extra-base hits in his last five games.
Adrian Martinez, Athletics P: Martinez allowed 14 hits and seven runs in 3.2 innings in his last appearance.
Cristian Pache, Athletics OF: Pache is 3 for 18 in his last 11 games with just one extra-base hit during that stretch.
Jose Urquidy, Astros P: Urquidy allowed 10 hits and six runs over five innings in his last start.
Athletics vs Astros Injury Update
When looking at the MLB injury list, Oakland pitcher James Kaprielian missed his last scheduled start with a finger laceration but he expected to pitch on Thursday. Pitchers Zach Jackson (shoulder) and Adam Oller (ribs) are out indefinitely.
For the Astros, pitcher Justin Verlander (calf) is questionable and it is uncertain if he will make his start on Friday. Designated hitter Yordan Alvarez (hand) is also questionable. Pitcher Josh James (back) could return later this month.
Athletics vs Astros Head-to-Head
One of the most surprising winning streaks in the majors this season was Oakland winning four games in a row in July against the American League-leading Astros.
Houston swept a three-game series at home against Oakland in August and outscored the Athletics 21-8. Just three of the first 15 games between the teams have been decided by one run.
Houston has hit 17 home runs against Oakland this season with Kyle Tucker, Alvarez, and Alex Bregman combining for 10 of them.
Skye Bolt has two of Oakland's 11 home runs against the Astros in 2022.
Athletics vs Astros Betting Preview
Houston has scored 49 more runs than Oakland since the MLB All-Star break ended and that total figures to grow during these next four games.
The total has gone over in seven of Oakland's last eight games as well is in four of the last six contests between the Athletics and Astros so don't be looking for many 2-1 scores during this series.
The Astros have won 12 of the last 15 games against American League teams.
Follow us on Twitter