Baseball: Midseason AL Team Report Card
Yankees and Astros Have Been Dominant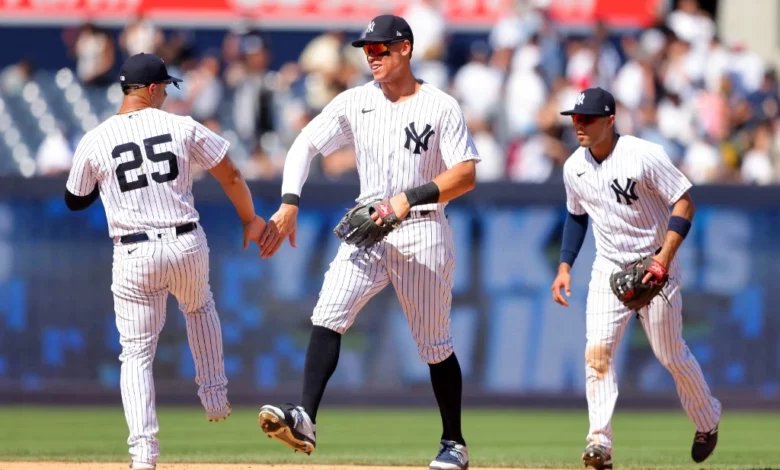 With the caveat that there is a full second half of the 2022 MLB season still to be played, the clear-cut best teams in the American League are the New York Yankees and Houston Astros, and it hasn't been close. The Yankees had a historically dominant first half of the year and are comfortably leading a really good AL East while the Astros have used a recent hot stretch to build a massive lead in the bad AL West. On the AL team report card, they both grade out incredibly well.
As for the rest of the AL, it's a mixed bag. The AL East is competitive but, other than the Yankees, the group has been disappointing. The AL Central is also tight because no team has been able to separate itself from the rest of the group. Finally, the AL West has been close to a trainwreck – outside of Houston, with the Los Angeles Angels and Seattle Mariners playing well below their weight. The MLB future odds liked those teams and they have underwhelmed significantly.
Let's run through all 15 AL teams and compare how they've played so far this season- as well as how Vegas expected them to play; while assigning some grades in the process.
New York Yankees: A+
We'll cap the grades at an A+ because, otherwise, the Yankees would be an infinite amount of pluses. New York has been close to unbeatable all season, riding Aaron Judge's MVP-caliber production and incredible starting pitching to a 58-23 record. The Yankees have gotten contributions from up and down the roster and they've done an awesome job again other good teams, posting a 29-13 record against the above-.500 opponents. They're poised to blow past their 91.5 win preseason over/under and to win the AL East as +225 underdogs.
Houston Astros: A+
The Astros – currently on an eight-game winning streak, have surged into contention with the Yankees for the AL's top record in the past few weeks. Houston has picked up big offensive numbers from the likes of Yordan Álvarez, Jose Altuve, and Kyle Tucker but  similarly to the Yankees – the Astros' rotation is what has made them so formidable. It's a foregone conclusion that Houston, which opened as -150 division favorites, will win another AL West crown and will also likely hit the wins over (92.5).
Minnesota Twins: A-
After an interesting offseason in which they added a few big-time players, Carlos Correa and Sonny Gray, to name a few — but they also traded away some key guys; the Twins surprisingly find themselves with a comfortable cushion at the top of the AL Central.
Minnesota was expected to be right around .500, with 81.5 wins over/under and they only had a +550 shot to win the division yet, now, the Twins look like a surefire playoff team. Sure, they've benefited from a weak AL Central but you can only play the teams on your schedule.
Boston Red Sox: B+
After sneaking into the playoffs a year ago and surviving an insanely difficult AL East, the Red Sox were expected to be on the postseason bubble in 2022. They had an 85.5 win over/under and were basically a tossup to either make or miss the playoffs. Currently, Boston sits in a distant second place behind New York but is essentially all knotted up with the Toronto Blue Jays and Tampa Bay Rays. For Boston to even be in the mix after a brutal start to the season is impressive in its own right, particularly with Chris Sale still hurt. The trio of Xander Bogaerts, J.D. Martinez, and Rafael Devers deserve a lot of credit for the Red Sox looking good on the AL team report card.
Tampa Bay Rays: B
The Rays are always in the picture in the AL East but, thanks to a mediocre offense, Tampa Bay probably won't be repeating as division champs. They're a very respectable 44-37 through the first half of the season and are on pace to match their 88.5 win total over/under. The Rays also had the third-best odds (+250) to win the AL East following their 100-win campaign in 2021 but that was not going to be easy to replicate.
Toronto Blue Jays: B-
The team widely expected to win the AL East, was the Blue Jays who closed as slight +175 favorites over the Yankees. Toronto's offense has been as good as advertised, even if Matt Chapman and Teoscar Hernández have struggled a bit. The major problem for the Blue Jays has been pitching and, specifically, the starting rotation. José Berríos has been really bad, Hyun-Jin Ryu is out for the season due to injury and Yusei Kikuchi has been ineffective. Toronto needs Berríos and Kikuchi to step up.
Cleveland Guardians: B+
Cleveland wasn't expected to have much of a chance at making the playoffs in the first year of the Guardians but, due to the All-Star caliber showings from José Ramírez, Andrés Giménez, and Josh Naylor, Cleveland has picked up just enough offense to stay above .500 and challenge Minnesota for the AL Central lead. The Guardians' rotation has been solid even with a mostly bad lineup and somewhat shaky bullpen. Cleveland should eclipse its win total over/under (76.5) and have a shot to win the division as a +900 underdog.
Seattle Mariners: C+
If you bet on MLB and wanted to use how teams played in 2021 to try and pick a new team to make the playoffs in 2022, you might have taken the Mariners who went 90-72 last season. This season hasn't been as kind to Scott Servais' team, which has had to deal with injuries, an inconsistent offense, and a pitching staff that has allowed the most home runs in the AL. Still, Seattle is right around .500 and has a shot to get to its 84.5 wins over/under.
Chicago White Sox: D+
The White Sox were one of only three AL teams with a preseason win total over/under 92.5 wins or more. That optimism feels like an eternity ago for the South Siders as Chicago is currently third in the AL Central with a 38-41 record.
Injuries and overall bad luck have crushed the White Sox, to be fair, but bad defense and the decision not to bring Carlos Rodón back have hurt Chicago mightily. Questionable managerial decisions from Tony La Russa haven't helped the White Sox in the AL team report card. Whenever a team is under .500 at the midpoint despite being the odds-on favorite in its division (-200), it's a bad sign.
Texas Rangers: C
Even though they lost 102 games a year ago, the Rangers went big in free agency in the hopes that Marcus Semien, Corey Seager, and Jon Gray could kickstart a rebuild into overdrive. That hope hasn't exactly come to fruition, though, as Texas is 37-42.
Some good news, the Rangers are right on pace to hit their 74.5 wins over/under even if their slim chances to make the playoffs (+600 before the year) are still extremely unlikely. This team has a ways to go before it can contend, especially with the Astros continuing to dominate the AL West.
Baltimore Orioles: B-
A 38-44 record might not, on the surface, look all that good but, for the Orioles, it's a major achievement. Despite playing in MLB's best division, and coming off a 52-110 season, the team is just a few games under .500.
Considering that the Orioles' preseason over/under was a minuscule 62.5 wins, Brandon Hyde's team has seriously overachieved, in large part due to a very strong bullpen. Baltimore might not be a playoff team just yet but at least the Orioles are no longer a complete pushover. They deserve credit for that.
Los Angeles Angels: C-
Baseball's most perpetually disappointing team looked like it was finally going to live up to the expectations its talent level implies but, as always, the Angels' once-promising season has fallen apart.
Los Angeles started the year 27-17 before losing 14 games in a row, a skid that cost Joe Maddon his job. Now, Anthony Rendon is out for the year and the lack of offensive depth outside of Mike Trout, Shohei Ohtani, and Taylor Ward is abundantly clear.
The Angels' over/under was 84.5 wins and it won't be easy for them to get there. They also had the second-best odds to win the AL West, behind the Astros, but they currently sit in fourth place.
Detroit Tigers: C-
After using a strong second half to finish the 2021 season with a 77-85 record, the Tigers were a popular breakout pick in 2022 with their offseason moves, adding Austin Meadows and Javier Báez… and strong farm system with multiple MLB-ready pieces.
Detroit's offense has been one of the worst in baseball and long-term injuries to starters Casey Mize and Matt Manning have gutted the rotation. So, the Tigers are 33-47 and would need another huge second half to come close to their 78.5 wins over/under. This season, so far, has been a big step back for what was a promising rebuild.
Kansas City Royals: D+
The Royals didn't have any more loftier expectations than the Tigers did but they have been a lot worse and, currently are 20 games under .500 with a midseason tear-down likely in the offing.
Kansas City's over/under was a mere 74.5 wins but really bad pitching makes that total seemingly unattainable. Even in a bad division, the Royals are well out of contention and, other than the play of top shortstop prospect Bobby Witt Jr., there really hasn't been much reason for optimism.
Oakland Athletics: F
Following what was essentially a winter fire sale in which they traded away Chris Bassitt, Matt Olsen, Matt Chapman, and Sean Manaea while letting a bunch of other free agents go, the A's knew that 2022 would be a rough season; however, a 28-55 record and sub-60-win pace was not exactly what Oakland had in mind! The A's have the worst offense in the AL and it would take a miracle for them to have a chance at 68.5 wins, they're over/under. Rebuilds are painful, for sure, but this is an especially brutal one.
Follow us on Twitter