Justin Verlander Stats: Verlander, Scherzer Must be Pillars for Mets Success
Mets Struggling for .500, Not What Cohen Paid For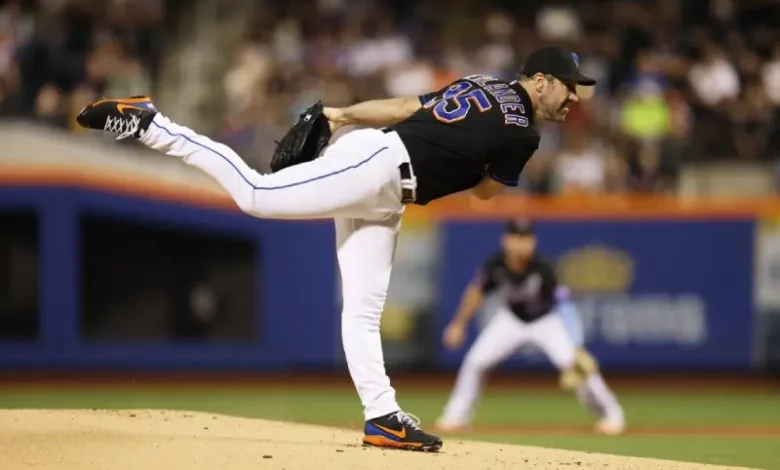 Where Is Justin Verlander Now? Update to November 2023
Verlander's Shines But His Valiant Effort Not Enough in Astros' Game 1 Loss
Houston Astros may have faced a setback with a 2-0 loss to Texas in the American League Championship Series, but Justin Verlander was not to blame. At 40 years old, Verlander, fresh off his World Series victory last year, showed he still has the magic touch. His performance against the formidable Rangers offense, and those Justin Verlander stats, were a silver lining, keeping the Astros in the fight with a stellar 6 2/3 innings pitch.
A Pitching Performance to Remember
The Rangers, known for their explosive offense, met their match in Verlander. No starter had tamed them this postseason until Verlander stepped up. With a cool, collected 101-pitch outing, he managed to keep Texas' big hitters like Marcus Semien at bay. Even when the Rangers scored, it was from the lower part of their lineup, showcasing Verlander's control over the game.
Verlander's near-flawless performance was marred by just one misstep – a slider to Tavares that led to a two-run homer. Yet, his teammate, catcher Martín Maldonado, was all praises, emphasizing how Verlander's pitching kept the Astros in the game. Despite the loss, Verlander's ability to keep the Rangers' score low was a testament to his enduring skill.
The Astros face a challenge going forward in the series, especially with their pitching staff not as sharp as in previous years. The focus now shifts to how they respond to this initial blow. Verlander's question, "How do you answer?" reflects the team's determination to bounce back.
Meanwhile, speculation about the Astros' potential moves in the offseason, including a blockbuster trade for a superstar pitcher, makes for great entertainment and anticipation.
Earlier This Year 2023…
This will be about Justin Verlander stats and contribution to the New York Mets in 2023, but the team should be watched carefully when it comes to betting because it's being reported that Mets owner Steve Cohen is close to "exploding" if this doesn't get turned around quick, We suppose that's what happens when an owner thinks it would be easy to buy a title and all he gets for a $345.5 million dollar payroll is a 6.5 game deficit in the American League East. Let's examine Justin Verlander stats and his current MLB Cy Young odds.
43.3 Million Gets Cohen Two Wins
As we sit at the 61-game mark, New York Mets owner Steve Cohen has to be wondering why he spent a total of 86.6 million dollars on Max Scherzer and Justin Verlander, only to get a grand total of seven wins against five losses. Scherzer is 5-2 with a 3.21 era, while Verlander is 2-3 with a 4.25 era, his worst since the 2014 season.
Scherzer seems to be on track, allowing just three earned runs in his last 28 innings, but Verlander is another story. The 3-time Cy Young award winner has made six starts this season, giving up six earned runs twice, New York is just 2-4 when Verlander takes the mound while giving the 40-year-old pitcher just 2.72 runs of support. Four times this season the high-priced Mets failed to score more than two runs for their high-profile starter.
Neither Pitcher Among Cy Young Odds Leaders
Looking at the up-to-date Cy Young Award odds, we don't know what is more peculiar, Max Scherzer not being listed among the top 13 to win the award, or the fact that at 2-3, Justin Verlander is the 11th choice at +5000. The Atlanta Braves, Spencer Strider (6-2, 2.97) is the listed leader at +175, followed by the Arizona Diamondbacks Zac Gallen (7-2, 2.75) at +175. Even the Pirates' Mitch Keller (7-2, 3.60) has better odds (+1200) than Verlander or Scherzer. None of that can sit well with Cohen who grew up a mega fan of the team he now owns.
117 Pitches Show Verlander is Ready for Summer Run
Justin Verlander missed the first month of the season while battling a teres major strain. If you don't know what that is, (we didn't) it's a muscle that attaches the scapula and the humorous. It can be a debilitating injury that can take a pitcher a year to come back from.
In the mind of bettors, it was reasonable to wonder if Verlander was going to be 100% this season, but that worry should be put to rest after the veteran threw 117 pitches in a 3-0 loss to the Toronto Blue Jays. His eight strikeouts were a season-high for the 5-Time MLB strikeout leaders. We're not suggesting going out to bet on Verlander to win his fourth Cy Young, but if Verlander looks strong against the Atlanta Braves in his next start, that +5000 might start to look better by the day.
That's a quick look at Justin Verlander stats and season review, we wish you all the best with your dog days of Summer wagers.
Follow us on Twitter
---
Can't get enough? Here's more!