Mariners vs Astros Betting Odds: Mariners Looking to Rebound After Disaster in 9th
Bullpen Failure Cost Mariners Win in Series Opener Against Favored Astros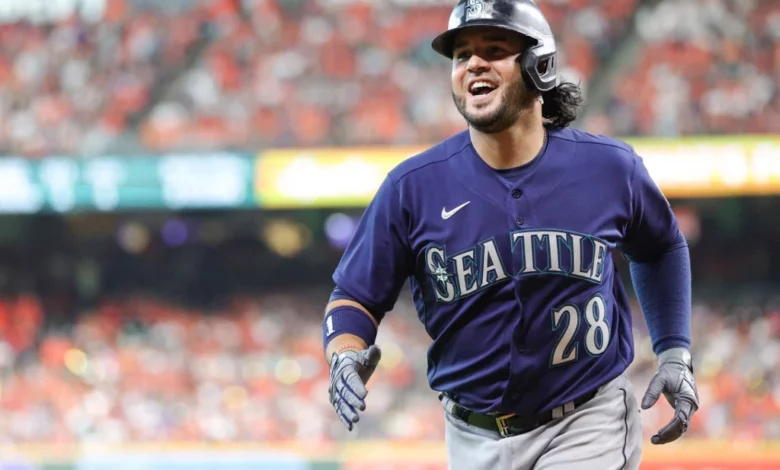 Can Seattle Rebound After Squandering AL Division Series Opener?
The Seattle Mariners team without many players on the roster with postseason experience is in a tough spot.
Seattle was in control of the opening game against the favored Houston Astros before a late-inning meltdown. Manager Scott Servais' decision to bring in a struggling Robbie Ray to face Houston slugger Yordan Álvarez resulted in Alvarez's game-winning three-run home run.
It was a game that Seattle had to win after roughing up Houston ace Justin Verlander for 10 hits and six runs while getting a strong effort from rookie Logan Gilbert.
The series price is at -475 for the Astros as Houston looks to go up 2-0 in the series.
Mariners vs Astros Game Information
Matchup: Mariners 90-72 (2nd, AL West) Astros 106-56 (1st, AL West)
Date, time: Streaming: Live Stream Sports
Castillo To the Rescue Again for Mariners?
Logan Gilbert couldn't have done much more to get Seattle off to the early lead in the American League Division Series as Gilbert pitched into the sixth inning and the Seattle led by three runs before the implosion by the bullpen. Veteran Luis Castillo gets the call in Game 2. He was brilliant against Toronto in the wild card series with six hits and no runs allowed in 7.1 innings. Can he do the same in the MLB divisional series?
Castillo allowed four runs or more in four of his last seven starts during the regular season and in the other three outings, he allowed one run in 18 innings of work so Seattle is hoping for the latter version of Castillo to show up. Even with Castillo coming off an impressive showing in his last postseason start, the Mariners vs Astros betting odds are not in favor of the underdog Mariners.
Astros Look to Take Command in Game 2
The top six hitters in the Astros lineup combined for six runs, nine hits and eight RBIs in the series opener. Alvarez and Yuli Gurriel led the way with three hits each. They are two of the reasons why the Mariners vs Astros betting odds favor the AL West champions.
Alvarez followed up his brilliant regular season by driving in five runs while playoff veteran Alex Bregman had a pair of RBIs. Houston will be calling on its experienced playoff producers to deliver again in Game 2.
Houston had four extra-base hits, including home runs by Gurriel, Alvarez and Bregman in the series opener.
Framber Valdez, who is 4-2 in the 2020 and 2021 playoffs, will look to help Houston take a commanding 2-0 lead.
Valdez had mixed results against the Mariners during the regular season with a 1-0 record and 3.95 ERA in two starts. He had a 4.18 ERA in five starts in September with the Astros going 4-4 in starts by Valdez against 2022 playoff teams.
Who's Hot
Matt Brash, Mariners P: Brash hasn't allowed a run in his last six appearances. He has allowed one hit over 5.1 innings during that stretch.
Jeremy Pena, Astros SS: Pena hit .389 with three extra-base hits in his last five regular-season games.
Ryne Stanek, Astros P: Stanek has given up one run in his last 18.1 innings with 22 strikeouts during that stretch.
Eugenio Suarez, Mariners 3B: Suarez is 6 for 13 with three extra-base hits three RBIs in three postseason games in 2022.
Who's Not
Jared Kelenic, Mariners OF: Kelenic is 2 for 9 with three strikeouts in the playoffs.
Trey Mancini, Astros DH: Mancini is 1 for 21 over his last six games.
Paul Sewald, Mariners P: Sewald has allowed four hits and six runs in 1.2 innings in two postseason outings.
Jose Urquidy, Astros P: Urquidy has a 5.48 ERA over his four appearances with six home runs allowed in 21.1 innings.
Mariners vs Astros Injury Update
The Mariners will be without catcher Tom Murphy (shoulder), infielder Sam Haggerty (groin) and outfielder Jesse Winker (neck) throughout the playoffs.
For the Astros, outfielder Michael Brantley (shoulder) and catcher Jason Castro (knee) are out for the season.
Mariners vs Astros Head to Head
The Astros won 12 of the 19 meetings during the regular season. The teams split the first 12 games in 2022.
The home team won each of the first three series during the regular season before the Astros swept a three-game set on the road from July 22-24.
The Astros have won seven of the last eight games with Seattle with the last three being decided by one run.
Ty France led the Mariners with four home runs and 14 RBIs against the Astros. Yordan Alvarez and Jose Altuve have combined for nine home runs and 26 RBIs against the Mariners.
Mariners vs Astros Betting Preview
This feels like a must-win game for Seattle considering that the Astros won't see another start from likely American League Cy Young Award winner Justin Verlander.
The Mariners have to be reeling after giving away the series opener and the extra day between games could either be a help or a hindrance.
The numbers for both starting pitchers are fairly close over their last three starts so this is a winnable game for the Mariners.
Seattle has won just one of the last eight games against the Astros.
The total has gone under in four of Houston's last six games so don't expect another 8-7 affair. The total for this contest is set at 7. When looking at the Astros Game 2 odds, the Moneyline for Houston is currently at -151.
---
We also thought you might like to check these out: