Mariners vs Astros Series Odds: AL West Clash in Minute Maid
Astros Host Four-Game Series Days After Sweep in Seattle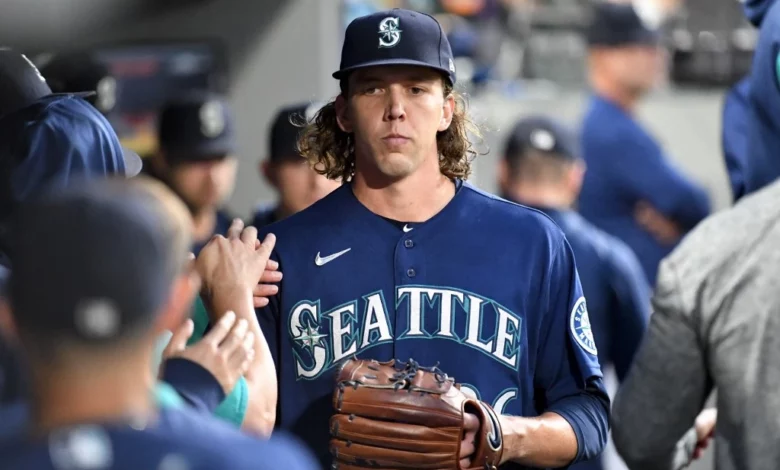 In a span of 26 days, the Seattle Mariners have lost to only one team. That would be the Houston Astros, whose three-game sweep at Seattle last weekend snapped a Mariners surge that included a 14-game winning streak leading up to the All-Star break. As these teams get set to reconvene in Houston for four big ones, let's analyze the Mariners vs Astros series odds, injuries, and storylines.
Opening Game Information
Game: Mariners (54-45) at Astros (64-35)
Location: Minute Maid Park
Day/Time:
Television: RSNW, ATTH
Mariners vs Astros Probable Starting Pitchers
Thursday: Logan Gilbert (Mariners) vs. Jose Urquidy (Astros)
Friday: Robbie Ray (Mariners) vs. Justin Verlander (Astros)
Saturday: Chris Flexen (Mariners) vs Framber Valdez (Astros)
Sunday: George Kirby (Mariners) vs Jake Odorizzi (Astros)
Mariners Rebound vs Rangers
Three narrow wins over Texas, one of which came on a walk-off sacrifice fly, righted the ship for the Mariners in advance of what will be their most challenging trip of the year. Ten games out in the division and nestled into the second spot in the Wild Card race, they'll play these four at Houston and then three at Yankee Stadium, finishing up a stretch of 13 games in 13 days with a trade deadline thrown in.
While Seattle will be in the middle of several rumors – including many involving Juan Soto – it continues to be carried by rookie Julio Rodriguez, whose three-run shot in the seventh was the difference Wednesday.
"I think he's the best player I've ever seen," starter Marco Gonzales told reporters. "He's for sure the best player I've ever played with."
The best player Gonzalez has ever seen was absent when the Astros reeled off three straight wins in Seattle last weekend. He was nursing a wrist ailment and unable to help as his team was limited to eight runs in three games by Houston pitching.
The Mariners vs Astros series odds should change dramatically with Rodriguez back. Houston, though, has limited the best of the Seattle Mariners players to just 10 hits (two homers) in 44 at-bats on the season with 15 strikeouts.
Astros Carry Three-Game Losing Streak Into Set
After taking three straight from the Mariners in Seattle, Houston didn't put up much of a fight in three consecutive setbacks at lowly Oakland. The sweep at the hands of the Athletics was the first this season for Houston.
"It's discouraging, but it's not concerning. Every team in America is going to lose three in a row, it just didn't happen here in a while," manager Dusty Baker said after Wednesday's 4-2 loss. "You don't want panic to set in on three games.
While Baker says it's not concerning, he might lose sleep at times over an offensive attack that is heavily reliant on home runs to score. The Astros rank ninth in the AL in batting (.239) after batting .192 in the three games at Oakland and are tied with Texas for fifth in runs.
Houston's odds to win World Series number is a solid +450, third-best on the list. But a move for a veteran bat could come in handy during those low-scoring October nights.
Who's Hot
Rodriguez: Two homers, four RBIs, one walk in two games since return from a wrist injury.
Sam Haggerty, Mariners RF: 7-for-17 with three extra-base hits over his last six games.
Yordan Alvarez, Astros LF/DH: 6-for-17 with three homers and six walks over his last six games.
Ryne Stanek, Astros RP: Allowed one run in his last 29⅓ innings.
Who's Not
Jesse Winker, Mariners LF: 2-for-19 over his last six games.
Carlos Santana, Mariners 1B: One hit (a home run) in his last 25 at-bats.
Kyle Tucker, Astros RF: Batting .229 with a .683 OPS in July.
Aledmys Diaz, Astros IF: Hitless in final 10 at-bats of Oakland series.
Injury Updates
Mariners OF Taylor Trammell is ready for a rehab assignment as he recovers from a hamstring injury.
Mariners RF Mitch Haniger is rehabbing with Triple-A Tacoma and could return by the trade deadline. He's been out since April with an ankle injury.
Astros SP Lance McCullers Jr. threw three innings in a rehab start Wednesday as he recovers from a right flexor tendon injury.
Astros LF Michael Brantley is still hampered by a shoulder injury with no timetable for a return.
Mariners vs Astros Series Odds and Tips
Jose Urquidy shut down Seattle over six innings in a matchup last weekend and he has the Astros favored to claim the opener opposite Logan Gilbert. But keep in mind that Gilbert outdueled Urquidy in a 6-0 win in Seattle earlier in the year.
The Robbie Ray-Justin Verlander matchup on Friday night is the highlight of the series, as the two former Cy Young Award winners go at it.
Houston has won nine of the first 15 matchups between these teams, four of six at home, but Seattle has outscored the Astros overall, largely due to an 11-1 beatdown in the very first meeting on April 15.
The Mariners have the momentum after taking care of Texas. One might think that was the same situation last weekend when they had won 14 straight before handing three in a row to Houston, but remember that that series was coming out of the All-Star break and three days off had slowed Seattle's roll. This time, the M's are riding high and will get out of Houston with a split, at least.
Follow us on Twitter