MLB: Phillies vs Cardinals Series Betting Preview
Oddsmakers Open at Flat Odds to Start Four-Game Series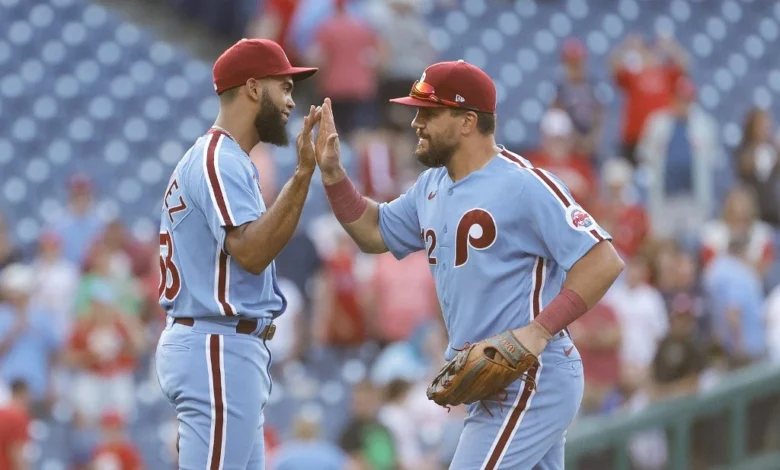 The MLB Phillies will face four right-handed starters in this four-game series, as they look to improve on a 17-5 record against righties. Philadelphia has a loose grip on a wild card spot after winning 12 of 16 against teams with a winning record; the Cardinals have won 11 of 16 at home and 16 of their last 23 games. Stay with us as we preview this Phillies vs Cardinals series betting. The current trend shows the Cardinals are at their best when the lights are the brightest.
Game: Philadelphia Phillies (44-39) at St. Louis Cardinals (44-40)
Location: Busch Stadium
Day/Time:
Television: NBC Sports Philadelphia, Bally Sports Mid-West
How Many Games Does Harper's Loss Cost the Phillies?
There are times when MLB game odds tell a story and that is certainly the case when oddsmakers are comfortable sending out a number (Phillies -110, Cardinals -110); that indicates that Adam Wainwright (6-6, 3.26 era) at home, doesn't command the same respect that he once did. The numbers make for a great Phillies vs Cardinals series betting preview, a must-read.
The Cardinals are a sparkling 239-134 (64.08%) when the future Hall of Famer gets the ball, providing almost 5,500 units of profit (14.6% ROI) for bettors since 2005. If there has ever been a knock against Wainwright, it's been his inability to cash tickets in the postseason.
His overall reliability has continued deep into his career, cashing tickets in 57 of his last 89 games (64.05%) while handing MLB players another 1,876 units of profit. Only once, since 2012, have the Cardinals, the only team he's played for, failed to show a profit in games started by Wainwright.
The short price tells a trained eye that the books are high on Mets right-hander, Zack Wheeler (7-4, 2.66), and why not? The former all-star is an attractive option for players because of his consistent run support, something Wainwright has not enjoyed. In Wheeler's 2022 starts, New York has scored an average of 4.57 runs and never less than four.
That puts the oddsmakers in a tough position because Wainwright statistically gets more support (5.21 runs/game) but that number is helped by four games that saw the cards score 15, 10, and 9 twice. A closer look would show that St. Louis has scored three runs or less six times in the 3x All-Stars starts, a key component that surely factored in the number.
Philadelphia Phillies Statistically Stronger
The Philadelphia Phillies stats haven't shown a profit overall, but Philadelphia is +326 on the road.
Taking a deeper dive into the number, we see that the Phils are just 15-16 this year when the number is -110 or less, but that's good enough to turn a profit of 329 units.
St. Louis is on the other end of the spectrum when the number is -110 or less, losing 28 of 45 games while costing their backers 951 units. The Cards are just 14-22 (-669 units) against MLB teams over .500 when catching -110 or better.
Money Will Come In on Cardinals
The question is always "when is the best time to make a wager to maximize profits"?
Wait, is the simple answer. In early betting, we already see the public rushing to the counter to back Wainwright.  The goal is to find a little plus money with Philadelphia and we're not going to accomplish this unless we play the long game. The public will move the number in favor of St. Louis.
The official recommendation is to back the Phillies over the weekend, but especially in game one where it will take the Cards a few days to get their legs back after a long road trip. We will see where the dust settles after this Phillies vs Cardinals series betting preview.
---
Get into the field and play with more related info: