Shohei Ohtani Stats: Good Hitter, Strong Pitcher
Angels' All-Star Excels on Mound or at the Plate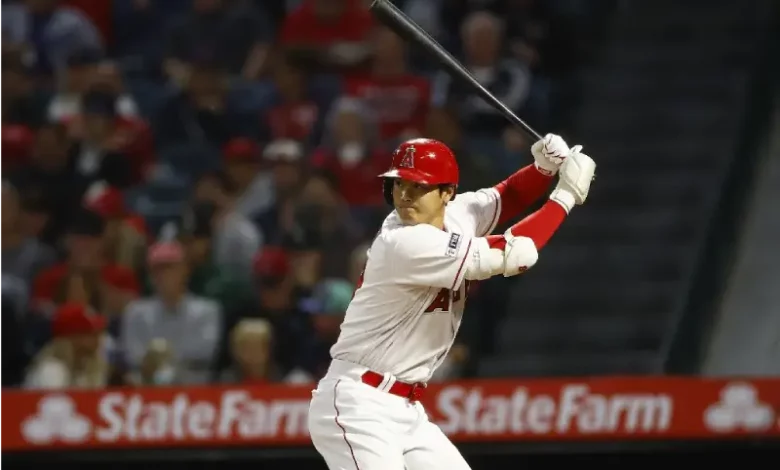 When discussing Shohei Ohtani stats, do you begin with batting or pitching? There's no wrong answer. Whether you look at his plate appearances or time on the mound, the numbers are impressive. Ohtani is batting .280 with 12 home runs and 33 RBI through 49 games. On the mound, he's 5-1 with a 3.05 ERA and 80 strikeouts in 59 innings.
Ohtani ranks third in the MLB stats with his 80 strikeouts. He does lead the league in hit batters, with eight, which is a record he can do without. His WHIP is .90, which ranks second in the league, and opponents are batting just .142. That's the lowest opposing batting average of any qualified pitcher in baseball. Ohtani's walks are up a bit this season. That's why his ERA is up a bit over last year.
Ohtani has been pretty healthy the last two years, giving him a chance to show what he can do. And he's done a lot. Offensively, Shohei Ohtani stats show 80 home runs and 195 RBI in 2021 and 2022. He's on a pretty similar pace in the early portion of this season.
With Ohtani and Mike Trout, you would think the Angels would be a contender for the best MLB record. But that hasn't been the case. The Angels haven't had the pitching needed, ranking No. 16 in team ERA this season. Ohtani can only do so much for the team.
Plenty of Betting Options
With Ohtani pitching and playing every day, there are more betting options on the Shohei Ohtani stats than with other players. Ohtani is No. 3 to win the American League Cy Young Award at +700. He sits tied for No. 10 at +2500 to lead MLB in home runs. And he's also the favorite to win the American League MVP at -125.
How Ohtani fares in the various bets will be decided by how the Angels finish in the MLB overall standings. The Angels are one game out of the wild card picture right now. But there's plenty of baseball left this season. So there's no need for the Angels to start worrying quite yet. They have plenty of time for a run.
The Angels are 42-29 when Ohtani is the starting pitcher. They're 8-2 this season and have gone 4-1 at home and on the road. The Angels have been favored in all 10 of Ohtani's starts and scored just one run in each of the two games they failed to win with him on the mound.
As long as he continues to stay healthy, Ohtani is going to put up impressive stats. He may not offer a ton of value for American League MVP, but it's hard to go against him. No other player playing today makes the same impact as Ohtani.
Follow us on Twitter
---
Can't get enough? Here's more!