Still No Deal Between MLB, MLBPA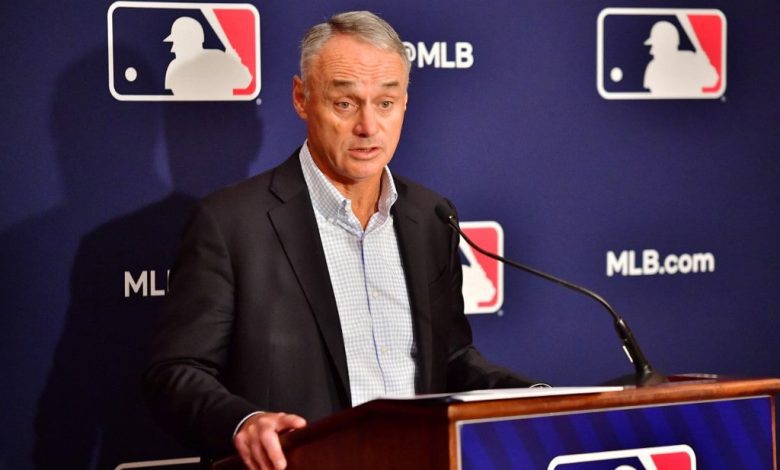 The 2022 Major League Baseball season is in serious jeopardy unless significant progress is made soon. Major League Baseball and the Players Association continue to work on a new collective bargaining agreement, but the talks continue to stall. Keep up with the latest news of MLB news.
MLB decided to officially lock the players out all the way back on December 2, 2021, and we are getting close to the 100th day of this work stoppage. Players are not allowed to use team facilities during this time, and free agents are not able to work on negotiating a contract.
This has been a big week for MLB and the MLBPA in terms of meetings, but it doesn't sound as if much progress has been made. Both sides continue to be unwilling to give in on the most important issues, and there are several of those.
The last time that baseball had a similar issue was in 1994, and the players actually went on strike that time. This sent the entire league and sport into a tailspin, and it took a couple of years before all of the fans returned.
Baseball has already been losing fans at a pretty rapid rate, and another work stoppage could devastate the sport. Players continue to speak out on social media in hopes of getting to play, but there is still plenty of work to be done.
According to Major League Baseball, a shortened 2022 season could be coming. The league has set a deadline of Monday before it will be forced to cancel games, and it says that those games will not be made up.
Spring Training has already been delayed as most teams were set to open camp at some point last week. MLB won't allow for any Spring Training games to take place before March 5, but that date is likely going to be pushed out again as well.
The league was hoping to put some pressure on the players with this threat of canceled games, as MLB has made it clear that this salary would not be made up. The MLBPA still believes that a full season could be played in some fashion, and the threat has not been as impactful as the league believes.
Both sides came into these negotiations with plenty of demands, and money is at the heart of this discussion. The players want a larger share of the revenue, while owners are looking to cut costs in certain areas, such as the Minor Leagues.
One major issue for the players has been protective players from being manipulated by service time issues. Starting arbitration a year earlier has also been a request from the MLBPA, but the owners haven't been wanting to budge on that issue.
Owners are working on getting an expanded playoff system in place, and they are also looking to limit the number of Minor League teams and players. The owners continue to look for ways to get money back from the revenue that was lost during the COVID-19 pandemic.
Some of the minor issues are going to be settled in the final few minutes, but some of the biggest issues are what is drawing this process out. Don't miss any MLS news with Point Spreads.