Bellator 288 Odds Preview: Unfinished Business
Bellator MMA Odds Expect Both Titles to Switch Hands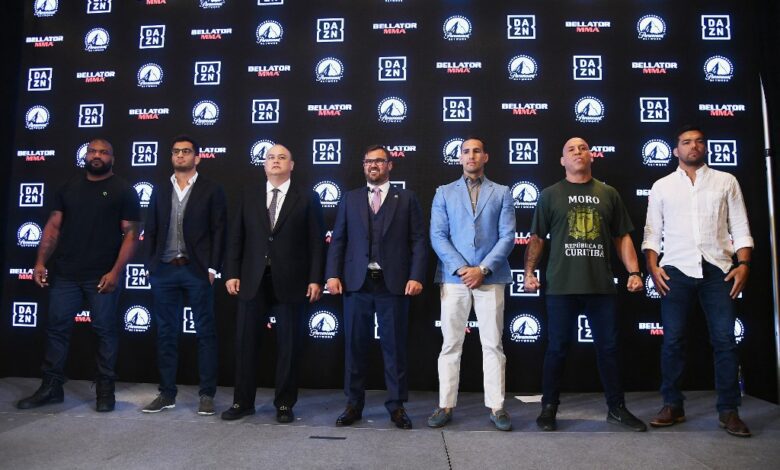 A Million Reasons to Watch Bellator 288
Corey Anderson is working overtime as he looks to finish the job against the Bellator Light Heavyweight Champion, Vadim Nemkov. The pair met earlier this spring to decide the champion and the $1-million-dollar Grand Prix Tournament winner though an accidental headbutt abruptly ended their bout.
Anderson was winning the bout and the Bellator 288 odds now have him as the favorite at -235 as he looks to capture MMA gold in his home state.
Bellator 288
Fighters: Vadim Nemkov (15-2-0) vs Corey Anderson (17-5-0)
Date; Time & Streaming:
Location: Wintrust Arena, Chicago, IL

Anderson Now Favored to Finish Nemkov
The man fighting out of Rockton will have both the Bellator 288 odds and the home crowd on his side this Friday. Anderson has been on a warpath since arriving at Bellator having knocked out all three of his opponents including the former champion, Ryan Bader.
Heading to the first fight versus Nemkov, the Nemkov vs Anderson odds had him as an underdog.
After all, Nemkov, the great Fedor Emelianenko's protege, was undefeated in Bellator (7-0) with wins over five former champions. But Anderson took the fight to him as the NCAA Division II wrestler outgrappled him and outstruck him. The 33-year-old is 7-1 in his last eight fights and his only loss came against the former UFC Light Heavyweight Champion, Jan Blachowicz.
For Nemkov, the +185 underdog will have to find ways to neutralize Anderson's wrestling. He and Emelianenko have had half a year to prepare for it.
If he can keep this fight upright, he may just beat Anderson, who got knocked out in four of his five career losses.
Another Nurmagomedov Touches MMA Gold
Anchoring the co-main event is the Bellator Lightweight Championship bout between Patricky "Pitbull" Freire and Usman Nurmagomedov. Like Anderson, the latter is the betting favorite at -500 as the challenger. Nurmagomedov is former UFC Lightweight Champion, Khabib Nurmagomedov's cousin and like him, is a dominant Dagestani grappler.
These Bellator 288 odds have Nurmagomedov as the biggest favorite on the main card as he is unbeaten (15-0) and has mauled all four of his Bellator opponents.
While Freire is a significant step up for him, the longtime Bellator veteran is primarily a striker. Freire is also just 1-2 in his last three fights and has losses against top-tier grapplers like Michael Chandler and Marcin Held.
But Freire (+350) has come through as an underdog many times. He is 6-3 as an underdog in Bellator and has won his last three bouts as one. Bettors would be up $545 if they bet $100 in these three fights.
Russians and Wrestlers Expected to Dominate
Also on the Bellator schedule are a slew of prospects and young contenders. Russians and wrestlers are the most notable of these fighters as they dominate the betting lines.
Timur Khizriev (-300), Khasan Askhabov (-190), and Imamshafi Aliev (-900) are set to win their bouts. A parlay of the three plus Nurmagomedov will pay $171 for every $100 wager. The trio is a combined 42-2-0 in their professional MMA careers.
Bellator continues to showcase young wrestlers fresh from college. The newest additions are the likes of Jordan Newman (-800), Isaiah Hokit (-210), and Archie Colgan (-600).
Newman is a Ben Askren protege and is a two-time NCAA Division III wrestling champion. Hokit is an NCAA Division I wrestler who trains at Team Bodyshop with the likes of former Bellator champion AJ McKee. And Colgan wrestled at the University of Wyoming and currently spars with former champions Kamaru Usman and Justin Gaethje.
Follow us on Twitter
---
Want more articles like this? Check these out: