Bellator vs UFC: Why Both Have Their Charm
The Differences Between the Leading MMA Promotions are Stark, What is Bellator? UFC?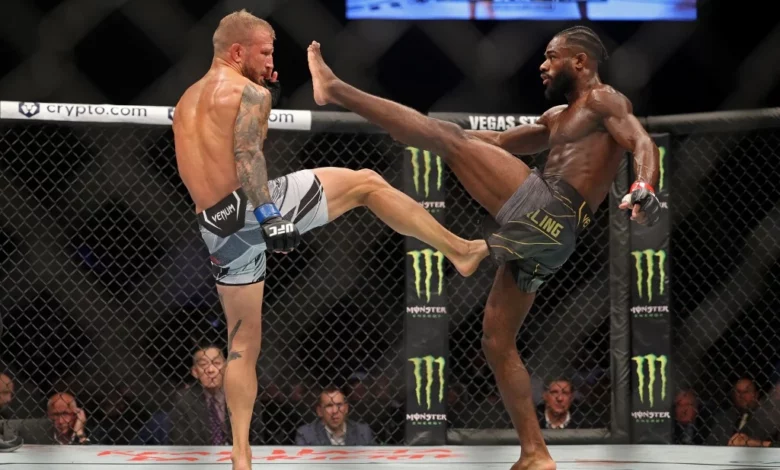 Chances are, you have heard of either Bellator MMA or the Ultimate Fighting Championship better known as the UFC. They are the two largest mixed martial arts (MMA) promotions in the world. The biggest MMA stars like Conor McGregor and Quinton "Rampage" Jackson have fought for either Bellator, the UFC, or both.
Often considered rivals, we don't find it a fair comparison as Bellator vs UFC features too many differences. It's almost like comparing apples to oranges. Each promotion has something unique to offer and MMA fans will find plenty of value in watching and betting on both.
The Basic Differences Between Bellator and UFC
We can write a book on how different Bellator and the UFC are. But to get straight to the point, we'll outline the main areas where the two promotions diverge beginning with the basic facts on both:
Bellator vs UFC

| Bellator | Category | UFC |
| --- | --- | --- |
| 2008 | Founded | 1993 |
| Paramount Global | Current Owner/s | Endeavor (via Zuffa) |
| Scott Coker | President | Dana White |
| United States | Country | United States |
| Showtime | Current TV partner/s | ESPN (primarily) |
| 9: Seven (Men's) /Two (Women's) | Total Weight Divisions | 12: Eight (Men's)/Four (Women's) |
| 250+ (2022) | Roster Size | 600+ (2022) |
| 17 (2022) | Events Per Year | 42 (2022) |
| Unified Rules of MMA | Rules | Unified Rules of MMA |
The UFC is a much older MMA promotion. It has more fighters across more weight divisions while holding more UFC events in one year. In short, the UFC is a much bigger promotion than Bellator. Still, Bellator vs UFC differs in more nuanced ways beginning with its roster.
Bellator vs UFC: The Fighters
The most significant advantage the UFC has over Bellator is the quality of its fighters. The best fighters in the world (for the most part) fight in the UFC. Going by pound-for-pound rankings in MMA, ESPN's top 10 are all UFC fighters. Tapology's fan rankings have a similar list as well.
Not only does the UFC have the majority of the best fighters, but they all fight exclusively for the UFC. In contrast, Bellator allows its fighters to compete in other promotions (although they do it much less frequently now).
This is why you will not see a current UFC star like Israel Adesanya fight in another promotion whereas Bellator occasionally has some of its fighters compete in another promotion like RIZIN or in Russia.
The exception the UFC allows is in grappling. Active UFC fighters occasionally compete in Brazilian Jiu-Jitsu tournaments like Polaris Pro Grappling.
Check out the full list of UFC fighters
Bellator still has plenty of formidable talent. The promotion has made a habit of developing young stars like Aaron Pico and A.J. McKee. Some, like Michael Chandler and Eddie Alvarez, go to the UFC and have success. Alvarez became the first fighter to win both a Bellator and UFC championship.
The reverse is also common where many ranked UFC fighters move to Bellator. Former UFC champions like Cris "Cyborg" Justino and Benson Henderson fight in Bellator as of 2022. Others like Ryan Bader and Gegard Mousasi have also won titles under the promotion.
Both the UFC and Bellator also have separate rankings, which are decided by a panel consisting mainly of MMA media members and authorities.
Opportunities for Fighters: Bellator vs UFC
Another reason why the UFC has a richer crop of fighters is that the promotion can pay better. The UFC has bigger and richer sponsors than Bellator and also makes more revenue, especially because it has monthly pay-per-views (PPV). Fighters also have the chance to earn post-fight bonuses that start at $50,000 on top of sponsorship money.
However, Bellator can still provide competitive pay for its top stars. The likes of Fedor Emelianenko and Patricio "Pitbull" Freire reportedly make $300K and $200K with each fight, respectively. Some UFC champions are not even paid that.
Bellator also gives fighters more freedom when it comes to acquiring sponsors. Whereas UFC fighters must adhere to the sponsors the UFC assigns, Bellator fighters can sign with any sponsor and potentially have a higher ceiling when it comes to this type of income.
Additionally, the Bellator schedule features tournaments where the winner is rewarded a $1 million prize. The UFC does not have anything similar.
The Fighting Conditions: Rules, Drug Testing, and the Cage
The Rules
The UFC and Bellator both abide by the Unified MMA rules so there is continuity in how UFC and Bellator fighters compete as it pertains to:
1. What is legal and illegal in a fight
2. Length of fight, how many rounds, how many minutes etc…
3. The scoring system the judges use.
In both sets of rules, Bellator and UFC consider things like eye pokes and low blows as illegal. Each also has three five-minute rounds in non-title bouts and five five-minute rounds in title fights with a five-minute rest in-between rounds.
The exception is that the UFC has made many non-title bouts, such as main events, a five-rounder. Bellator has recently followed this trend and also employs the same in their tournament bouts.
The promotions, however, have some differences when it comes to their drug testing policies and the cage. This in turn affects how the fighters perform.
Drug Testing
One crucial difference between Bellator vs UFC is how they handle drug testing. The UFC infamously partnered with the United States Anti-Doping Agency (USADA). This is the non-profit anti-doping agency for the USA, which is a signatory to the World Anti-Doping Code. USADA famously caught and prosecuted Lance Armstrong.
USADA makes "random visits" to the UFC roster and a fighter must join the USADA testing pool to compete. Under USADA, several high-profile fighters including champions have tested positive for performance-enhancing drugs (PEDs) and have been subsequently penalized. These include Jon Jones and T.J. Dillashaw, who both had to vacate their respective titles.
Bellator, on the other hand, is not partnered with any independent drug-testing agency. This makes it more plausible for steroid users to compete more freely in the promotion. But on the positive side, fight cancellations are not as rampant as that of the UFC due to a fighter "popping" for a positive drug test.
The Cage
Another significant difference between Bellator and the UFC is the size and shape of the cages. Bellator uses one cage, which is 36 feet across with 1,018 ft2 square space in the fighting area. This is more than 25 percent larger than the UFC and is advantageous for fighters who like to employ ranged striking techniques such as Michael "Venom" Page.
The UFC, on the other hand, has two cage sizes. Both have eight sides hence eponymously referred to as "The Octagon". The regular cage, which is typically used in PPV and large venues, is sized 30 feet across with 746 ft2 square space inside. The smaller version is 25 feet across with 518 ft2 square space.
The eight sides of the octagon mostly benefit grapplers and clinch-fighters as they can corner their opponents here. Randy Couture was a master at doing this.
The size of the octagon also determines whether or not a fight gets finished or how quickly it does. As of 2020, 48 percent of fights in the regular octagon led to a finish versus 60 percent in the smaller one.
Betting on Bellator and UFC: What to Note
When are Betting Lines Released?
Online sports betting odds are widely available for both Bellator and the UFC with some nuances. The first is when the betting lines are released. Typically, the UFC has its lines released earlier. In some cases, a UFC matchups have lines released days after it is announced (even with no scheduled date).
This rarely happens for Bellator. This promotion tends to see its betting lines released during the week of the fight, typically two to three days before the event.
One reason for this is that Bellator's fighters are not as well known as UFC fighters, especially when it comes to the preliminary card (prelims). So it can be more difficult to get a good read on how the fight will play out.
Check out the updated UFC odds
The Betting Markets Between Bellator and UFC
One reason why the UFC could also be a more abundant avenue is because of the plethora of markets opened for it. This is a sizable edge in the Bellator vs UFC debates as the UFC gives fans more ways to bet on the promotion.
UFC props tend to open later than the main markets – moneyline and round totals (over/under). But they will be available before the fight. These props tend to be anywhere from the method of victory to the round of victory to whether a fight will go to a decision or not.
Bellator rarely has props available and if they are, they open late and are only up for a brief moment. The betting limits may also be lower depending on the fights.
Learn more about Prop Bets with our Betting Academy
Betting Results: How Accurate are the Bellator or UFC Lines?
Bellator has one undeniable advantage over the UFC when it comes to betting – the success rate of their underdogs. As mentioned, Bellator's betting lines tend to open later because oddsmakers have a harder time capping the fighters – especially the relatively new or unrecognized ones.
The average winner odds for Bellator is at +316. In comparison, the average winner odds for UFC is +163.
As such, upsets are more common in Bellator. This bodes well for folks who bet on underdogs but bettors who like to stack favorites on parlays should be wary.
For 2022 (until Oct. 1), only eight of the 24 UFC events have been profitable for underdog bettors (if they bet on every single underdog on the card). In contrast, seven of the 13 Bellator events in 2022 thus far had lucrative outcomes for underdogs.
The reason being is that Bellator tends to have large underdogs winning. According to BetMMA.Tips, of the 52 Bellator events they have on record, only 31 percent of underdogs have won. This is fewer than the 35 percent of UFC underdogs that have won in 342 events on their file. However, the average winner odds for Bellator is at +316. In comparison, the average winner odds for UFC is +163.
Bellator vs UFC: In Conclusion
Bellator and UFC are similar in some basic ways but their differences can mean plenty, especially when it comes to betting. Both Bellator and UFC share the same rules inside their cages per the Unified MMA Rules. However, the UFC's cage, The Octagon, is different from Bellator's and can impact how fights play out. Drug testing is also stricter in the UFC thanks to their partnership with USADA.
The UFC is also more prolific in terms of its quantity. The promotion has richer sponsors, makes more revenue, and hosts more events. It also has a lot more fighters – over three times more than Bellator. The best fighters fight in the UFC, though Bellator has some stars and top fighters. Bellator features a tournament format, which is one unique fighting-related aspect about it.
And finally, while both the UFC and Bellator have plenty of betting markets, the UFC has more. Betting lines are also opened earlier for the UFC and there is a greater selection of props. However, Bellator can feature bigger upsets and can be more profitable for those looking to hit on big underdogs.
Follow us on Twitter
---
We also thought you might like to check these out: