Rumble in St. Petersburg: IndyCar Opening Weekend
Past Champions Lead the Way for The 2023 IndyCar Championship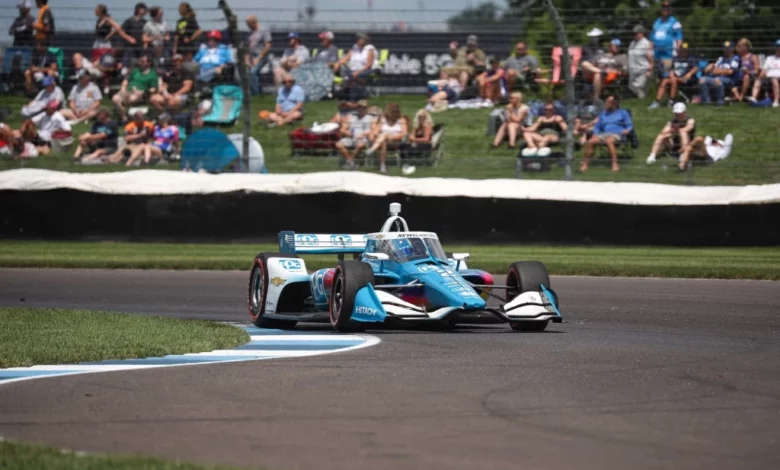 Rumble in St. Petersburg: The 2023 NTT IndyCar series heads to St. Petersburg, Florida for the opening round of the championship. This is the final year of the current engine formula (2.2-liter turbocharged V6 engines) before the series turns to hybrid technology in 2024. Last season saw a pair of Team Penske drivers, WIll Power and Josef Newgarden, battle for the title by the end of the year.
But the new season is here. There are some driver changes up the grid but the main contenders remain. Here's a primer for the season ahead of the first race at St. Petersburg:
Prior Champions at The top:
Newgarden (+350) has the best odds to win the 2023 IndyCar championship. This comes after three consecutive runner-up finishes in the championship. In 2020, he lost out by 16 points to Scott Dixon. In 2021, he was 38 points behind champion Alex Palou. And 2022 saw him lose out to Power by 16 points as well.
He had the most race wins last season with five. No one else had more than three. A few bad results across the season, including crashing out in Iowa and poor results in St. Petersburg and Indianapolis, kept him from taking his third IndyCar title. Newgarden won the title in 2019 and 2017. All he needs is a little more consistency and the title could be his.
The driver he fought for the 2022 title is second in the IndyCar odds. Power (+550) only won one race in 2022 but he finished outside the top 10 just four times. He finished on the podium in half of the races last season and provided consistency compared to Team Penske teammate Newgarden's highs to win his second championship. The Australian had a big uptick in pace for the 2022 season. In the previous five IndyCar seasons, his best result was third in the championship.
Arrow McLaren driver Pato O'Ward round out the top three. O'Ward (+600) had a disappointing 2022 season and finished seventh with just two wins. That was his worst full season in IndyCar. He finished third in 2021 IndyCar Standings and fourth in 2020. He had a bad run to start the 2022 season with one win over the first five races. In that time, he finished outside the top 10 three times. He's a better driver than his seventh-place standing reflects. He'll look to bounce back starting this weekend in St. Petersburg.
All three drivers are driving Chevrolet-powered cars. Chevrolet-powered drivers won 12 of the 17 races in 2022 and that advantage could continue into 2023.
Younger Drivers With the Next-Best Odds:
Team Penske's third driver in 2023, Scott McLaughlin, sits fourth for best odds for the title at +800. This will be his third full season in IndyCar after a fourth-place finish in the championship last season. Three wins and another four podiums were impressive but a stretch of bad results from Long Beach to Detroit set him too far back to fight for the title. He's got the best team and engine behind him and could make a better run in 2023.
Palou is tied with McLaughlin at +800. The 2021 champion is the highest-ranked non-Chevrolet driver and ended 2022 with one of the more dominant wins of the season. If Honda can slightly close the gap power-wise, Palou's shown the ability to win consistently and take a title.
Andretti Autosports' Colton Herta (+900) is right behind those two. Herta's 10th-place finish in 2022 was a drop off from 2021, when he finished fifth and closed out the year with two consecutive wins. Herta acknowledged that updated tire compounds caught him out in 2022 and that he needs to be better on all fronts. He's got the talent to win a title but needs to execute more like Newgarden or Power to take the championship.
Predictions and Picks for The Rumble in St. Petersburg:
With the best team and best engine, 2023 is Newgarden's for the taking. There's good reason that he could've won the last three titles if things had gone slightly differently. One or two more points finishes and he'd be the defending champion.
If those odds don't give a good enough payout, McLaughlin is a great choice. He improved a lot in 2022 and another step forward could lead to a championship. McLaughlin also scored more points on road courses than any other IndyCar driver in 2022. He's a good choice to grab his second straight win in St. Petersburg this weekend.
As of Friday morning, odds have not been released for the Firestone Grand Prix of St. Petersburg one day ahead of qualifying. Other motorsport categories including Formula 1 and the NASCAR Cup and Xfinity Series have odds posted well ahead of time. IndyCar fans and betters were frustrated by a lack of timely odds in 2022. This could be the same problem again in 2023. Thank you for joining us for this Rumble in St. Petersburg preview; keep it right here for the latest IndyCar news, and IndyCar schedule.
Follow us on Twitter
---
Can't get enough? Here's more!