John Hunter Nemechek's Rise to Xfinity Series Championship Favorite
In his first full season with Joe Gibbs Racing, Nemechek could win first NASCAR title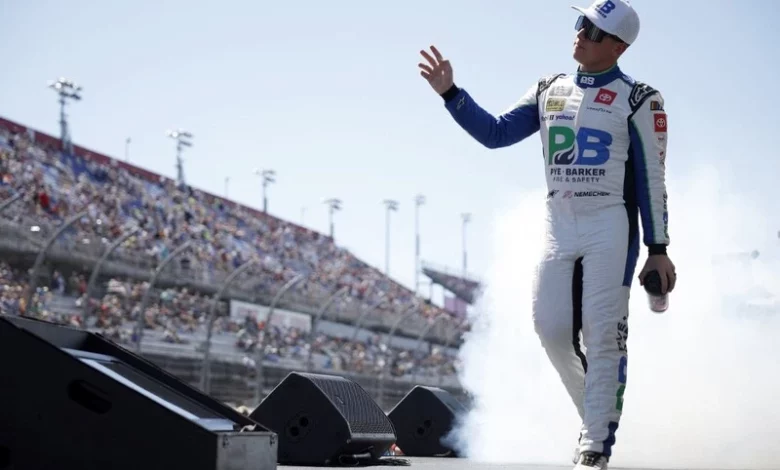 The 2023 NASCAR Xfinity Series has been a closely contested battle at the top of the standings between two drivers. Austin Hill and John Hunter Nemechek traded pole positions and wins since the start of the NASCAR season in Daytona. As we near the end of the season, each driver has a great shot at securing the Xfinity championship. Though Hill made the Round of 8 in the playoffs last year, this is Nemechek's first time contending for the title since 2019.
John Hunter Nemechek started his career racing go-karts, dirt bikes, and quarter midget cars. The son of former Cup Series driver Joe Nemechek, Nemechek made his way up the junior categories to dominate the 2012 Allison Legacy Series. He won 15 of the 18 races that season to take the championship.
In 2013, his Truck Series career began, and two years later, he was a full-time driver in the series. From 2015 through 2017, he raced 64 events in the series. He finished eighth in both 2016 and 2017 for NEMCO Motorsports. But wins in that category didn't come as easily to him as in the Xfinity Series this year. Of those 64 races, he won just five events. It was his consistency that, more often than not, kept him in the top 10 of the Xfinity standings.
The 2018 Xfinity Series season gave Nemechek his first events in the series. He started strong for Chip Ganassi Racing with fourth on his Xfinity debut in Atlanta. From there, he raced in 17 more events that year and finished 13th overall. A win in Kansas punctuated a strong season of six top-five results.
He returned in 2019 to contend in all 33 races of the Xfinity Series. That was a relatively strong grid that year, with the likes of future Cup Series drivers Tyler Reddick, Christopher Bell, Austin Cindric, and Chase Briscoe competing for the title. Nemechek couldn't find victory lane like he did in 2018 but made the playoffs behind another year of consistency. He finished outside the top 15 just eight times all year.
He also filled in for Cup Series driver Matt Tifft for the final three races of the season. That parlayed into a full-time spot for the 2020 Cup Series season with Front Row Motorsports. He didn't manage a win that year, but strong performances in Darlington (ninth) and Talladega (eighth in both races) reflected a solid first season.
Kyle Busch Motorsports signed him for the 2021 Craftsman Truck Series season. That year marked his best finish (third) with almost as many wins (five) as his prior 103 events (six). Another strong season in 2022 with two wins and seven pole positions earned him a full-time return to the Xfinity Series, this time with Joe Gibbs Racing.
Nemechek's best NASCAR results have come in this second opportunity in the Xfinity Series. Through 25 races, he's managed five wins, more than double his total from his Xfinity career before 2023. When he hasn't won, his consistency as in lower levels has shined through. So far, he's finished outside the top 10 just seven times in 2023. That's partly why he's been one of the best NASCAR betting choices for wins this season. In the majority of races, he's been at the sharp end of the order.
The NASCAR schedule for this weekend in Kansas offers another great opportunity. It's the place where he earned his first Xfinity Series victory way back in 2018. He's fresh off a pole position and leading the most laps in Darlington.
Overall, the playoffs begin in Bristol, and feature tracks Nemechek's performed well at. Texas was the site of his last Xfinity win before this season (2021). He's won in Las Vegas in the Truck Series and finished in the top eight in three of his four Xfinity races there. He's never finished lower than ninth in either Homestead or Phoenix in his Xfinity career.
This successful return to the Xfinity Series in 2023 isn't too much of a surprise. With a strong start to the season, he took the consistency honed in lower levels and continued his winning ways. John Hunter Nemechek could win his first NASCAR championship this season. At +150, he's the current betting favorite over Hill. But even if he falls short, it'll be the first big season in a great return to the higher levels of NASCAR.
For NASCAR betting news, odds analysis, and more, visit Point Spreads Sports Magazine.
---
Can't get enough? Here's more!