NASCAR Cup Series: Coke Zero Sugar 400 Odds & Betting Analysis
Who Avoids the Big One and Takes the Checkered Flag?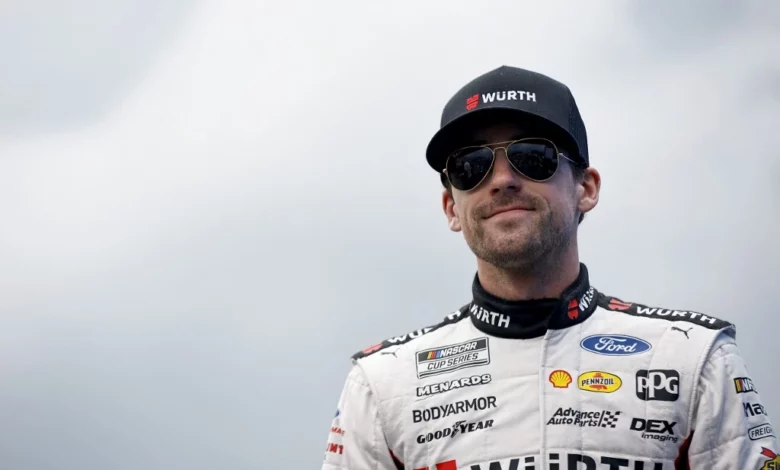 The NASCAR Cup Series hits its final stop before the start of the playoffs, right where it all began: Daytona. The final playoff spot up for grabs is between Ryan Blaney and Martin Truex Jr., that is if there's not a new winner. Here, we'll examine the Coke Zero Sugar 400 odds and the 2022 NASCAR Cup standings to see which driver Vegas thinks has the better chance to move on to the playoffs.
---
Track Info
Daytona International Speedway is arguably one of the most famous tracks in American motorsports, perhaps only behind Indianapolis Motor Speedway. It's 2.5 miles around and drivers will race 160 laps or 400 miles. This track has been famous for its close finishes, as the average margin of victory has been less than 0.2 seconds over the last 21 races.
Who are the Favorites?
Current No. 1 driver and favorite to become the Cup Series Champion Chase Elliott enter as the favorite among the Coke Zero Sugar 400 odds at +1000. Elliott finished 10th in the Daytona 500 earlier this season and should be in a good position to have another good showing. He was very close to winning at Watkins Glen the week before, but his teammate Kyle Larson passed him late and supposedly ran Elliott up the track out of turn one. Don't be surprised if Elliott comes back with a vengeance this week.
Three drives enter tied at +1200 odds. One of which is the driver with the most on the line in Blaney. As mentioned above, Blaney either needs to win outright or finish better than Truex, as Truex sits 25 points behind. The spotters for both drivers will likely keep an eye on the other all day, but Blaney controls his destiny. It would be much easier for him to win than to worry about exactly how many spots ahead of Truex he needs to finish. Easier said than done.
Blaney might be on the perfect track to seize the final spot and head into the playoffs with momentum. Blaney's only win of the season came in the All-Star Race, which doesn't count toward the standings. Before that, his last win came in last year's Coke Zero Sugar 400 odds, so he knows what it takes to win here. He also finished fourth in this year's Daytona 500 after finishing second the year before.
As for Truex, he sits at +1800 to win. It remains to be seen whether oddsmakers will release a Blaney vs. Truex driver prop for the weekend.
Who will Become the Top Toyota?
Denny Hamlin enters with two wins at Daytona in his previous seven Daytona starts. He hasn't been as great lately, as a crash ended his day early in February after finishing 13th in the 2021 Coke Zero Sugar 400 odds. With the new car, he hasn't been as fast, illustrated by an 18th-place finish at Talladega earlier this season.
Over the last five starts at superspeedways, he has an average finish of 21.4. He's likely here based on pedigree, as there was a stretch from 2019 to 2021 where Hamlin made three superspeedway starts and finished in the top five in eight of the 10 races. Don't be surprised to see Hamlin doing everything he can to help Truex get into a position to contend for the playoff spot.
Also tied at the +1200 mark is Darrell "Bubba" Wallace Jr. You can't use the phrase "close, but no cigar" at Daytona without bringing Wallace into the mix. He finished second in this past Daytona 500, and second in last year's Coke Zero 400 odds after Chris Buescher was flagged second, but was later disqualified following post-race inspections.
Wallace has proven to always be in the mix at Daytona and it could be his best track on the whole circuit. Not sure how much meat is on the bone, as at +1200, the oddsmakers might've caught up to him.
Best of the Rest
Four drivers enter with similar odds, as Ross Chastain, Joey Logano, William Byron, and Larson all enter at +1300.
Chastain has competed but has never finished better than seventh in his eight Cup Series races. He raced well at last year's Coke Zero Sugar 400 and even got out front for 14 laps before a wreck ended his day. Not uncommon for Daytona.
As for Byron, he won the Coke Zero Sugar 400 odds back in 2020 after a second-place finish in 2019. He hasn't finished in the top 10 of his other seven Daytona starts. He's typically fast here, however, as he's qualified inside the top five times.
Logano typically runs well at Daytona. He has four stage wins in the last six Daytona starts and hasn't been outside of the top 10 at the end of Stage 1 or Stage 2 in any of his last seven starts at Daytona. His value may not be the best at +1300 to win outright, but there are ways to play Logano this weekend.
Where's the Value?
Last week's value bet on Truex Jr didn't come to fruition. When looking at NASCAR betting strategies, Daytona is one of the hardest to gameplan for. Your driver could be running well all day and just get caught up in one of the big crashes in the final laps of any Daytona race.
That being said, there's value to be found here. We discussed Wallace's track record at Daytona and there's value almost however which way you can play him. He sits at +1200 to win, +425 for top three, +220 for top five, and – 140 for top ten. Those are pretty favorable odds considering he's only finished lower than fifth once in his last three starts at Daytona. Even if this isn't the week he breaks through for a win after three second-place finishes, he'll likely have a solid outing.
You can't fake desperate, and that's what Blaney is right now. Blaney has finished sixth or better in four of his last five Daytona starts with three top-five finishes. He's also +330 to finish in the top three and +160 to finish in the top five.
Longshots to Consider
While Austin Cindric won the Daytona 500 in February, there's another duo of Fords that could do some damage. Since 2019, Michael McDowell has three top-ten finishes including a win and a top-five finish. He's +4000 outright among the Coke Zero Sugar 400 odds, +1000 for top three, +700 for top five, and +200 for top 10.
Chris Buescher finished last year's Coke Zero Sugar 400 in 40th after failing post-race inspections. Otherwise, we might be talking about him much differently coming into this race. He's finished in the top 10 five times in 13 starts with three top-five finishes. He has +3500 odds to win, +1000 for top three, +400 for top five, and +125 for top 10.
Follow us on Twitter