NASCAR Cup Series: Pennzoil 400 Betting Preview
Points Leaders Looking for First Wins, This Week in Las Vegas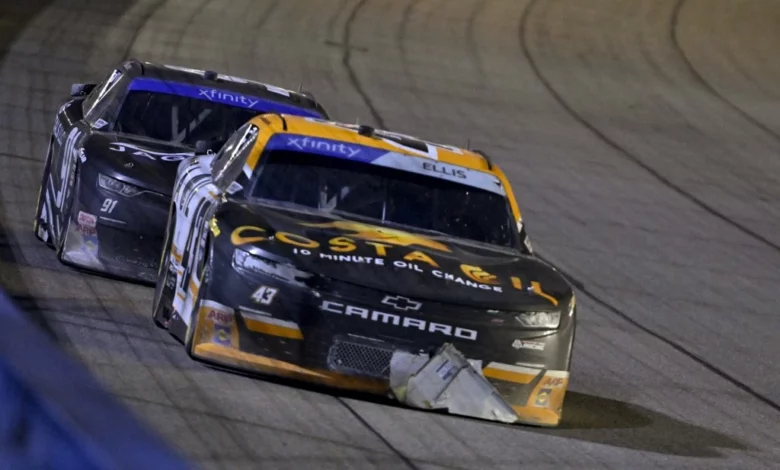 NASCAR Cup Series: Pennzoil 400 Preview: The Pala Casino 400 did not disappoint last weekend after a rained-out qualifying in Fontana. Winner Kyle Busch took the lead on lap 180 out of 200 and won by nearly three seconds over Chase Elliott. That marks Busch's 61st career NASCAR Cup Series win and that's the most among active drivers as well as ninth all-time.
Now the NASCAR Cup Series heads to Busch's hometown Las Vegas for the Pennzoil 400 presented by Jiffy Lube. Busch leads the odds for both the Cup and Xfinity Series races but multiple drivers have a good chance at the win on Sunday.
Busch, Points Leader Top the Best Odds
Fresh off that win in Fontana, Busch is the favorite (+600) for both the Cup Series and Xfinity Series races. He's notched two wins in the Xfinity Series at Las Vegas Motor Speedway but he's never won a Cup Series race there. Only one driver won consecutive races in the 2022 NASCAR Cup Series. Busch notching a pair of wins this early in the season would be a big surprise.
Kyle Larson (+700) sits right behind Busch for the best odds. The 2021 Cup Series champion is off to a slow start in 2023. Finishing 29th in Fontana and 18th in Daytona have him sitting 24th in the NASCAR standings. This is the worst start to a season he's had since his winless 2015 campaign. That year, Larson finished 19th in the championship. But Larson has raced well in Las Vegas before. He won Cup Series races in 2021 and podiumed in 2017, 2018, and 2022. Larson needs a big result to overcome this slow start and Las Vegas may be the place for it.
NASCAR Cup Series standings have Ross Chastain (+800) at the top with 92 points. This is the first time he's outright led the Cup Series standings in his career. Like Busch, Chastain has never won a Cup Series race in Las Vegas, but he's been the most consistent driver on the grid so far. Three stage wins are a key reason why he's leading the championship. Momentum is on his side to get his first win of the 2023 NASCAR Cup Series season.
Defending champion Joey Logano is tied with Chastain at +800. Las Vegas is one of Logano's best tracks. He's won three races in the last four years there. In his last 10 races at Las Vegas Motor Speedway, Logano's been outside of the top 10 just three times. His consistency at the track and strong start to 2023 (second to Chastain in the Cup Series standings) put him in a great position for his first win of the season.
Continuing Our NASCAR Cup Series: Pennzoil 400 Preview:
Next-Best Picks for the Pennzoil 400
Denny Hamlin (+900) is right behind Chastain and Logano. Last year he led 31 laps, but he missed a shift and spun coming out of the pits. He said on a recent episode of his podcast, Actions Detrimental, that he still has "PTSD looking back at that race one year ago."
That mistake broke a run of good racing at Las Vegas. It marked the first time he finished outside the top five at the track since February 2020. He'll look to right the wrong of last season this Sunday.
Elliott (+1000) rounds out the top six drivers with the best NASCAR odds at a win on Sunday. He was charging toward the front last week and, by the end of the race, was one of the fastest cars in the field. The 2020 Cup Series champion has struggled at Las Vegas, though. He's only podiumed twice in his Cup Series career.
Long Shots with a Good Chance
Last year's winner Alex Bowman (+2200) is pretty far behind the likes of Busch and Larson in odds for a win. But he's outperformed both so far in 2023 with a pole in Daytona and top-eight finishes in the first two rounds. He recently announced a multi-year contract extension with Hendrick Motorsports and is living up to it. He's third in the Cup Series standings and could keep building momentum this weekend.
Daniel Suárez (+2500) has only one career Cup Series win (last year in Sonoma). But he's off to the best start of his Cup Series career and sits fifth in the standings. He's one of just four drivers with multiple top-10 finishes so far this season. That could be a precursor to his second career win in Las Vegas this weekend.
Pennzoil 400 Betting Preview & Predictions
Busch is racing at home coming off his first win of the season and Chastain has won more stages (three) than any other driver in the Cup Series this season. But Logano looks primed to take the top spot of the standings from Chastain with a win at one of his best tracks.
Outside of Logano, Bowman provides a great combination of strong form so far this season and good odds for a high payoff. Picking him is not as risky as the odds may reflect. He'd be a relatively surprising winner but not one without merit. Thank you for joining us and checking out out NASCAR Cup Series Pennzoil 400 preview.
Follow us on Twitter
---
Can't get enough? Here's more!