NASCAR RAPTOR 250 Odds: Xfinity Series Heads to Atlanta
Last Week Saw Near-Record Win for Sammy Smith, Who's favored This weekend?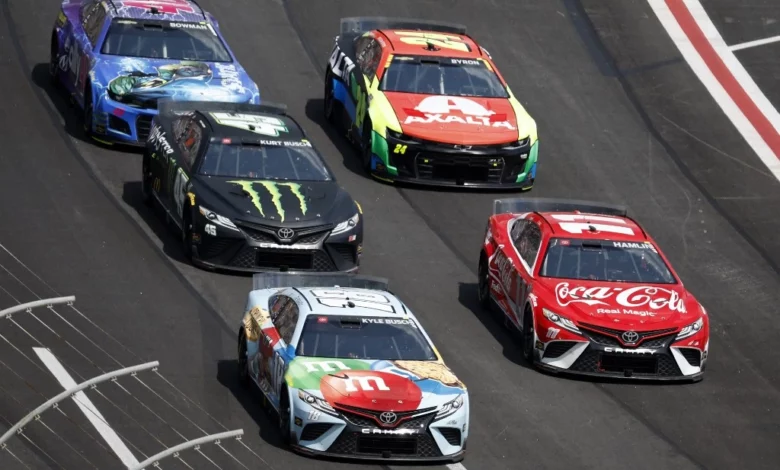 NASCAR Raptor 250 Odds Preview: The NASCAR Xfinity Series saw one of the youngest drivers in history take the chequered flag last weekend in Phoenix. Eighteen-year-old rookie Sammy Smith took the first win of his Xfinity Series career ahead of Joe Gibbs Racing teammate Ryan Truex. Smith is the fourth-youngest driver to win an Xfinity Series race. He did it in dominating fashion, too, by leading 92 laps of stage three.
With Phoenix now in the rear view, the Xfinity Series heads to Georgia for the RAPTOR King of Tough 250 at the Atlanta Motor Speedway. Last year's race saw Ty Gibbs take the win after several overtime finishes. Could the 2023 race provide similar close calls? Here's a look at who's favored to win this weekend.
Championship leader Far in Front
NASCAR Xfinity point standings leader Austin Hill (+450) is the heavy favorite for victory on Saturday. So far, Hill's put together a solid start to his 2023 campaign – two wins in four races (Daytona and Las Vegas) plus a sixth-place finish in Fontana and seventh last week in Phoenix. He's 30 points ahead in the championship over John Hunter Nemechek.
In addition to his good form, he's also raced very well at Atlanta. Last year, he finished second in the first race there and won the second race. In the latter event, he led the most laps as well.
Looking previously to his Camping World Truck Series career, Hill is a solid driver in Atlanta. He finished second in 2020 and 2021. This course may be one of his best already in his young career. A win this Saturday would widen his championship lead even more.
Title Challengers Behind
Continuing Our NASCAR Raptor 250 Odds Preview: Nemechek (+800) and Justin Allgaier (+900) are the closest Xfinity Series regulars behind him. Nemechek continued his run of top-six finishes in Phoenix last week. He's had mixed results at Atlanta in his career. His most recent race in Atlanta, the 2020 Cup Series event, ended in a 23rd-place result. In Xfinity races there, he finished 20th in 2019 and fourth in 2018. His recent form is promising but a win may be a stretch at a track he's never excelled at.
Allgaier won the first two stages in Phoenix last week but pitting later than others put him too far back to get the win. A late crash dashed any hope of a win. That result ended his run of top-three finishes. He'll need to bounce back in a big way to bridge the 39-point gap to Hill. Luckily, he's raced well in Atlanta before. He won the 2021 Xfinity Series race and has finished lower than seventh just once in the last five years. His track record may not be as good as Hill's but it's enough to inspire confidence heading into Saturday.
Cup Series driver Justin Haley (+800) is also highly favored for the win in Atlanta. His only Xfinity Series career wins came at superspeedways: Talladega (twice in 2020) and Daytona (2020 and 2021). He's totaled two top-five finishes in four Xfinity Series races in Atlanta. In his one Xfinity Series race in 2023 — the season opener in Daytona — he finished 10th. He has the Cup Series pedigree but hasn't performed as well as others in Atlanta.
Longer Odds to Consider for The RAPTOR King of Tough 250
Riley Herbst (+2500) is one of the younger drivers in the Xfinity Series this year. Last week, he took fourth to make it four consecutive NASCAR races of top-eight finishes. Only Hill and Nemechek have a better run of results to open the season. He's been consistent in 2023 so far and has run decently well in Atlanta. He took fourth and ninth in the two Xfinity Series races there last year. Again, not the best history compared to the rest of the field, but enough to provide optimism for a good result on Saturday.
Predictions for The NASCAR RAPTOR 250
Concluding Our NASCAR Raptor 250 Odds Preview: Hill has a wonderful combination of success early this season and a history of racing well in Atlanta. His 2022 win came against arguably better competition and he dominated with more than twice as many laps led as the next-best driver. He's the safest choice in the field.
Beyond Hill, Allgaier has consistently performed in Atlanta over his Xfinity Series career. A win to make up for the strategy call and late crash last week in Phoenix would help him bounce back up closer to the top in the championship. Be sure to check back every week for the latest NASCAR xfinity odds.
Follow us on Twitter
---
Can't get enough? Here's more!