NASCAR Xfinity: 2022 Contender Boats 300 Betting Odds & Analysis
Playoffs Continue in Miami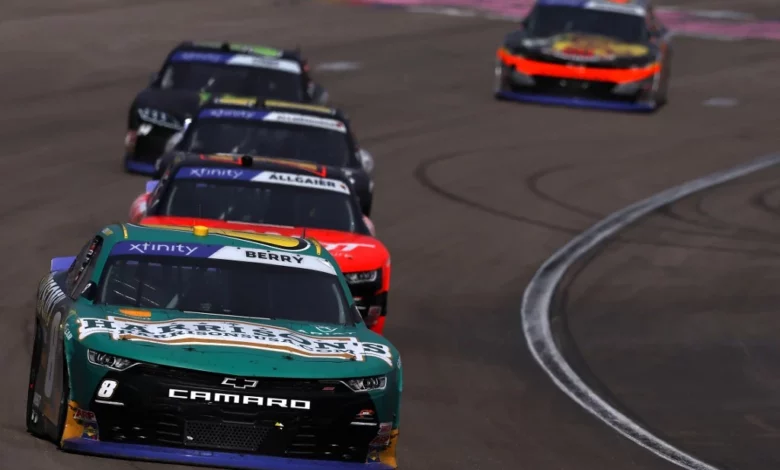 As the season winds down, the NASCAR Xfinity Series playoffs continue Saturday as drivers head down to Miami for a shot at the 2022 Contender Boats 300. With only three races left, two in the round of eight, it's coming down to the wire for some drivers. Below, we'll give you the current NASCAR standings as well as an analysis of the odds for the 2022 Contender Boats 300.
Race Information:
Race: Contender Boats 300
Date & Time:
Track: Homestead-Miami Speedway
Updated Playoff Standings
There's been a shake-up in the current playoff standings. Currently sitting in first is Josh Berry. However, Berry isn't the points leader, but his win at Las Vegas in the previous race automatically qualified him for the Round of Four.
Noah Gragson, who had been in first place following his incredible four-race win streak, is in second place, despite having 40 more points.
Ty Gibbs is in a similar situation. Before Gragson's push late in the season, it looked like it would be Gibbs' to lose. Instead, he sits in third place, 21 points ahead of the current leader Berry and 19 behind Gragson.
Justin Allgaier is fourth, but still has 11 points more than Berry. He trails Gibbs by 10 for third place. He will be fighting to keep this position, as Austin Hill isn't far behind, trailing by just 15 points on the bubble. The same can be said for AJ Allmendinger, who sits just one point behind Hill.
Brandon Jones is currently 27 points off the cutoff in seventh place and Sam Mayer is 36 points off. Just like with Berry, if any of these drivers were to pull off a win in the 2022 Contender Boats 300, it would automatically qualify them for the next round.
Who are the Favorites?
Gragson currently sits atop the Contender Boats 300 odds board at +200 to take the checkered flag. It's not just because of pedigree either. In four career Xfinity Series starts at Miami, he's placed in the top five three times, the lone exception coming last season when he crashed out in the third stage. He's led 10 or more laps in all four Miami starts and was leading at the end of two stages twice. Look for Gragson to secure his spot in the next round with a win.
Gibbs is close behind on the NASCAR Xfinity Series Odds board at +275. This is the opposite of Gragson, as Gibbs' odds are based totally on pedigree. With no previous races at Homestead-Miami under his belt, these are low odds for Gibbs. But it would be far from the first time Gibbs had such low odds for a track he hadn't raced on before. He was up there for a fourth-place finish in the previous race in Vegas. It wouldn't surprise us to see Gibbs walk away with the Round of Four spots clinched after Saturday.
Trevor Bayne and Allgaier each enter tied at +600 odds for the 2022 Contender Boats 300. While Allgaier has 13 Xfinity Series races at Homestead-Miami under his belt, he hasn't had the best results. His best finish was a sixth-place finish in 2016. Outside of that, he has just one top-10 finish.
While a member of the Cup Series, Bayne's best finish at Homestead-Miami came as an 18th-place finish in 2015. In four Xfinity Series starts there, he has two top-five finishes and two top-10 finishes. He showed fans he was here to be aggressive, evident by his fifth-place finish at Las Vegas.
In Contention?
Berry has two career Xfinity Series starts with seven years in between. His first was back in 2014 when he placed 25th. 2021 was a different story, as he finished 10th. Can he improve to a second-straight win at +800?
Allmendinger comes into Homestead-Miami at +1200 odds. He finished 14th last year but was in the lead at the end of Stage 1 after starting 24th. He managed to lead 45 laps in the process. It shouldn't be a surprise to see Allmendinger win at this point. He proved a lot this year, and a win would get Allmendinger back in the hunt.
Where's the Value?
There might be some decent value surrounding Bayne this weekend. He's had success here at the Xfinity Series level. While he doesn't have his sights on the championship like his counterparts, expect him to race hard and not be able to identify the difference.
The best value on the board for this week, however, is Jones. Jones is currently on the outside looking in, but a good performance at Homestead-Miami could change that. Jones enters tied with Hill at +1400, but based on past performances, that number could be off. He's finished in second place in each of his last two starts here and eighth in three consecutive races before that. He can be had at +130 for a top-10 finish and +350 for a top-three finish. Don't be afraid to look at driver matchup props with Jones in mind either.
Next on the NASCAR schedule 2022 is Martinsville.
Follow us on Twitter
---
Want more articles like this? Check these out: