NASCAR Xfinity: New Holland 250 Odds & Betting Analysis
Will Allmendinger Dominate again?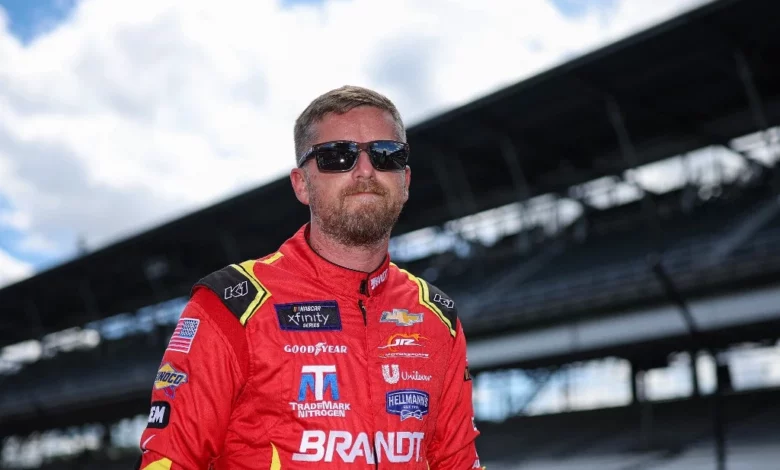 The New Holland 250, a race that has taken place at Michigan International Speedway annually since 1992, is the next stop on the Xfinity Series. Originally a 200-mile race, it was extended to 250 starting in 2000. Who has the best New Holland 250 odds? Read on to find out.
How they Rank
Coming into the weekend, A.J. Allmendinger sits atop the Xfinity Series standings with 789 points with a win at Indianapolis. The usual road-course specialist extended his lead to 27 points ahead of Justin Allgaier in second place. With the win in his last race, Allmendinger now sits first in the playoff standings as well, albeit by one point. There are drivers with both more wins and more top-five finishes this season. Allmendinger's key to his success in the standings has been his 17 top-10 finishes and his zero DNFs. How do these numbers change the New Holland 250 Odds?
Justin Allgaier currently sits in second place in the driver standings and third in the playoff standings. He's got nine finishes in the top five and is one of three drivers with three wins on the season.
Gibbs holds the tiebreaker over Allgaier for the rights to second place in the playoff standings but still sits third in the driver standings, 30 points behind Allmendinger for the top spot. His four wins are the most of any Xfinity Series driver this season and could be in first across both standings if not for his two DNFs. Gibbs has the talent and toughness to be the one that comes out on top by the time things are all said and done.
Josh Berry sits fourth in the driver standings with 697 points, 92 points behind Allmendinger. He's fifth in the playoff standings. On the season, he has 11 top-10 finishes and nine top-five finishes, and two wins.
Noah Gragson is fifth in the driver standings and fourth in the playoff standings. He started out the season incredibly and is starting to have that same form after a win at Pocono. His 14 top-10 finishes are tied for the second-most in the Xfinity Series this season and are one of three drivers with three wins.
Austin Hill is sixth (628 points), Brandon Jones seventh (596 points), Sam Mayer eighth (574 points), Riley Herbst ninth (555 points), and Daniel Hemric 10th (512 points).
Who are the Favorites?
Justin Allgaier comes into the New Holland 250 odds board at +350 odds to capture the win. He's one of the three drivers really still in it in terms of the driver standings, so a win or a top finish at Michigan would be great for Allgaier down the stretch. He's been consistent at Michigan, never finishing worse than 16th. In 10 races, he has six top-10 finishes and two top-five finishes, but no wins.
At California earlier this season, the only other 2-mile intermediate track, he placed eighth after placing third in both stages. It's certainly not out of the question for Allgaier to take the win, as he's managed to get out front and lead in each of his last two races on 2-mile intermediate tracks, but shop around for better value than +350.
Ty Gibbs and Noah Gragson each enter tied for the second-lowest betting odds on the board at +400. Gibbs has won in 20 percent of the races this season. His last win came at Road America, but he pushed Gragson to the limit before finishing second at Pocono.
In last year's run at Michigan, Gibbs was in second place at the end of each of the first two stages before finishing 13th. His run at California earlier this season was extremely similar, as he was fifth at the end of each of the first two stages before finishing 13th. Gibbs has the talent and the car to win any race in which he competes, so it wouldn't surprise many to see Gibbs in Victory Lane for the fifth time this season.
As for Gragson, he's been marvelous at Michigan. He finished second and third, respectively in his two runs at Michigan. He also finished second at California earlier this season and led 25 laps on the day. Don't be surprised if you see another thrilling finish between Gragson and Gibbs literally down the stretch with the checkered flag on the line.
Josh Berry enters the weekend just behind Gragson and Gibbs on the NASCAR Xfinity Series betting odds at +450. That's about right, considering he's fourth on the odds board after finishing fourth at Michigan last year. He also managed to get out into the lead for a brief period and managed to lead 24 laps. At California earlier this season, Berry also finished fourth.
The points leader A.J. Allmendinger enters the weekend at +900, despite winning at Michigan last season while leading a race-high 70 laps. At California earlier this season, Allmendinger started on the pole and led 13 laps. It's unlikely Allmendinger captures a second-consecutive win, but you know he'll be in the hunt at the end.
Where's the Value?
When looking to bet on NASCAR race, it's all about value.
Like we did at Pocono, we're riding Allmendinger's hot streak again at the New Holland 250. No, that's not a joke at him basically keeling over after his race in the Cup Series at Indy. His +900 odds are far too high for the driver that's currently the points leader. It may be a stretch to think he'll win his second-straight race. If that's the case for you, look toward a top-five finish at even money.
Also worth a look is Brandon Jones at +1400. In last year's race at Michigan, he finished second only to Allmendinger. Perhaps more impressive was the fact he finished Stage 1 in eighth after starting 24th. In 2019 running at Michigan, Jones finished sixth. If the +1400 seems too daunting, consider Jones to finish in the top three at +335 or in the top five at +160.
Follow us on Twitter