NASCAR Xfinity Series: Beef, It's What's For Dinner 300 Betting Odds
Reigning Rookie of the Year Hill, & Haley Leading Odds for Season Opener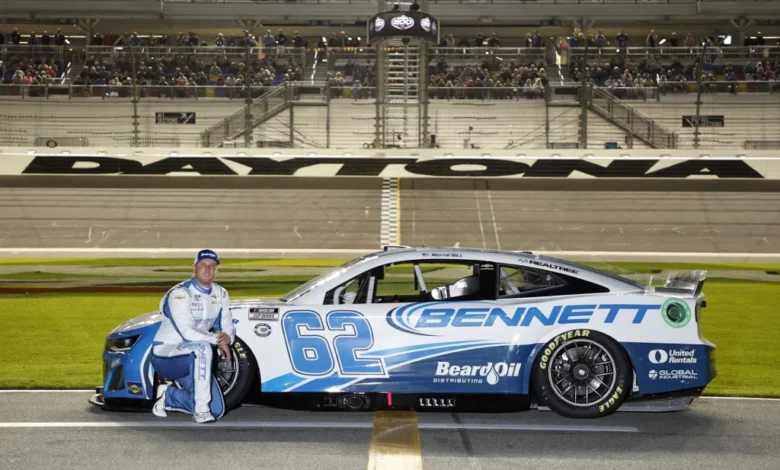 The NASCAR Xfinity Series kicks off this weekend at Daytona International Speedway with the Beef, It's What's For Dinner 300. It's time for NASCAR's second-tier series to start the new season.
The first race of the season doesn't feature too many big names from the Cup Series but there are a few names that stand out with great odds. Here's a look at the NASCAR Xfinity odds for the week:
2022 Rookie of the Year Hill, Haley Top Picks
Austin Hill finished sixth in the Xfinity Series Championship in 2022. With two wins and making it to the Round of 8, he earned Rookie of the Year honors.
He's tied for the best odds in the field at +700. Between his award-winning first full season and a win in last year's season opener at Daytona (his first Xfinity Series victory), he's a solid favorite.
Justin Haley is tied with Hill at +700. Haley is a full-time driver for Kaulig Racing in the Cup Series and is competing in the first of a few Xfinity races this year. Haley's success at superspeedways sets him apart from the other drivers. All of his five combined Cup Series and Xfinity Series wins have come at superspeedways. Three were at Daytona and two were at Talladega. Haley's the way to go if you want confidence in a driver's track record.
Top 2022 Finishers Close Behind
Beyond Hill and Haley are some of last year's top finishers in the Xfinity Series. Justin Allgaier (+1200) and Josh Berry (+1200) finished third and fourth in the 2022 season.
Allgaier finished better in both Daytona races (fifth and 13th to Berry's 16th and 18th) but Berry's performed well on other superspeedways. He had solid performances at Talladega and had he not dropped off in performance to close the playoffs in 2022, he might have finished closer to champion Ty Gibbs.
Allgaier and Berry are behind Cole Custer, John Hunter Nemechek, and Chandler Smith all at +1000.
This is Custer's first race since finishing 25th in the 2022 Cup Series standings. His latest results in the Xfinity Series last year were primarily at road courses and included a win in Fontana. He doesn't have the best track record at Daytona. In the Cup Series, his best finish was 11th in 2021. In the Xfinity Series, he's placed 14th twice.
Nemechek is in his first full Xfinity season since 2019 and returns following top-five finishes in the Camping World Truck Series in 2022 (5th) and 2021 (3rd). He has top-10 finishes at Daytona in both the Truck and Xfinity Series in 2021 and 2019, respectively. That 2019 season saw him finish seventh, this could be his chance to start the season on the right foot.
Smith is a newcomer in his first full season in the Xfinity Series. In 2022, he finished third in the Truck Series and will start just his fourth Xfinity Series race this weekend. He doesn't have a history of top results at Daytona, either. His best result was ninth in 2021 after leading the most laps for the Truck Series race.
Outlook for the Beef, It's What's For Dinner 300
The 2023 season opener sees some new faces and top finishers moving on to the Cup Series. That means this weekend will likely set the tone for a wide-open 2023 season. Haley's probably the safest bet for the opener thanks to his history at Daytona and superspeedways in general.
Beyond him, Allgaier's been a steady performer at Daytona, as has Nemechek. Either one could have the speed to take the top spot in this weekend's 2023 season opener. Keep it tuned right here all season long for all of the best NASCAR predictions.
Follow us on Twitter
---
Can't get enough? Here's more!