NASCAR Xfinity Series Championship Odds
It Comes Down to This, The Buck Stops in Phoenix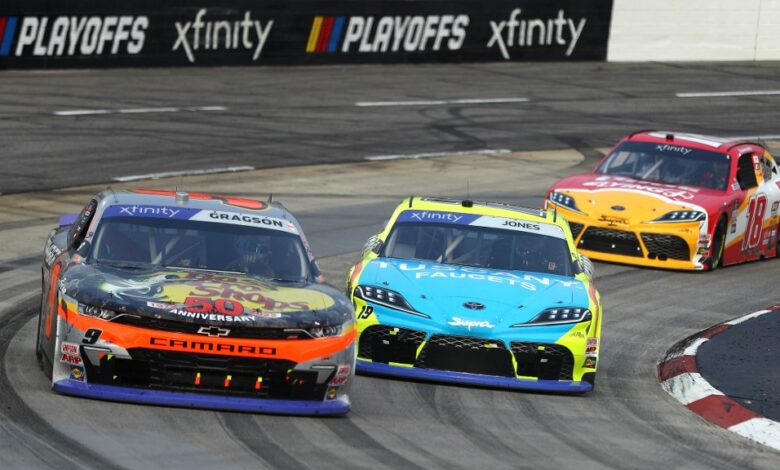 Then, there were four. It all comes down to one race at Phoenix International Raceway for the championship. Here, we'll break down the drivers in the running, as well as the NASCAR Xfinity Series Championship odds.
Race Information
Date & Time:
Speedway: Phoenix International Raceway
Updated Playoff Standings
The four drivers that advanced to the final round were Noah Gragson, Ty Gibbs, Josh Berry and Justin Allgaier. Racing legend Dale Earnhardt Jr. has to be happy, as Gragson, Berry and Allgaier all race for his JR Motorsports team.
Points before the championship race don't matter, as each driver in the top four of the current NASCAR standings is knotted at 4,000 points. It simply comes down to one race, not what happened all season and a lead a driver might've built to that point.
As the last event on the NASCAR race schedule, let's take a look at who the oddsmakers say has the best on the NASCAR Xfinity Series Championship odds board
Who's the Favorite?
It shouldn't be surprising to too many folks to see Gragson atop the NASCAR Xfinity Series Championship odds board at +170 to win the race outright. Winning the race outright at this point would be enough to win the championship.
Gragson was on the verge of standing alone in history and the record books this season when he, at one point, won four races in a row but couldn't break the record and get five. Still, he's proven himself time and time again this year. There might not be a lot of value at that price, but if You're a fan of Gragson, holding that ticket would make Saturday quite fun.
Also factoring into those NASCAR odds is Gragson's past performances at Phoenix. He won here earlier in the season and led 114 laps in the process. Things have lined up for Gragson, now he just has to execute.
Who Else Can win?
Likely the best chance at defeating Gragson is Gibbs at +300 to win the race outright. Gibbs is currently in some hot water after he spun out fellow Joe Gibbs Racing teammate Brandon Jones on the final lap at Martinsville for the lead and the win. If Jones had finished first and Gibbs second as was the order at the time of the incident, both would be in contention for the championship Saturday.
Gibbs has just two starts at Phoenix but has performed well in both instances. The first time, in March of 2021, Gibbs came in second. Earlier this season, he finished sixth. A sixth-place finish likely won't be enough to win the championship, so look for Gibbs to pull out all the stops in this one.
While odds of +350 aren't typical of what you'd call a long shot, it might be almost appropriate here with Allgaier. He's finished outside the top 10 only once in his last six Phoenix starts, including a win back in 2019. Outside of his two wins, Allgaier has six top-five finishes.
As for Berry, his odds sit at +500 to win. It's not outside the realm of possibilities, as Berry finished third here back in March. He would need some things to go his way, but he's just as capable of finding himself in a late-race push as anybody.
Best of the Rest
Jones missing out on the final round is a shame, mostly because he'd be in a great position to win it all Saturday if he was. He won at Phoenix back in 2020 and has a second and third-place finish there since. It would be a great form of poetic justice to see Jones win the race outright at +1500.
There's also the opportunity to take head-to-head props. The odds are much shorter, but there's less risk involved. You'll have to lay a little juice, but Gibbs at -150 to finish better than Berry should be high on the list. Gibbs to finish better than Allgaier is -115.
Jones to finish better than Sam Mayer is just -105. It likely will get glossed over by bettors that just want a piece of the championship this weekend, considering neither driver is in contention.
Follow us on Twitter
---
Can't get enough? Here's more!