Chris Paul Career Stats: The Greatest Superstar to Never Win a Ring?
Future Hall of Famer Has the Stats and Awards Except…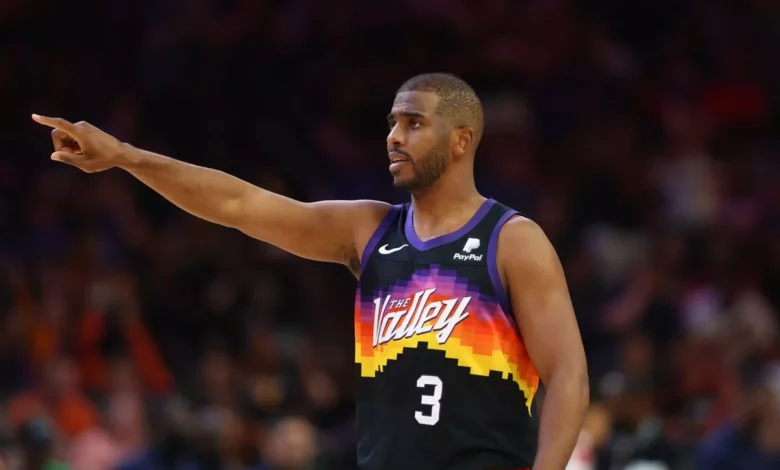 Not every NBA great can finish their career with an NBA championship. Legends like Charles Barkley and Karl Malone retired empty-handed despite all their other accolades. Now heading to his 19th season at the age of 38, Chris Paul is running out of time to win his. One glimpse at Chris Paul's career stats puts him as one of the greatest. But can he finish on top?
Most Recent Chris Paul Status
Warriors' New Court Maestro: CP3's Debut
Chris Paul, now steering the ship for the Golden State Warriors' B-team, hit the ground running. Be it main man or secret weapon off the bench, he's making waves. In a face-off against the Phoenix Suns, he proved he's got a magic touch that Stephen Curry didn't let go by unnoticed. With 14 points under his belt and a host of other impressive Chris Paul career stats, he's already making his mark.
With CP3's debut performance, things are looking up for the team. Golden boy Stephen Curry is all ears and eyes when CP3 is on the move, and Warriors' coach Kerr is over the moon with CP3's entry. From clutch shots to game-changing assists, Paul's brought a fresh wind to the team. Kerr's excited to carve out a tailor-made playbook for the superstar. With Chris Paul in the mix, the Warriors are set to shoot some stars.
Chris Paul Career Stats: 2004-Present
Floor Leadership and Longevity
Playing in the NBA for nearly 20 years is a feat not many can match. As such, Chris Paul's career stats have benefited from his longevity. He has the third-most assists and steals all time and is in the top ten in advanced metrics like win shares (ninth) and value over replacement (sixth).
More impressive than Chris Paul's career stats is his impact on his teams. Since the third NBA season, every team he's played for has made it to the postseason. In fact, the best eras for franchises like New Orleans and the Clippers have been with Paul at the helm.
Paul also made both the Oklahoma City Thunder and Phoenix Suns, both hapless franchises before he got there, into playoff contenders. In his first season with each, both went over their expected win totals on the NBA standings. It's this leadership that has made Paul worthy of his 11 All-NBA selections.
Chris Paul's Player Profile & Stats
Paul was drafted fourth overall in the 2004 NBA Draft. He has already outlasted the three players selected before him. Despite his small stature (6'0"), Paul has been one of the NBA's best defenders from his position. He led the NBA in steals six times and was named to the All-Defensive team nine times.
Paul's 2022-23 NBA Season Stats
But Father Time catches everyone at some point. The outspoken guard's recent season pales when compared to the rest of Chris Paul's career stats. Part of the reason is due to injury but also for the fact that he's the fourth-oldest player in the league.
Chris Paul Stats

| OFFENSE & DEFENSE | REGULAR SEASON | PLAYOFFS (BEFORE NBA FINALS) |
| --- | --- | --- |
| GP | 59 | 7 |
| GS | 59 | 7 |
| MP | 32.0 | 35.7 |
| PTS | 13.9 | 12.4 |
| FG% | 44.0 | 41.8 |
| 3P% | 37.5 | 32.1 |
| FT% | 83.1 | 50.0 |
| TRB | 4.5 | 5.0 |
| AST | 8.9 | 7.4 |
| TOV | 1.9 | 1.0 |
Paul is clearly not the same player he once was. He is still efficient when it comes to his playmaking, but his scoring has fallen off. In fact, rumors persist that Phoenix is actively looking to trade him for the upcoming season.
Paul's Future: Where Will He End Up?
There are NBA betting lines on where Paul will end up if he does not return to Phoenix. Two of the favored teams are Philadelphia and Houston. Of course, this may be dependent on what happens with James Harden. Paul could be traded for Harden one-on-one. And speaking of Houston, Paul could return to the franchise and help the young team take the next step.
Follow us on Twitter
---
Can't get enough? Here's more!