NBA 6th Man of the Year Odds: Warriors Jordan Poole Odds on Favorite
Evaluating NBA 6th Man of the Year Odds Prior to the 2022-23 Season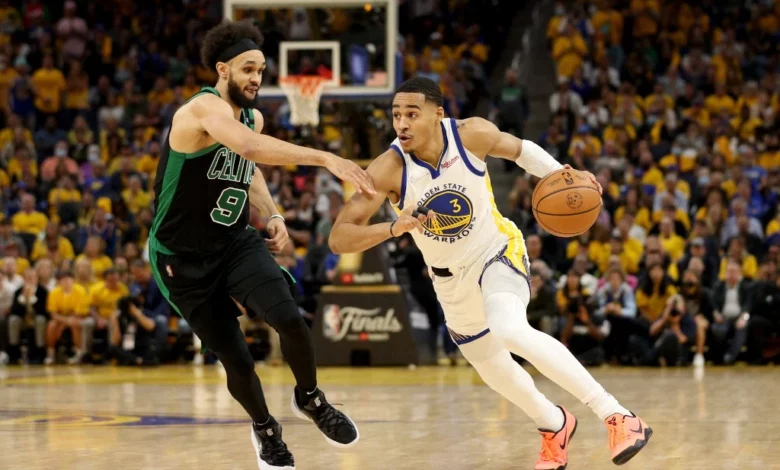 Warriors guard Jordan Poole is currently the NBA 6th Man of the Year odds favorite at +450 at the online sportsbooks.
Last season, Miami Heat sharpshooter Tyler Herro took home the hardware for Sixth Man of the Year. This season, Herro is still in the running but there is a new face looking to take over that position. Warriors guard Jordan Poole is currently the NBA 6th Man of the Year odds favorite at +450 at the online sportsbooks. However, there are a ton of other players that should be considered for the award based on the value connected to their odds. Let's take a look at a few of our favorites.
JORDAN POOLE +450
Jordan Poole is the heavy frontrunner in the NBA 6th man of the year odds. And for very good reason. His game took a huge step forward last season, bringing his scoring average from 12.5 points per game the previous year to 18.5 points per game last season. Poole also improved his overall field-goal percentage, three-point percentage and free-throw percentage. With Klay Thompson missing the early half of last year, Poole was a starter for the Warriors but will likely go back to coming off the bench this season.
With that type of experience and what should be an increase in his minutes this year, he'll be the anchor for the Warriors' second unit. When it comes to voting, it will also help that Poole plays for a team that is projected to win around 50 games. All in all, if Poole plays the way many are expecting, this will be his award to lose.
TYLER HERRO +600
As the reigning Sixth Man of the Year, a look at Tyler Herro to repeat isn't a bad idea. While it's definitely harder for players to win two years in a row, it's been done before. In fact, there are five players that have won the award multiple times, most recently Lou Williams who has earned the honor three different times. Herro really bought into his role off the bench last season and we expect the same again this season.
He's one of the biggest outside shooting threats in the league and is able to take advantage of other teams' weaker second units. Plus, outside of Poole, there aren't too many bench players averaging 20.7 points per game like Herro did last year, making him a very viable option to earn the award again this year.
BONES HYLAND +4000
At +4000, Bones Hyland is a great value play for Sixth Man of the Year. The Denver Nuggets' backup point guard was a rookie last season and earned a spot on the All-Rookie team. His NBA player stats 2022 were strong for a first-year player, averaging 10.1 points per game in just 19.9 minutes of play.
Hyland was the backup for Monte Morris last season, but Morris has since been dealt to Washington and Jamal Murray is back in the starting role for Denver. However, as Murray begins to ease back into the game after missing significant time over the last two years with injuries, Hyland will have an opportunity to make a major impact off the bench. Stay tuned right here all season long, for up to the minute NBA point spreads.
OTHER PLAYERS TO CONSIDER
Malcolm Brogdon +1000
Kevin Love +2800
Bobby Portis +3300
Patty Mills +12500
---
Want more articles like this? Check these out: