NBA Regular Season Betting: Expected Win Totals for All NBA Western Conference Teams
Evaluating Which Teams Will Surpass Their Expected Win Total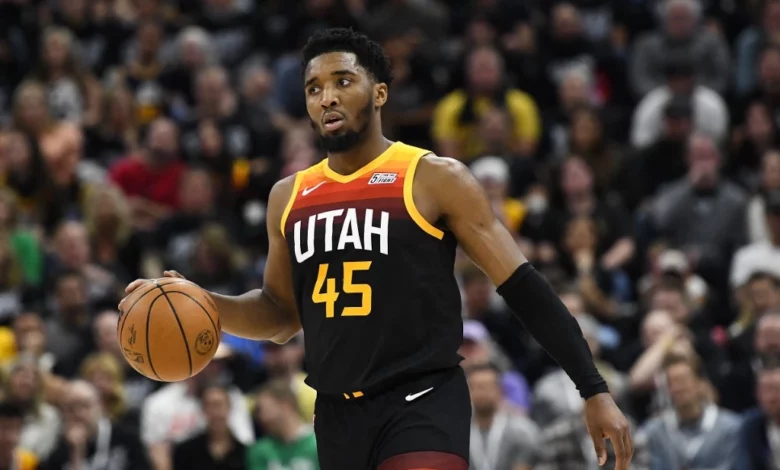 NBA Regular Season Betting Preview: We recently took a deep dive into all Eastern conference teams and their expected season-long win totals. Now, with NBA preseason games just a few short weeks away, it's time that we analyze the projected win totals for all of the Western Conference teams.
NBA regular season betting is right around the corner and handicapping is a forte that not every bettor has a knack for. Stay right here for a fantastic NBA betting season and the best in handicapping previews.
NBA regular season betting is right around the corner and handicapping is a forte that not every bettor has a knack for.
Utah Jazz – 26.5
The Utah Jazz are in full rebuild mode; when a team is in rebuild mode we always look to take the under. This offseason they traded away their three best players Rudy Gobert, Donovan Mitchell and Bojan Bogdanovic for a bunch of pick's and a few role players at best. They also have a new coach in former Celtics assistant Will Hardy. This season is all about getting the best position in next year's draft. Take the under, and be sure to follow all of the NBA Western Conference standings 2022, right here.
Denver Nuggets – 50.5
The Denver Nuggets are going to be a fun team to watch this year because Jamal Murray and Michael Porter Jr. will be back and healthy after missing last season. Pair those two next to the back-to-back MVP in Nikola Jokic and this looks like a dangerous team. We like the Nuggets to be one of the front runners in the West this season. Take the over, and never lose site of what the NBApublic betting markets are showing.
Minnesota Timberwolves – 48.5
The Timberwolves made a huge off-season trade to acquire Rudy Gobert from the Utah Jazz. He'll start at center alongside Karl-Anthony Towns, D'Angelo Russell, Anthony Edwards, and Jaden McDaniels, which makes for a pretty good lineup. Minnesota finished with 46 wins last season, so with the addition of Gobert, over 48.5 seems doable.
Portland Trailblazers – 39.5
Between injuries and trading players, the Portland Trailblazers were kind of a mess last season. They only finished with 27 wins, but that's mostly because Damian Lillard was out for much of the season with his lingering abdominal injury. Even with him healthy this season, we're not sold on Portland winning 13 more games this year. Take the under.
Oklahoma City Thunder – 23.5
The Thunder have been in rebuild mode for the last few seasons and will continue that again this year. Their best player, Shai Gilgeous-Alexander, will be sidelined to start the season with an MCL injury and while they have a few young, talented players, they don't have the roster to compete with most teams on a nightly basis. Take the under.
Phoenix Suns – 52.5
The Phoenix Suns finished with the best record in the league last year with an astonishing 62 wins. They bring back nearly the exact same roster this season with the exception of a few new faces coming off the bench. Monty Williams won Coach of the Year last season and Chris Paul still looks like he has a few years left in him. The only concern here is the possibility that they'll trade Deandre Ayton during the season. Either way, we like the Suns to have another successful season. Take the over.
Golden State Warriors – 52.5
The Warriors lost a lot of their depth this offseason with the departure of Nemanja Bjelica, Chris Chiozza, Damion Lee, Gary Payton, Otto Porter, and Juan Toscano Anderson. While that sounds like a negative, that also means we're likely to see more minutes for Jonathan Kuminga, Moses Mood, and James Wiseman. They also added Donte DiVincenzo to the roster. Golden State also tallied 53 wins last season despite Steph Curry, Klay Thompson, and Draymond Green all missing significant time throughout the season. Take the over.
Los Angeles Clippers – 52.5
Kawhi Leonard is back and healthy this year after missing all of last season with an ACL tear. Adding Leonard to any roster automatically elevates any team a significant amount, but with him next to Paul George, we expect big things out of this LA team this season. Take the over.
Los Angeles Lakers – 45.5
How do you bet against a team that has LeBron James? You don't. While the Lakers only had 33 wins last year and looked like an absolute train wreck for most of the season, it'll almost be impossible for them to be that bad again. We don't feel great about it, but if we had to make a play on this, we'd take the over.
Sacramento Kings – 34.5
The Sacramento Kings have a lot of new faces on their roster. They acquired Domantas Sabonis late last season, added some shooting with Malik Monk and Kevin Huerter, and drafted Keegan Murray – who won Summer League MVP – with the No. 4 pick in the 2022 Draft. With some many changes, it'll likely take the team a little while to build chemistry. We'd lean to the under.
Memphis Grizzlies – 49.5
The Grizzlies finished with 56 wins last season, which was the second-highest win total behind the Suns. They have nearly the exact same roster this season which should equate to a lot of success once again. Repeating a 56-win season seems like a lot to ask, but getting to 50 wins should be doable. Take the over.
Dallas Mavericks – 48.5
The Dallas Mavericks lost backup point guard Jalen Brunson to the New York Knicks this offseason, but they also added centers Christian Wood and JaVale McGee which should allow them to have more of a presence inside and not have to play so much small ball. This number feels just about right, but we would lean to the under.
New Orleans Pelicans – 45.5
Is Zion Williams back? Is he healthy? Has he lost weight? These are all things we'd want to know before placing this bet. However, the Pelicans did pretty well without him last year after acquiring CJ McCollum midway through the season. Things started clicking for the Pelicans late in the season and we expect that success to roll over into the 2022-23 season. Take the over.
San Antonio Spurs – 23.5
The Spurs are going to be bad this year. It's pretty simple. They traded their best player Dejounte Murray to Atlanta for draft picks, leaving Keldon Johnson as the team's No. 1 option. They are in a full rebuild year with a ton of young players. Even with Greg Popovich as their head coach, the Spurs could be the worst team in the league.
Houston Rockets – 24.5
Concluding our NBA regular season betting preview: Similar to the Spurs, the Rockers are also in for a tough year ahead. Houston traded away Christian Wood which leaves Jalen Green as the team's best player. Don't get us wrong, he's very good, but not quite at the level where he can carry a team. The Rockets had 20 wins last season, so maybe the market is indicating they'll be a bit better with their win total set at 24.5, but we think the safe play is on the under.
Follow us on Twitter