Suns vs Heat Betting Odds: It Could Get Sweaty in the FTX Arena
Heat Slightly Favored in What Could Be a Struggle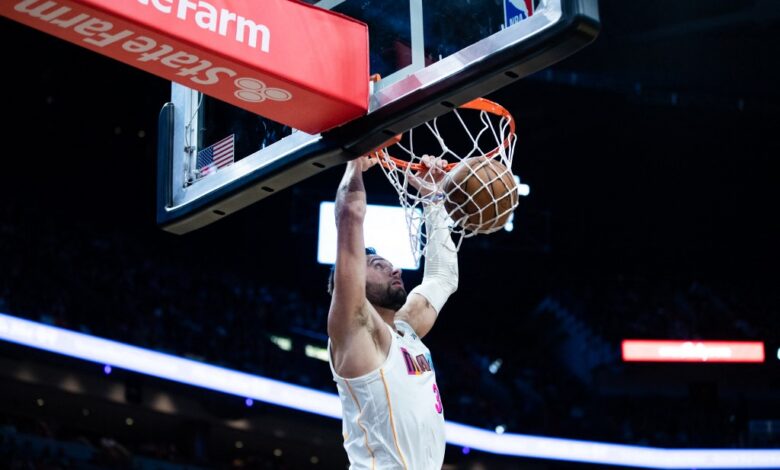 NBA Odds Forecast a Tight Low-Scoring Game
The Phoenix Suns and Miami Heat both finished as the top teams in their respective conferences last season. Now, the two contenders are struggling as they meet in Miami. The Suns vs Heat betting odds favor the home team by two points with a total of just 215 points. This indicates a defensive match-up or an offensive drought or a bit of both as these elite squads continue to adjust in the young season.
---
Suns Don't Shine as Bright Without Paul
They don't call him the "Point God" just for fun. Chris Paul, despite having his worst statistical season from a scoring perspective, is still the engine that drives the Sun's offense. Paul, injured his heel last Monday against Philadelphia. Phoenix then lost that game and got blown out by the Magic in what was their worst showing of the season.
"You can't win an NBA game if you can't put the ball in the basket," Suns head coach Monty Williams said quite bluntly. The Suns lost to the Magic 114-97 and shot just 40 percent from the field. This is coming just a few nights after scoring a season-low 88 points against Philadelphia where the team shot 43.8 percent.
Paul is shooting just 36.8 percent from the field and averaging 9.5 points. Both are career lows. However, the future Hall of Famer is still averaging 9.4 assists to just 1.5 turnovers.
In the nine games prior to his injury, the Suns ranked third in the NBA in assist-to-turnover ratio (2.14) and 11th in effective field goal rate (55.0 percent). In the last three games, they're sixth (1.95) and 23rd (50.8), respectively. Check out the rest of the NBA injury report. 
The Suns are still a potent team without Paul but they are clearly not at their best. Still, they won't rush him to come back, especially since he is 37 years old.
"As much as he wants to get out there, there's no way we're going to push it in any regard," Williams said after practice on Sunday. "We just have to wait and see. Unless he's 150%, we're not going to put him on the floor."
Without Paul, it's no surprise the team is the underdog on the Suns vs Heat betting odds.
Heat Starting to Warm Up?
If the Suns struggled last week, the Heat have started to get things going after laboring for most of the NBA season. Miami had back-to-back wins over Charlotte in a game that saw them perform well offensively.
"I liked the way our flow was going offensively," Heat coach Erik Spoelstra said while Bam Adebayo added: "I feel like this is the way we're supposed to play."
The Heat scored a season-high 132 points and shot 52.7 percent from the field. Max Strus, who has been getting more minutes due to Tyler Herro's injury, led the team with 31 points and eight three-pointers. The fourth-year pro is averaging a career-high 15.5 points per game on 38.7 percent shooting from deep.
"I got it going early," "My teammates were looking for me." said Strus.
Miami will continue to lean on him to provide scoring without their talented sixth man. But as far as the Suns vs Heat betting odds are concerned, folks should not expect another high-scoring game like Saturday's. In fact, the game's total is set to be the lowest on Monday per the NBA score predictions. Phoenix has averaged under 110 points while Miami has 112 points in their last 10 games. The total has gone over in seven of these meetings, however.
The Heat need to string together a few wins to restore their spot in the NBA standings 2022-23 season. Jimmy Butler, the team's captain, and leading scorer, infamously quipped that the team will still "win the championship."
If their last pair of games are any indication, Miami could be a trending team. Thus far, the team is just 15th in the league in net rating (0.3). Don't count out Spoelstra's squad as this team was this close to returning to the NBA Finals.
Follow us on Twitter
---
Want more articles like this? Check these out: