Tyrese Maxey Stats: Soar to NBA Stardom
A Look at Tyrese Maxey's Stats, Player Profile, and Future in the NBA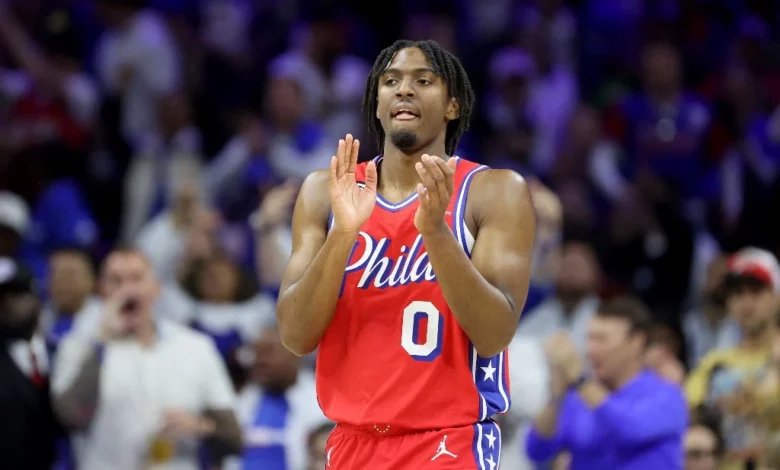 Tyrese Maxey
Full Name:
Tyrese Kendrid Maxey
Current Team:
Philadelphia 76ers
Age:
22 years old (11-04-2000)
---
Where Is Tyrese Maxey Now?
Since being drafted in 2020, Tyrese Maxey has been one of the most exciting reasons to follow the Philadelphia 76ers. With two NBA seasons of rapid growth under his belt, the 2022-2023 campaign felt like the perfect opportunity for him to rise to the stardom his talent deserved. Tyrese Maxey stats have been splendid since his recent reinsertion into the starting lineup.
Tyrese Maxey's Rising Stature and the Harden Conundrum
The former Kentucky guard grasped a starting chance with both hands, elevating his performance in every aspect of the basketball game. As he embarks on his fourth season in the NBA, Maxey's star is on the rise, and he has recently earned a well-deserved fourth place on Bleacher Report's list of young stars predicted to make significant strides in the upcoming 2024 basketball season.
This recognition carries the weighty assumption that Maxey could soon establish himself as a standout NBA player, despite not being named an All-Star in his first three seasons. Moreover, the list serves as a watchlist for potential candidates for the Most Improved Player award in the next season. What with those Tyrese Maxey stats, everything is possible.
However, amidst this buzz of Maxey's ascent, there's another shadow cast over the Sixers—the ongoing trade request from James Harden. The ten-time All-Star's desire to leave the organization hangs like a cloud, affecting not only Maxey but the entire team.
Harden's unwavering wish to join the Clippers remains a significant storyline, as he voiced his discontent with president of basketball operations, Daryl Morey, during the summer's free agency period. This saga has shifted league-wide attention to Embiid's long-term happiness in Philadelphia, but it's Tyrese who finds himself at the center of the spotlight, Tyrese Maxey stats and all.
Just two weeks shy of his 23rd birthday, Maxey is once again adapting to different roles. Will he lead plays or play off the ball? Will he orchestrate alongside the reigning NBA MVP or find opportunities around Embiid's post plays? All of this while the Sixers have chosen not to extend Maxey's contract beyond his rookie deal, preserving cap space for the upcoming summer. This strategic move, in part, is a response to the uncertainty created by Harden's interest in Los Angeles.
As the season unfolds, the spotlight remains firmly on Tyrese Maxey stats -the man and rising star- and the ever-evolving Harden situation that continues to challenge the Sixers' game plan.
Earlier This Year:
Tyrese Maxey Stats & Player Profile
Maxey, a Kentucky product, was drafted by the Philadelphia 76ers with the 21st overall pick in the 2020 NBA Draft. From the College Basketball era, the 6'2″ guard was already impressive.
Getting into the NBA improved Tyrese Maxey stats, and he has been unstoppable ever since. He averaged 8.0 points, 1.7 rebounds, and 2.0 assists per game in his rookie season, and he has improved upon those numbers in the following seasons.
Overall Stats
Maxey's overall stats in the NBA regular season: a real treat! Up to May, 2023 here are his numbers:
Average points per game: 20.3.
Shooting 48.1% from the field and 43.4% from beyond the arc.
Average free-throw shooting: 84.5%.
Average assists per game: 3.5
Effective field goal: 56.8%
Where He Stands on the 2023 NBA Playoffs
Maxey has been instrumental in the 76ers' current NBA playoffs campaign. In their upcoming basketball matchup, he will indeed look to build upon his recent impressive performances to help his NBA team advance up to the next round. With Maxey having averaged 20.3 points, five rebounds, and two assists per game in the playoffs so far, his ability to score efficiently, especially from beyond the arc, has been and will certainly be a crucial asset for his team.
In the recent games, the headlines he has been making with his excellent form are remarkable. He's been showcasing his prowess and ability to step up when it matters the most. He has also been a reliable presence on defense, willing to do the dirty work for his team.
What's Next for Maxey and His NBA Career?
Tyrese Maxey has shown tremendous potential in all three seasons in the league. With his scoring, playmaking, and defensive skills, he has established himself as a key player for the 76ers. He has also shown glimpses of his potential to become one of the league's best players in the future. As he continues to develop and hone his skills, he could become a great asset for the 76ers, playing alongside stars such as Joel Embiid and even James Harden.
The future looks bright for Tyrese Maxey, and NBA fans should keep an eye on him as he continues to make his mark on the league.
---
Can't get enough? Here's more!