WNBA Semifinals Betting Odds: Seattle Storm vs Las Vegas Aces
MVP Finalists Prepare to Clash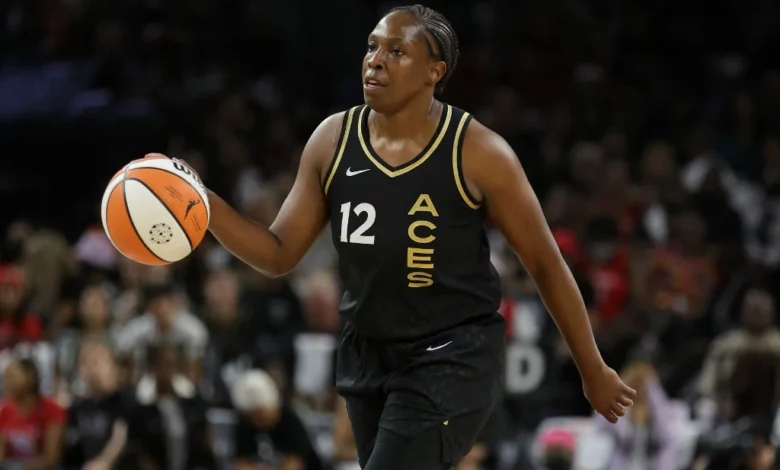 The No.1 Las Vegas Aces (26-10, 2-0) take on the No. 4 Seattle Storm (22-14, 2-0) in a best-of-five semifinals series. Las Vegas beat the No. 8 Phoenix Mercury, 2-0. While the Storm beat the No. 5 Washington Mystics, 2-0. Who has the best WNBA Semifinals betting odds? Read our analysis to find out.
Head-to-Head
Las Vegas currently leads the league in points per game with 98.0. Seattle is third by averaging 91.5 ppg. The Aces are second in the WNBA with 36.0 rebounds per game with Seattle in fifth place averaging 32.0. Becky Hammon's team leads the league in blocks per game with 5.0 and the Storm is tied for fourth place with 3.5.
Both teams have a top MVP candidate with A'ja Wilson (Las Vegas Aves) and Breanna Stewart (Seattle Storm). Stewart averages 22.0 ppg, 11.0 rebounds per game, and 1.0 blocks per game. Wilson has some pretty stealthy stats too with 19.5 ppg, 9.4 ppg, and 2.0 blocks per game.
During their regular season matchup, Vegas took the series lead 3-1. The Aces won the first game 85-74. Seattle tied the series with a 88-78 victory. Vegas topped off the series with two victories 89-81 and 109-100. In game one of this series, Wilson earned a double-double with 20 points and 19 rebounds. Stewart scored 21 points and grabbed 8 rebounds. Five Aces players scored in double digits.
In game two Seattle took home the win. The Storm shot 44.3% from the field compared to the Aces 39.7. Seattle had four players score in double figures compared to Vegas' five. Stewart scored 14 points and earned 7 rebounds. Wilson earned another double-double with 17 points and 16 rebounds.
Vegas took home game three despite only shooting 25.9 from three. Stewart earned a double-double with 35 points and 10 rebounds. Wilson scored 29 points and collected 6 rebounds. The Aces took home the game four victory. There was another great performance by Wilson with the 25-10 double-double. However, it was guard Chelsea Gray who had herself a game finishing with 33 points. Stewart earned a double-double for herself with 21 points and 15 rebounds… and, it was guard Jewell Loyd who was the Storm leading scorer with 38.
How Seattle Wins
Seattle is coming off a 2-0 series win against No. 5 Washington Mystics (22-14). The Storm took game one 89-83 and the second game 97-84. Both teams had four players score in double figures. Stewart earned a double-double with 23 points and 12 rebounds.
During game two, guard Sue Bird tallied a double-double finishing with 18 points and 10 assists. This is Sue Bird's last season and it could've been her last home game in a Seattle uniform and she was not going down without a fight. Stewart also earned another double-double with 21 points and 10 points.
The Storm is third in the league with a defensive rating of 97.4. Seattle relies heavily on their defense and limiting the number of turnovers. They are second in the league in opponent points off turnovers only allowing 13.6.
Seattle has MVP Candidate Breanna Stewart has earned six double-doubles all season playing 30.9 minutes per game.
How Las Vegas Wins
Vegas took a 2-0 series win against No.8 Phoenix Mercury (15-21). The Aces took game one by a 79-63 victory and a record-breaking win in game two, 117-80.
Guard Kelsey Plum led the Aces to victory with 22 points. Wilson had just shy of a double-double scoring 8 points and grabbing 12 rebounds. The Aces shot 40.6% from the field compared to Phoenix's 30.7. Guard Chelsea Gray scored a career-high seven three-pointers finishing with 27.
Wilson finished with 17 and Plum shot four threes and ended the night with 22 points. Vegas had six players finishing in double figures compared to the Mercury's two. The Aces had a record-breaking game ending the night with 23 shots from beyond the arch. Vegas ended the night shooting 64.1% from the field and 63.9% from three.
Plum and Gray are tied for the top spot in the league averaging 22.0 with the Storm's Breanna Stewart. Gray also leads the league in three-point percentage with 76.9 and field goal percentage 75.0. The Aces guard is fourth in the league averaging 91.0 free throws per game. Vegas is number one in the league only allowing opponents 13.0 points off turnovers. They also lead the league with a defensive rating of 90.5.
Buzz off the Court
Both teams have numbers that speak for themselves and they both also have an MVP Candidate on their hands. Wilson and Stewart are leading the way in this category. With the award getting announced on September 7, this could happen during the middle of the series.
Games one and two are in Vegas on August 29 and August 31. The teams travel to Seattle to play on September 4. Vegas took the regular season series lead 3-1 and it would come as a surprise to no one if the series went four or five. Game four would be on September 6 and the final game on September 7.
This is Sue Bird's final season and the Storm are running for another championship earning their fifth title. Bird already has a lengthy resume currently in seventh place overall in points with 6803. She is currently the overall leader in games played (580) and the league's assist leader with 3234.
There are seven number-one overall draft picks during this matchup. Vegas has three with Plum (2017), Wilson (2018), and Jackie Young (2019). Seattle has the other four with Bird (2002), Tina Charles (2010), Jewell Loyd (2015), and Stewart (2016).
This is the first season under Aces head coach Becky Hammon and she is looking to get her team to her first finals series. They have fallen short in the last few years even falling to Seattle 0-3 during the 2020 WNBA Finals.
The Aces are playing with a chip on their shoulder while the Storm is trying to finish strong for their point guard Sue Bird. This series is going to be a battle and we think the series will end with a 3-2 Aces victory.
WNBA Semifinals Betting Odds
Currently, the Aces are -250 favorites to defeat the Storm, according to the WNBA Semifinals betting odds, and move on to the WNBA Finals with Seattle at +210. If you convert those odds into implied probability, Vegas is 71.4% likely to advance, with Seattle at just 32%.
The Aces are a great team and look to be rolling, but the same can be said for Seattle. There were certain pundits out there that theorized that the winner of the Seattle Storm vs Washington Mystics would go on to the WNBA Finals, knowing it would likely be Vegas waiting for them in the semifinals.
That being said, the right team is certainly favored here, but there's value on Seattle at this number for the WNBA Semifinals series odds. If you want to take Vegas, that's fine, there's just not a lot of value. If you want to grab Seattle, do so at the current number.
If you want to grab Las Vegas, it could be beneficial to wait until after the first game of the series. If the Aces fell to the storm in the first game, it would lower their odds. They would likely still be the favorite to win the series but at a much more consumer-friendly number.
Follow us on Twitter