Creighton vs N.C. State March Madness Betting Preview
Bluejays Expected to Prevail in Tough Contest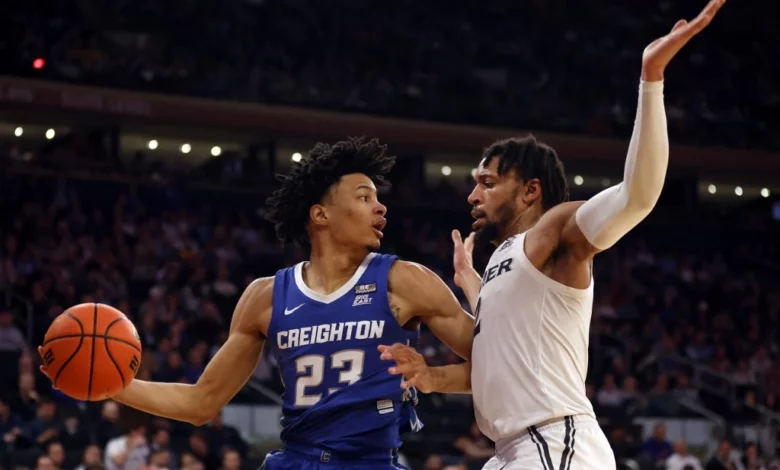 Creighton vs N.C. State is a pretty good No. 6 vs No. 11 game in the South Region on Friday. The Bluejays are favored by 5 and the total is 148.5. Creighton is -220 on the moneyline, which may be a bit on the low side. The game will be played at Ball Arena in Denver, Colorado. Tip-off is expected to be at 4 p.m. ET and the game will be broadcast by TNT.
Creighton: Bluejays Solid on Both Ends of the Court
The Creighton Bluejays are a well-balanced team, ranking No. 28 in adjusted offensive efficiency and No. 15 on defense. Creighton has a couple of areas where it needs to improve. But there aren't many and it's nothing the team can't overcome.
Creighton is making its 14th NCAA Tournament appearance since 2000 and are playing in it for the third straight year. The Bluejays reached the Sweet 16 in 2021 but will be hard-pressed to repeat that effort.
How They Got Here
Creighton was pretty much considered a sure thing for the NCAA Tournament after winning its 20th game in February. That was a good thing, as Creighton was soundly beaten by Xavier in its second Big East Conference tournament game.
The Bluejays aren't playing their best, going 3-4 over the last seven games. Creighton is just 5-7 ATS over its last 12 games and finished the season with a 16-17 record against the spread.
How Far Will They Go
This is a game the Bluejays should win, but it's hard to see them advancing past the second round, especially if they meet Baylor. The Bluejays should advance to the round of 32 before being sent packing.
N.C. State: Wolfpack Get the Job Done Offensively
N.C. State is a pretty strong offensive team, ranking No. 37 in adjusted offensive efficiency. It's not as though N.C. State is a great shooting team. It's not, but the Wolfpack help themselves out by not turning over the ball. N.C. State ranked No. 3 in the nation in turnover percentage and that makes up for a lot of missed shots. On defense, the Wolfpack are good, with the 3-point defense a strength.
Trips to the NCAA Tournament are happening a little less frequently for N.C. State, which is back in the Big Dance for the first time since 2018. The Wolfpack have gone 34-25 in their 27 NCAA Tournament appearances and have a couple of national championships.
How They Got Here
After dropping their last two regular season games, the Wolfpack was on the bubble. But an impressive win over Virginia Tech in the ACC Conference tournament likely wrapped up a tournament berth. The Wolfpack was thumped by Clemson in their next game.
N.C. State used a 4-1 ATS run down the stretch to post a 16-15-2 spread record for the season After a 5-2 ATS start, N.C. State had a 1-7 spread run and were playing catch-up the rest of the season.
How Far Will They Go
N.C. State is one of the all-time great Cinderella stories in NCAA Tournament history. But history isn't likely to repeat itself and the Wolfpack will likely be leaving after this game. Still, stranger things have happened in March.
Handicapping the Game
Creighton vs N.C. State is one of those games where neither team has much of an advantage on the offensive side. The Bluejays are a bit higher in the NCAA college basketball rankings but the offensive difference is small. It's on defense where Creighton has a decided edge.
The Wolfpack could take a few more 3-pointers than normal in this game. The Bluejays are much better defending the 2-point shot. If N.C. State can get a couple of long-range shots to fall early, this one could come down to the wire.
The Bluejays will likely look to take advantage of the Wolfpack's inside defense, which is a little below average. N.C. State defends the 3-pointer pretty well.
The Creighton vs N.C. State point spread of Blue Jays -5 doesn't offer a lot of value either way, while Creighton isn't a horrible wager on the moneyline.
The total may be a bit high in this one and the under 148.5 is probably a decent play to have in your March Madness picks. Both offenses are solid but both teams can also play. (Odds change frequently, be sure to check for the most up to date changes.)

Follow us on Twitter
---
Can't get enough? Here's more!