How To Build the Perfect March Madness Bracket by the Numbers?
What Does History Suggest for Constructing the Elusive Perfect Bracket?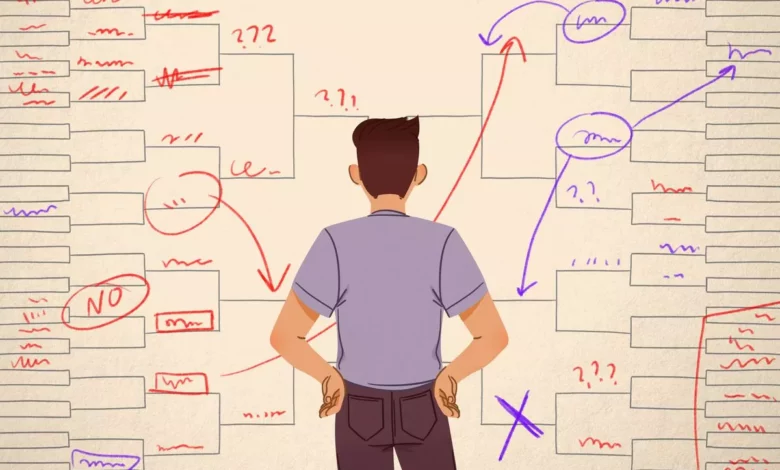 Filling the March Madness Bracket: We know the old saying that past results don't guarantee future results, but let's try to use historical data to give bettors a leg up in any March Madness bracket challenge whether you're in a small office pool or a national contest with millions of brackets. College Basketball future odds show the Houston Cougars as the odds-on favorite to win the national title (+700), followed by the Kansas Jayhawks (+800) and Alabama Crimson Tide (+1000).
The question is, how far do the favorites go on average and how often does the favorite actually win the championship? Let's start our March Madness bracket guide by examining a few popular trends and betting techniques.
When it Comes to March, Size Does Matter
Before we get into the meat of the numbers, you have to know what type of bracket contest you'll be in. More specifically, how many others are you competing against? If it's just a small office bracket contest it's best to handicap each game by picking which team you think is more likely to get the win. Sounds like you would always do that, but if you're in a pool contest with a massive amount of entries you need to pick upsets if the goal is to win.
You don't have to look any further than what happened last season when 15th seed St. Peters advanced to the Elite 8 with wins over 2nd seed Kentucky, 7th seed Murray State, and 3rd seed Purdue. They eventually lost to North Carolina (69-49) but along the way, the Peacocks ruined many a bracket. The win over Kentucky was the third-biggest upset in tournament history. In addition, 12th seed New Mexico State rolled over 5th seed UConn (70-63) and 11th see Notre Dame dismissed 6th seed Alabama (78-64).
Overall, there were 13 games where the lower seed beat the higher seed. In a small pool, these losses won't hurt because it's likely that everyone except the person picking games by jersey colors will be on the same games.
Building the Perfect Bracket-First Round
Filling the March Madness Bracket Continued: This is not where we should overthink much, but there are some historical numbers that should give you some pause when filling out your bracket.
First, send all your top seeds to the second round. Only once in tournament history has the 16th seed knocked off a number one when the UMBC Retrievers took down Virginia in 2018. 143-1 and one is not enough to make us think more than one second about sending the top seed on to the second round.
The 2 vs. 15 match-up doesn't require too much handicapping either with 135 of 144 two seeds advancing.
The 3 vs. 14 is where you might pause, even though the three seed has moved on 85% of the time. Why is this not an automatic play? Four of the last eight years have seen an upset and 19 of the last 36 years. That means you have a better than 50% chance that there will be an upset.
As we go through the rest of the ncaab match-ups it's clear that the higher seeds go through to the next round more than 60% of the time except when you get to the 8 vs 9 match-up where the nine seed owns the all-time series, 73-71. In many ways, this is where brackets are won or lost.
The public is much more divided than in previous match-ups, and if you get it wrong, chances are it will ruin your bracket for rounds to come because many will take these teams and use them as their Cinderella team to go deep in the tourney. As the percentage suggests, make sure to mix your 8 vs 9 selections.
Second Round
The numbers get a little tighter in this round but the 1-3 seeds still have a history of success with an overall record of 289-111 (72.25%). This is the round where we start to lose seeds six or higher. Over the last 523 games played, the lower seed has managed just 171 wins, or 33%.
That doesn't mean blindly sending the lower seeds through because there are some numbers that indicate that this is where you should look for more upsets. The 11th and 12th seeds are a combined 46-59 (44%) but still plenty of wins to consider at least one upset with either seed.
Sweet 16 Stage
This is the round where the top seeds have thrived, winning 81% of their games (100-23). It's likely you'll have at least two top seeds heading into the Sweet 16, so don't hesitate to pencil them into the 'Elite 8'. A few interesting notes about this round starting with the three seeds who have lost 38 of 75 games (51%).
Even worse, the fourth and 5th seeds are just 30-86 (26%). It hasn't happened much but when the eight and nine seeds find themselves in the Sweet 16, they ride the tide of their confidence with a combined record of 12-9 (57%).
Elite 8 Stage
The numbers that stick out the most at this point are the success of the fourth and fifth seeds who have made the Final Four 30 times, winning 20 of those games. There have been nine 11 seeds to make the 'Elite 8' and they've had tremendous success, winning five of their nine trips. Six and seven seeds are a combined 6-19. Let's head to the end of our March Madness Bracket Guide with a look at the final three games.
Final Four / Title Game
It's all chalk from this point on. The top seeds are 36-23 with two seeds just 13-17. This isn't the time to start getting cute because these last two rounds are when the cream rises to the top. Four seeds and lower are a combined 12-26 (32%). One nugget to chew on when filling out your bracket is the second seed at the Final Four is just 13-17 (43%). Top seeds in the championship game are 23-13 (59%). No team seeded with or higher has ever made the title game.
Quick Postseason Betting Angles
As we head into the conference tournaments it's important to give you a few numbers to conclude our March Madness Bracket Guide. These numbers include conference tournaments along with all postseason games (NCAA Tournament, NIT, CBI, etc).
Since 2017-18, the favorites are 756-740-25 (50.54%). Only 2019-20 produced a profit when favorites went 61-44 (58.10%). Favorites of -2 to -4 are 260-190 (.578) with a return of 10.9% since 17-18. Teams receiving 55% or more of the total wagers are 338-306 (.525) with a 1.1% ROI.
Just a few guidelines heading into the College basketball postseason. Thank you for joining us with "Filling the March Madness Bracket"; be sure to check back right here for the latest and most up-to-date NCAAB game odds.
Follow us on Twitter
---
Can't get enough? Here's more!