Ranking the Best March Madness Players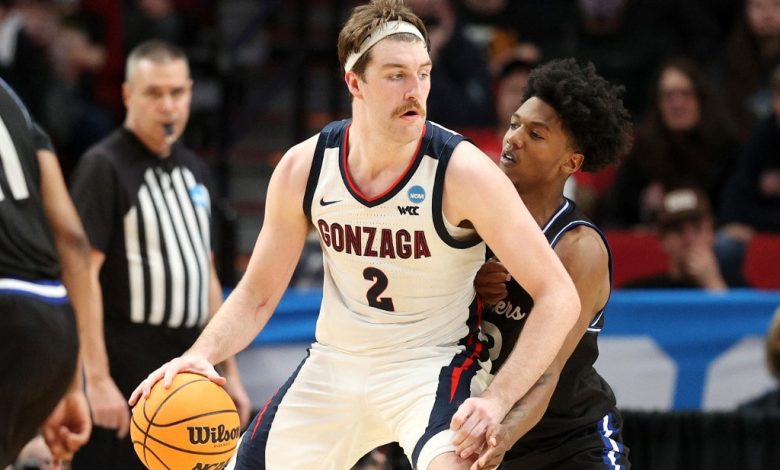 The opening weekend of March Madness saw the rise and fall of the most well-known teams and players in the entire bracket.
Saint Mary's leads a group of underdogs seeking an Elite Eight berth, while three number-one seeds not named Baylor still remain in contention.
Today, we put aside the institutions the players represent and rank the top contributors through the first couple of games; here are the top players still left dancing in March Madness.
March Madness players:
#1: Benedict Mathurin
Bennedict Mathurin is probably not going to be the first player to have his name called in next year's National Basketball Association draft, but he has had a greater impact than any other player in the tournament thus far. The Arizona Wildcats' leading man is averaging 24.5 points and 6.5 rebounds for one of the surviving number-one seeds and completely took over down the stretch against TCU. The sophomore guard nailed a game-tying three near the end of regulation before scoring a clutch and one and making the hustle plays in overtime that got AU into the Sweet 16.
#2: Drew Timme
The often-overshadowed Timme managed to steal the spotlight back from teammate and freshman sensation Chet Holmgren with outstanding performances in the tournament's opening weekend. Timme is averaging 28.5 points, 13.5 rebounds, and 3.0 assists and shot over 60% from the field in both of his matches. On a team full of talent and outstanding athleticism, Timme's usual old-school approach has kept them steady in their pursuit of a national title.
#3: Paolo Banchero
Banchero is the one with the greatest chance of going first in the summer's NBA draft; through two tournament games, he has averaged 18 points, 8.5 rebounds, 4.0 assists, 53.4% field goal shooting, and 44.4% from outside. Banchero can sometimes be shadowed by his talented teammates, but every time that Duke needs a bucket, he gets the ball and often delivers. His heroics near the end of the Michigan State game were the main reason Coach K stayed alive in his final season coaching.
#4: Mark Williams
Banchero's teammate, Mark Williams, has significantly raised his draft stock in just two postseason games. The 7-foot sophomore is averaging 15 points, 7.5 rebounds, 5.0 blocks, 72.2% FG, and 80% on free throws, which point to him being the next big man with a resounding interior presence and enough speed and touch to survive at the next level. If there was a Defensive Player of the Opening Weekend, Williams would win it unanimously.
#5: Kyler Edwards
The University of Houston guard has already made 10 of 20 threes through two games en route to a 20-point, 6.5-rebounds, 3.5-assist stat line. He is an intimidating defender for one of the nation's most resolute outfits, and one of the best shooters on a team with explosive capability; his next challenge will be outperforming Mathurin, our top-ranked player in the tournament thus far, in a Sweet 16 matchup.