Pac-12 Betting Matchups: Rivalry Games Abound as Regular Season Winds Down
Utah Holding Out Hope for UCLA Upset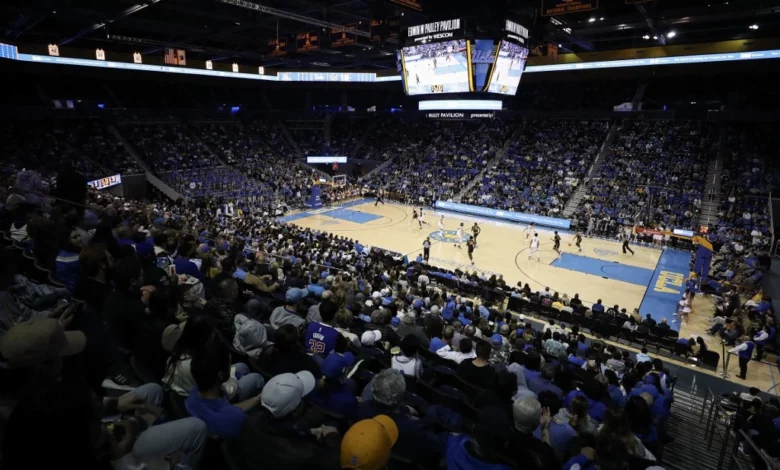 Arizona Looks to Stay in Contention for Pac-12 Championship
Get ready for some heated battles with the renewal of some rivalries in the Pac-12. Games between Oregon and Oregon State as well as an Arizona State-Arizona contest are among the Pac-12 betting matchups to keep an eye on.
UCLA has a tricky road game against Utah as the Bruins try to hold off Arizona atop the Pac-12 standings.
It's been a tough year in the Pac-12 with only two teams in the national polls. UCLA remained fourth in the Associated Press poll and moved up from fourth to third in the coaches' poll. Arizona went up one spot to No. 7 in both national rankings.
According to the college basketball playoff odds, UCLA (+1200) is fifth and Arizona (+1400) tied for sixth in the odds to win the national title.
Despite a mediocre 5-4 record in Quad 1 games, UCLA is fourth in the NCAA NET rankings. Arizona is 11th, in large part as a result of two Quad 2 losses. No. 49 Oregon is the only other Pac-12 team in the top 50.
Game of the Week
UCLA has won six games in a row since losing to rival USC. That streak could be tested when they hit the road to face Utah in a Pac-12 betting matchup worth keeping an eye on with the visiting Bruins favored by seven points.
Jaime Jaquez seems to be warming up for March Madness as he has scored at least 20 points in each of his last three games for UCLA (23-4, 14-2 in the Pac-12).
Utah (17-11, 10-7) is much more dangerous at home than on the road. Leading scorer Branden Carlson is averaging 18.8 points on 58.5% shooting, 8.1 rebounds and 2.7 blocked shots per game at home compared to 13 points on 42% shooting, 6.4 rebounds and 1.3 blocks in road games.
UCLA has won six in a row against Utah and covered in four of those games. When the teams met on Jan. 12, the Bruins outrebounded Utah 40-26.
UCLA gets a nationally televised audience when the Bruins' game at Colorado on Sunday airs on CBS. The Bruins are 6-1 in the last seven games in the series.
UCLA leads the Pac-12 with a 16-11 record against the NCAAB scores and odds.
Other Games to Watch
Washington comes into the game with one road win and will get to add to that number when facing the only conference team with a losing record at home. The Huskies are a seven-point favorite on the road.
Washington (15-13, 7-10) is coming off a sweep of Oregon and Oregon State. Freshman Keyon Menifield had 27 points and seven assists in the win over the Ducks.
After taking Arizona State to overtime, the Bears (3-24, 2-14) have lost to USC by 37 points and to UCLA by 35. A bright spot was Kuany Kuany who averaged 12.5 points in those two losses.
Washington heads to Palo Alto to face Stanford on Sunday.
Washington has won four in a row against Cal with four of the last six meetings finishing over the total. The Huskies have dropped five of the last seven games to Stanford.
Washington State takes a three-game winning streak into this match. The Cougars (13-15, 8-9) have been dialing long distance, going 31 of 77 from 3-point range in those games. DJ Rodman is 7 of 12 from 3-point range in his last two outings.
Stanford (11-16, 5-11) can be dangerous at home with Exhibit A being an 88-79 win over Arizona. However, the Cardinal have dropped both games since that win. Harrison Ingram is averaging 13 points, 8.3 rebound and 5 assists over the last four games so perhaps a triple-double will be in his future.
Each of the last three games in the series finished under the total. Washington State's road trip concludes with a game at Cal on Saturday.
Arizona looks to keep the pressure on first-place UCLA with a win over rival Arizona State. A nationally televised audience will see one of the more intriguing Pac-12 betting matchups.
The Arizona Wildcats have won six straight home games. Leading scorer Azuolas Tubelis is averaging 20 points per game and shooting 58% at home this season for Arizona (24-4, 13-4).
It is not a one-player squad as the college basketball team stats have Arizona seventh nationally in scoring offense.
Arizona State (19-9, 10-7) is coming off a win over Utah with Warren Washington leading the way with 18 points, nearly matching his total from the last three games combined.
The Sun Devils are one of three Pac-12 teams with winning records on the road.
Arizona has won five in a row against the Sun Devils after its 69-60 road win on Dec. 31 as a 5.5-point favorite.
Six of the last eight meetings between the Sun Devils and Wildcats finished under the total.
Utah will try to close the gap on third-place USC and give those who put together the March Madness bracket something to think about.
The Southern California Trojans (19-8, 11-5) put up 182 points in beating visiting Cal and Stanford. Boogie Ellis had 55 points and 10 3-pointers in the two wins. USC was 25 of 48 from 3-point range in those two wins.
Utah (17-11, 10-7) finished with just 23 baskets despite having 16 offensive rebounds the last time out against Arizona State. USC has won four straight games the Utes and covered in the last three.
Good luck trying to figure this Oregon team out. The Oregon Ducks cruised past USC and threw a scare into UCLA only to draw back-to-back games to Washington and Washington State.
Jermaine Couisnard, who didn't make his season debut until Jan. 5, is averaging 15.5 points over the last four games for Oregon (15-13, 9-8).
Freshman Jordan Pope is averaging 14.1 points over the last nine games with 20 3-pointers during that stretch for the Beavers (10-18, 4-13).
Oregon is just 3-6 on the road while nine of Oregon State's 10 wins have come at home.
Oregon has won four in a row against the Oregon State Beavers. Six of the last games between the rivals finished over the total.
Follow us on Twitter
---
Can't get enough? Here's more!