UCLA Bruins vs. UNC Asheville Bulldogs March Madness Betting Preview
The 15th Seeds Are 9-135 in Tournament History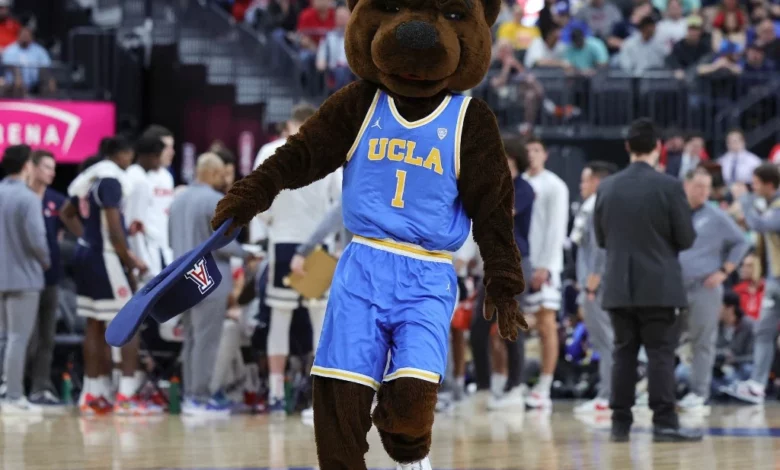 We start our UCLA Bruins vs UNC Asheville Bulldogs preview with a glance at the current odds for either team to win the March Madness tournament. The Wildcats are +1400 to win while the Bulldogs are +50000. Not exactly odds that will make us run to the book to bet the Bulldogs, but perhaps they're a decent wager getting 17.5 points after opening as a 19-point underdog. (Odds change frequently, be sure to check for the most up to date changes.)
Despite Loss to Arizona, Bruins Can Make Deep Run
UCLA went from #2 to #7 according to the last regular NCAAB season poll by the AP. That didn't stop the tournament committee from giving the Bruins a second seed and a date with the Bulldogs. The fall was strange considering the loss to the Wildcats was by two points (61-59) without the services of Jaylen Clark and Adem Bona.
Their regular season Pac-12 title was never in doubt. The Bruins are the most decorated College Basketball program in history with 11 National Titles, including seven straight from 1967-1973. This is the program's 52nd appearance in the tournament.
How the Bruins Got Here
UCLA won 12 of their last 13 games, with their only loss being in the Pac-12 Title game at T-Mobile Arena in Las Vegas, Nevada. They have covered four straight games with a push against Arizona. In their last eight games, UCLA has covered the number six times. UCLA was one win shy of winning 30 games (29-5). The Bruins just wrapped up their fourth straight season producing a profit for bettors with an 18-13-1 ATS record, adding to a four-year record of 70-54 ATS (56.45%) +$1025 for $100 bettors.
How Far Can UCLA Go?
The more we look at the bracket, it seems like a collision with the UConn Huskies is an Elite 8 probability. UCLA is 7th in points allowed (60.1PPG) partly because they allow opponents to shoot just under 41% That defense is going to give teams fits to start.
Bulldogs Look to Add to Magical 27-7 Season
The Big South Tournament and regular season champions have a tall task ahead of them but they lean on 6-11, Drew Pember, who won't show up in too many College Basketball player stats categories, but it's his defensive presence that will keep the Bruins honest. This is the Bulldogs' first tournament in seven years and fifth overall. They have never won a game in the round of 64, with their four-game experience coming from the play-in games.
How They Got Here
Asheville has won nine straight games including three straight to win the Big South. The competition may not be the same as UCLA but you can't argue that the Bulldogs are one of the hottest teams in College Basketball with wins in 24 of their last 29 games. Asheville lives well from beyond the arc after hitting just under 40% of their three-point attempts. If the Bulldogs are getting a major contribution from Pember and are hitting their typical from three, the Bulldogs can hang around in this one.
How Far Will UNC Asheville Go?
Unfortunately, it doesn't appear that the Bulldogs will get past the round of 64 for the fifth time in program history, but they have plenty of firepower to hang in.
Handicapping the Game
To conclude our UCLA Bruins vs UNC Asheville Bulldogs preview, let's jump into the betting numbers for each. The Bruins were 17-10 ATS as a favorite this past season and 10-6 ATS against teams playing .600 ball or better. The Bulldogs failed to cover two of their three-game in the Big South tournament but that's not a reflection of how good they've been against the number after covering four straight heading into the championship game against Campbell.
That concludes our UCLA Bruins vs UNC Asheville Bulldogs preview, we wish you the best with this year's tournament.
Follow us on Twitter
---
Can't get enough? Here's more!