2022 NCAAF: Multiple Coaching Moves Shake Up Odds, Landscape
Riley, Kelly, Cristobal Among High-Profile Departures in Offseason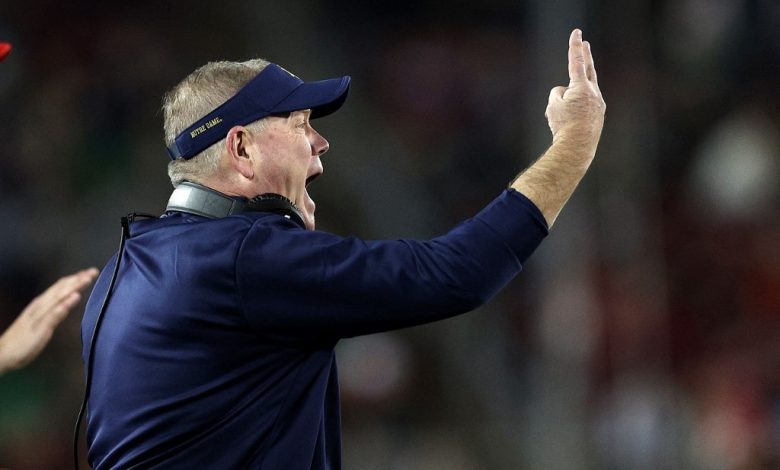 Coaching Carousel Keeps Going and Going
What an offseason this has been in the 2022 NCAAF world.
There has been plenty of movement in the transfer portal but the players aren't the only ones on the move. There have been 12 new head coaches hired in the Power-5 conferences and that doesn't even include Notre Dame's decision to replace Brian Kelly by staying in-house to hire Marcus Freeman.
Lincoln Riley moved to USC, Mario Cristobal returned to his alma mater to try to make Miami relevant on the national scene once against and high-profile coordinators landed sweet gigs. It certainly could shake up the 2022 NCAAF national landscape.
Here's a look at the new coaches in the power conferences, with the Big Ten the only one of the top college football conferences not to have a new head coach for the 2022 season. That's a story in itself considering all the buzz surrounding Michigan's Jim Harbaugh.
It should be noted that in the 247sports.com listing of the top recruiting classes in 2022, seven are by programs with new head coaches. LSU is third, Oregon sixth and USC is seventh while Notre Dame, Oklahoma, Miami and Florida come in at the Nos. 9-12 spots.
Atlantic Coast Conference
New coaches: Mike Elko, Duke; Mario Cristobal, Miami; Tony Elliott, Virginia; Brent Pry, Virginia Tech.
Cristobal certainly is the headliner here after going 35-12 over the last four seasons at Oregon. He won't have the Nike influence in recruiting, but if Miami can get back to keeping the top local products from leaving South Florida, the Hurricanes could return to being a national contender once again, especially with Clemson losing both of its coordinators. Will it happen during the 2022 NCAAF season? Time will tell.
Speaking of Clemson, Elliott was part of two national championship staffs with the Tigers. He has never been a head coach, but he knows something about defying the odds as he went from a walk-on to being named a team captain at Clemson. Elliott certainly is no stranger to recruiting in the ACC.
The jury is still out on the hires of Pry and Elko.
Pry spent the last eight seasons at Penn State, and other than a graduate assistant gig at Virginia Tech from 1995-97, he has no ties to the ACC. He still will have an easier time in his first head coaching job than Elko at Duke, which looks like one of the tougher places to win in the country.
Elko did spend three seasons on the Wake Forest staff so he is no stranger to how things work in the ACC, but he has plenty of work to be done.
Big 12
New coaches: Brent Venables, Oklahoma; Sonny Dykes, Texas Christian; Joey McGuire, Texas Tech
They say things are bigger in the state of Texas and, apparently, that carries over to the coaching carousel.
The three Texas schools playing in the Big 12 have made recent coaching changes.
It started when Steve Sarkisian took over at Texas in 2021 and had a tough first season with a 5-7 record. Texas Christian and Texas Tech both head into the 2022 NCAAF season with new head coaches.
Sonny Dykes went from Southern Methodist to TCU. His best season at SMU came in 2019. The 15-7 record over the last two seasons is fine, but whenever a coach sees his record drop from their second year to their third, it is only fair to question if bringing in his own players might have played a role in diminished results.
Dykes certainly know the Texas recruiting landscape, although there is a difference between bringing in players to compete in the American Athletic Conference and doing the same in the Big 12.
Texas Tech also landed a head coach with ties to the Lone Star State. McGuire played at UT Arlington, he spent 20 years coaching in Texas at the high school level and he was on the Baylor staff for the last five seasons. While he hasn't been a head coach at the college level, he did go 141-42 as a high school head coach.
Brent Venables was being touted as a coaching candidate in recent years thanks to his remarkable run as the defensive coordinator at Clemson. He jumped at the chance to return to Oklahoma, where he was spent 13 seasons as either the co-defensive coordinator or sole defensive play-caller. He'll be looking for a new quarterback as Caleb Williams followed Riley to USC and Spencer Rattler is at South Carolina.
Pac-12
New coaches: Dan Lanning, Oregon; Lincoln Riley, Southern California; Kalen DeBoer.
The big moves came when Lincoln Riley left Oklahoma for Southern California and Mario Cristobal left Oregon for Miami. That let it be known that things would be different during the 2022 NCAA football season.
Riley didn't leave Oklahoma empty-handed as quarterback Caleb Williams joined him in Los Angeles. Williams figures to be one of the top Heisman Trophy candidates.
With Riley's reputation as a recruiter, he could clean up in talent-rich California.
Dan Lanning, the architect of Georgia's dominant defense, was hired at Oregon.
Lanning certainly earned the opportunity to be a head coach but, other than two seasons at Arizona State that included one as a graduate assistant, he doesn't have much connection to the Pac-12. Time will tell if that hurts him on the recruiting trail.
Riley is an elite coach and his move was a shocker, to say the least. Riley will win at USC and figures to start winning this season. USC (+2800) already has better championship odds than Oklahoma (+3300).
The first thing that jumps out about DeBoer is his 79-9 record as a head coach. However, that came at Sioux Falls and Fresno State. The degree of difficulty will go up significantly as he takes over at Washington. He has a solid track record of coaching quarterbacks so let's see if he can get the Huskies' offense rolling.
It could be argued that there are four new coaches in the conference since Washington State removed the interim tag from Jake Dickert after he went 3-3 in the final six games of 2021.
SEC
New coaches: Billy Napier, Florida; Brian Kelly, Louisiana State.
Napier spent seven years on the staff at Clemson and five more coaching at Alabama, so it's hard to top that experience at two of the nation's top football programs. Napier went 40-12 at Louisiana Lafayette. The Tennessee native played quarterback at Furman and has Southern ties.
There's no reason why Florida can't have top-10 recruiting classes every year and that will be the goal for Napier.
It would be hard to find a more surprising coaching move than Kelly leaving the comfort of Notre Dame. Winning one or two key games a season is usually enough for the Fighting Irish to be in contention to make the College Football Playoff, but now Kelly will be butting heads with Alabama's Nick Saban, Georgia's Kirby Smart and the rest of the Southeastern Conference.
Kelly recruited nationally at Notre Dame but he needs to change things a bit. There is enough talent in Louisiana to build a championship roster but as an outsider, he will have some work to do. Notre Dame hasn't taken a step back with Freeman calling the shots, as the 2022 NCAAF odds list the Fighting Irish at +4500 to win the national title — not far behind LSU at +4000.