2023 Jordan Travis Stats: Can a 6th-Year Senior Lead FSU to The Playoff?
Travis Is Putting Together His Best All-Around College Season In Year 6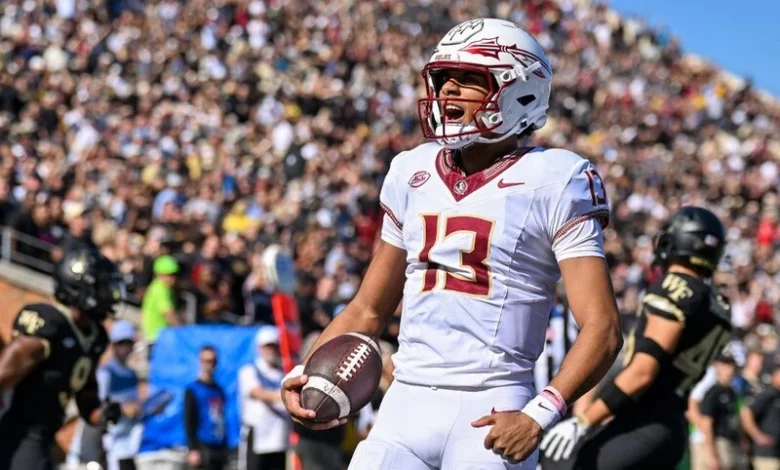 Jordan Travis
Current Team:
Florida State Seminoles
Age:
23 years old (05-02-2000)
Height:
6 ft 1 in / 1.85 m
Nationality:
West Palm Beach, Florida, USA
---
The Florida State Seminoles are looking to return to the National Championship Game for the first time since 2014.
The Seminoles won the 2014 BCS National Championship in a thriller against Auburn. They were led by Jameis Winston, who threw for 237 yards and two touchdowns. Winston's a backup in the NFL but is a notable name in the league.
This year, Florida State is buzzing again. This time, it's with Jordan Travis under center. Travis is a senior quarterback who has done some admirable things at Florida State throughout the years.
He's added about 8,000 yards passing and more than 60 passing touchdowns for the Seminoles since 2019. But he hasn't had a better college football season than this current year.
Travis has Florida State undefeated heading into Week 10. The Seminoles are the favorites to win the ACC and are in a position to make the College Football Playoff.
There's no margin for error. But for now, Jordan Travis is becoming a legend at Florida State. He's also a potential finalist in the Heisman Award college football betting lines.
Let's talk about the 2023 Jordan Travis stats below.
Travis Is A True Veteran
When you think of college athletes, you think about the ages of 18 to 22. Travis is 23 and certainly uses his age as an advantage this season.
He began his college career at Louisville in 2018. However, he decided to transfer the following season and went to Florida State. He didn't get much opportunity in 2019. However, in 2020 and 2021, he threw just a good amount of passing attempts.
However, he didn't break out as the starting quarterback for the Seminoles until 2022. He completed 64% of passes and threw for 3,214 yards with 24 passing touchdowns and five interceptions. Travis finished that season with a career-best 160.1 rating and came into the 2023 season as a legitimate Heisman candidate.
While he likely won't win the Heisman this season, Travis has accomplished something more substantial. Florida State is undefeated with Travis under center. That's the stat that means the most.
2023 Jordan Travis Stats & Player Profile
In 2023, Travis has completed nearly 65% of passes for 2,109 yards. He's also added 18 passing touchdowns and has thrown just two interceptions while holding a quarterback rating of 156.7. This season has indeed been an extension of last year's season.
While Travis isn't running as efficiently as last season, he's still added six rushing touchdowns while earning over 200 yards on the ground. He had just seven rushing touchdowns all of last year. So it's likely that he'll earn more rushing touchdowns this season. If Travis earns eight rushing touchdowns this season, that would be a career-best in college.
Jordan Travis Career Stats
This is Jordan Travis' sixth season as a college football quarterback. However, he only had 25 attempts in his first two seasons and didn't start for Louisville or Florida State in his first year with both teams.
That said, he's already earned over 8,000 yards passing and is 21 yards away from reaching 2,000 yards on the ground. If you combine his passing and rushing totals for his career, Travis has accounted for over 10,000 yards on the football field with Florida State.
He's also not done. The Seminoles have four more college football games on the regular season schedule. They'll also likely play in the ACC Championship and could eventually play two more games if Florida State makes the College Football Playoff Championship.
| Jordan Travis | CAREER Stats |
| --- | --- |
| COMP | 594 |
| ATT | 956 |
| COMP % | 62.1 |
| PASS YDS | 8,068 |
| PASS TDS | 64 |
| INT | 20 |
| CAR | 401 |
| RUSH YDS | 1,979 |
| RUSH TDS | 30 |
His stats this season have been a little better than his career stats. He's on pace for the most touchdowns scored in a season and has already earned over 2,100 yards passing. Travis is well on his way to having the best season of his college career.
Check out the 2023 Jordan Travis stats with Florida State this season.
| Jordan Travis | 2023 Stats |
| --- | --- |
| COMP | 164 |
| ATT | 253 |
| COMP % | 62.1 |
| PASS YDS | 2,109 |
| PASS TDS | 18 |
| INT | 2 |
| CAR | 57 |
| RUSH YDS | 205 |
| RUSH TDS | 6 |
Jordan Travis Player of the Week
Many analysts keep predicting Florida State's downfall. However, the Seminoles keep improving week-to-week.
Last Saturday, Travis went 22-for-35 against Wake Forest in a 41-16 win. He threw for a season-best 359 yards with two touchdowns, no interceptions, and just one sack. On top of that, Travis added seven carries for 29 yards to go along with another touchdown.
Travis accounted for four touchdowns against Wake Forest and has now accounted for at least two touchdowns in every game this season.
The Seminoles have Pittsburgh on the road next. That's a likely win. However, they still have Miami and Florida on the schedule before the regular season concludes.
The final two games on the Florida State schedule include North Alabama and Florida. Therefore, the Seminoles only have two more games on the ACC schedule, between Pittsburgh and Miami. If Florida State wins those two games, they'll be undefeated in ACC play and have a spot in the ACC Championship game, no matter what happens against North Alabama or Florida.
Can Travis Still Win The Heisman?
Jordan Travis is still in the hunt for the Heisman Award. It won't be easy to jump the leaderboard, but he's still in the college football betting lines, sitting at +800 to win the Heisman.
He's behind Michael Penix Jr. of Washington, J.J. McCarthy of Michigan, Jayden Daniels at LSU, and Bo Nix of Oregon. After those four, he's next on the list. However, these offenses have much better offensive production in their NCAAF team stats.
If Travis added more four-touchdown games, he'll continue to make progress. It would help the program if he were a top three or four nominee for the Heisman Award. It would be big publicity if he were a finalist.
But the reality is Florida State's got its eyes on the bigger picture. The university hasn't won a championship in about ten years. The Seminoles feel like they can win it all this year.
It all falls on the quarterback's shoulders. But the good news is that Travis is a 23-year-old college veteran who won't feel the pressure at any moment. He's already proved that multiple times this season.
For NCAAF betting news, NCAAF scores and odds, and more, visit Point Spreads Sports Magazine.
---
Can't get enough? Here's more!