ACC Conference Betting Odds: Clemson Projected to Return to Top of ACC
What Will ACC Finalists Pittsburgh and Wake Forest do for an Encore?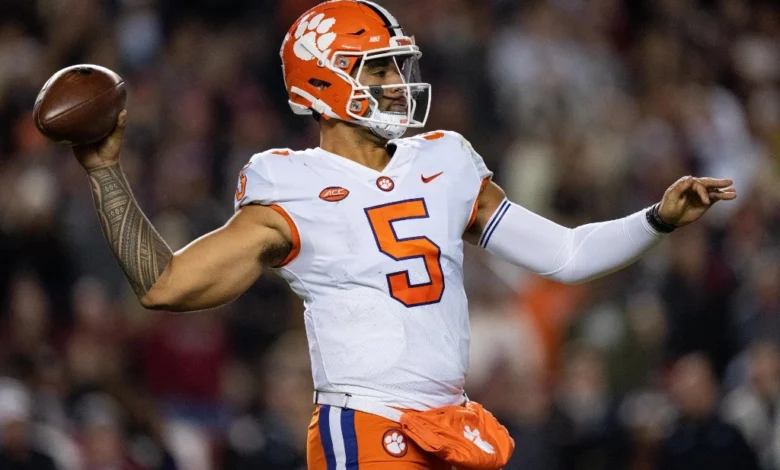 Clemson's Defense Expects to Flex its Muscles Once Again in 2022
Quick, a show of hands of everybody who predicted Pittsburgh to beat Wake Forest in the 2021 Atlantic Coast Conference title game? We didn't think so. Will things play out like the ACC Conference Betting Odds are predicting that they will? We will soon find out with the college football season starting this week.
Clemson not only didn't win the ACC title for the seventh year in a row, but the Tigers also didn't even reach the ACC title game despite having the best defense in the conference.
Although both the coordinators left to take the head coaching jobs, Clemson is favored to return to its familiar perch atop the ACC.
Miami, now led by former Oregon head coach Mario Cristobal, could be the top competition to Clemson. However, as the 2021 season proved, things don't always play out as expected.
When looking at the Week 1 college football 2022 schedule, one contest that stands out is the showdown between former conference rivals Pittsburgh and West Virginia.
As Pointspreads gets you ready for the start of the college football season, here is the preview for the Atlantic Coast Conference.
Clemson Tigers (-130 to win the conference)
The six-time defending ACC champions fell a game short of returning to the ACC title game in 2021. It is fairly clear that the absence is not expected to be a long-term one. Clemson currently has -130 odds to win the ACC title as they have moved slightly from -150 since early June according to the ACC Conference betting odds.
The Tigers had the best defense in the ACC a season ago and there are enough returning players for this to be a top unit once again. Having the highly touted Bryan Breese for more than four games should be a huge help. Good luck trying to block a defensive front that includes Breese, Myles Murphy, and Tyler Davis.
The key will be the offense. More is expected from quarterback D.J. Uiagalelei who had nine touchdown passes and 10 interceptions in 13 games as he did a season ago. Keep an eye on sophomore running back Will Shipley.
Miami Hurricanes (+500 to win the conference)
The emergence of quarterback Tyler Van Dyke following the injury to Heisman Trophy candidate D'Eriq King was one of the biggest surprises of the college football season.
Eleven of the 16 players to catch passes for Miami in 2021 were freshmen, so there will be plenty of familiar faces for Van Dyke to throw to. Offensive lineman Zion Nelson is showing up in 2023 mock drafts as a potential first-round pick.
Cristobal brought a pair of former Oregon offensive linemen Logan Sagapolu, and Jonathan Denis to Coral Gables as well as Ole Miss running back Henry Parrish, and Clemson receiver Frank Ladson.
Among the transfers added on the other side of the ball are former UCLA linebackers Caleb Johnson and Mitchell Agude, who combined for 99 tackles last season.
North Carolina State Wolfpack (+700 to win the conference)
Five freshmen and four sophomores were among the top 16 tacklers for North Carolina State in 2021 as the continued arrival of the solid recruiting class has the Wolfpack in contention in the ACC once again.
Replacing star offensive lineman Ikem Ekwonu will not be easy. Losing the top two rushers hurts as well. Quarterback Devin Leary completed 66% of his passes for 3,433 yards with 35 touchdowns and five interceptions as a sophomore.
The offense could be aided by the arrival of former Maryland receiver Darryl Jones.
Pittsburgh (+850 to win the conference)
Pittsburgh has seen its ACC Conference betting odds to win back-to-back conference titles move from +1200 to +850 in less than three months, despite losing veteran quarterback Kenny Pickett to the NFL and All-American receiver Jordan Addison to USC.
Former USC quarterback Kedon Slovis will be running the offense in 2022 and he could be throwing to Jerrod Means who averaged nearly 20 yards per reception a season ago for Louisiana Tech.
North Carolina (+1600 to win the conference)
Quarterback Sam Howell and running back Ty Chandler are in the NFL now so some new offensive playmakers will need to emerge. Josh Downs returns after catching 101 passes during the 2021 season.
Cornerback Storm Duck could become a first-round pick in the 2023 NFL Draft with a strong 2022 season.
Five of the top 11 tacklers a season ago were sophomores and that includes leading tackler Cedric Gray for North Carolina as the odds to win the ACC title have gone from +2200 to +1600 according to the college football betting odds.
Wake Forest Demon Deacons (+2000 to win the conference)
Keep an eye on the odds for Wake Forest as issues with blood clots have clouded the status of prolific quarterback Sam Hartman. Hartman had 4,228 passing yards, 39 touchdown passes, and just 14 interceptions to lead Wake Forest to the ACC title game.
Nine freshmen had at least 10 tackles last season so having them take that next step will be a key for the Demon Deacons.
Louisville Cardinals (+2800 to win the conference)
The odds for Louisville were at +5000 not too long ago, so this is a team to keep an eye on.
It is impossible to take your eyes off dynamic quarterback Malik Cunningham, who threw for 3,000 yards and ran for more than 1,000.
A transfer to keep an eye on could be receiver Tyler Hudson, who had 1,242 receiving yards and averaged 20 yards per catch at Central Arkansas a season ago.
Tennessee's third-leading rusher Tiyon Evans, former Ole Miss linebacker Momo Sanogo and Temple's second-leading tackler M.J. Griffin also join Louisville.
Florida State Seminoles (+3000 to win the conference)
Jammie Robinson did a little bit of everything for the Seminoles a season ago with 85 tackles, seven tackles for loss, four interceptions, and two forced fumbles. The Seminoles brought in UCF's leading tackler Tatum Bethune. Keep an eye on Colonial Athletic Association Defensive Rookie of the Year Jared Verse who transferred to FSU from Albany.
On offense, West Virginia's leading receiver Winston Wright is one of the additions through the transfer portal.
Eighteen of the top 22 tacklers a season ago were either freshmen or sophomores, so that should help.
Boston College Eagles (+4000 to win the conference)
Running back Pat Garwo was one of the surprises in the ACC in 2021. It will be worth monitoring the impact of tight end George Takacs from Notre Dame and receiver Dino Tomlin from Maryland.
Leading tackler Kam Arnold is back to lead the defense.
Virginia (+4000 to win the conference)
Former Clemson offensive coordinator Tony Elliott takes over at Virginia. Elliott had coached at Clemson since 2011 so he knows the ACC well. He has some work to do as the ACC title odds have gone from +2200 to +4000.
Quarterback Brennan Armstrong threw for nearly 4,500 yards during 2021. He threw for 31 touchdowns and ran for nine others. Top receivers Dontayvion Wicks and Keytaon Thompson are back to be on the receiving end of Armstrong's passes once again. There are some losses on defense for Virginia to deal with.
Virginia Tech (+5000 to win the conference)
Marshall's Grant Wells, who threw for more than 3,500 yards a season ago, is joined by Temple receiver Jadan Blue, Nebraska linebacker Pheldarius Payne and South Carolina quarterback Jason Brown.
The Hokies had 14 players transfer, including second-leading receiver Travion Robinson and starting quarterback Braxton Burmeister.
Virginia Tech has a deep pool of pass catchers to work with.
Georgia Tech (+12500 to win the conference)
Not only did Georgia Tech see leading rusher Jahmyr Gibbs transfer to Alabama but adding insult to injury, he is emerging as one of the top Heisman Trophy candidates among running backs.
Dylan McDuffie, a 1,000-yard rusher at Buffalo, will be joined by Akron's top passer Zach Gibson, Clemson reserve quarterback Taisun Phommachanh, former Syracuse tight end Luke Benson, and offensive lineman RJ Adams from Kentucky on a rebuilt offense.
Syracuse (+20000 to win the conference)
Sean Tucker had quite the 2021 season with 1,496 rushing yards. He was also the second-leading receiver in a passing attack that was the worst in the ACC.
Ten of the top 12 tacklers in 2021 were either freshmen or sophomores led by linebacker Mikel Jones.
Duke (+50000 to win the conference)
Duke's secondary should be improved with some incoming transfers. FCS All-American Darius Joiner (142 tackles for Western Illinois in 2021), former Iowa State cornerback Datrone Young, who had 31 tackles and an interception a season ago.
Top tackler Shaka Heyward is back to lead the defense in 2022.
Follow us on Twitter