Cade Klubnik Stats: Bright Future for Clemson's Strong-Armed Sophomore Quarterback
Dabo Brings Talent and Klubnik is No Exception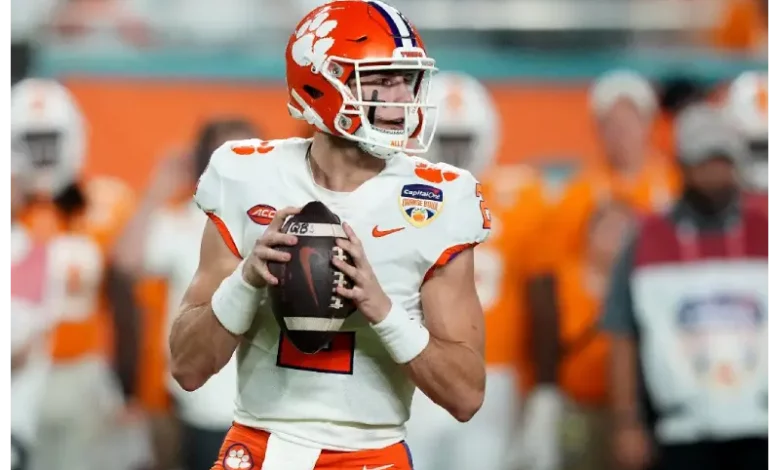 Klubnik, Heisman Contender Heading Into Sophomore Season
When the 2022 season began, there were a few eyes on talented freshman quarterback Cade Klubnik and just a little added pressure on Clemson's starting quarterback DJ Uiagalelei.
Klubnik got a mostly mop-up duty as Clemson opened the 2022 season with eight straight wins. That changed when Uiagalelei was 8 of 29 passing for 99 yards with one touchdown pass and one interception in a loss to South Carolina in the regular-season finale.
When looking at Cade Klubnik stats, he was 20-of-24 for 279 yards with a touchdown pass to go with a scoring run as Clemson rolled to a 39-10 win over North Carolina in the ACC title game.
Klubnik had another TD run in a bowl loss to Tennessee. He was just 30-of-54 for 320 yards and two interceptions.
When looking at the college football news, Uiagalelei is now at Oregon State and the offense is in the hands of Klubnik.
Klubnik is tied for ninth in the odds to win the Heisman Trophy.
What About Klubnik?
For those not too familiar with the 6-foot-2 native of Austin, Texas, here are some of the things to know.
When looking at some Cade Klubnik stats, he threw for more than 3,000 yards in each of his final two seasons at Westlake High School and had 78 touchdown passes compared to six interceptions. Klubnik also ran for 25 more TDs in 2020 and 2021.
According to the 247sports.com recruiting database, he was the No. 2 rated quarterfinal in the Class of 2020. ESPN had him ranked as the 29th-best player and top dual-threat quarterback.
He is not the only member of his family to play college football as his brother Reed holds the Yale single-season record with 1,143 receiving yards. He is second with 21 career TD catches (behind only former NFL tight end Eric Johnson).
Who's Joining Him?
Klubnik won't have to do it alone as leading rusher Will Shipley is back for the Tigers after rushing for 1,182 yards and adding 38 catches. Shipley is tied for second among running backs in the Heisman Trophy odds.
Antonio Williams, who led the Tigers with 56 receptions as a freshman, leads the list of receivers that Klubnik will be throwing to in 2023. Beaux Collins, who was tied for the team lead with five touchdown catches in 2022 and averaged 16.95 yards per catch, and tight end Briningstool also returns.
Cole Turner and Adam Randall are also back after combining for 18 catches as freshmen. All these returning pass catchers should help Clemson and make for some impressive Cade Klubnik stats.
Clemson also returns offensive linemen Mitchell Mayes, Blake Miller, Walker Parks, and Will Putnam, who started in the bowl game against Tennessee.
Carrying on the Westlake Quarterback Legacy
Klubnik should know something about trying to follow in the footsteps of some top passers.
Among those who played quarterback at Westlake High School is Drew Brees, one of two NFL quarterbacks with more than 80,000 career passing yards.
Current NFL quarterbacks Nick Foles (who like Brees is a former Super Bowl champion) and Sam Ehlinger are other Westlake alums as is Justin Tucker, who may go down as the best kicker in NFL history.
Tough Competition
Klubnik is far from the only Atlantic Coast Conference quarterback drawing Heisman hype.
Florida State's Jordan Travis comes in at +900 in the odds to win the Heisman Trophy and that trails only USC's Caleb Williams, the reigning Heisman Trophy winner. North Carolina's Drake Maye is tied for seventh at +1600.
Three of the top four players in the ACC in passing yards per game during the 2022 season are coming back. The only reason the top four players aren't all returning is that former Wake Forest QB Sam Hartman transferred to Notre Dame.
A Look At the Schedule
Clemson kicks off the season against Duke on Sept. 4 with the Tigers currently listed as a 12-point favorite before stepping out of the conference to meet Charleston Southern and Florida Atlantic.
The degree of difficulty increases in the NCAA football schedule with a Sept. 23 home game against a Florida State team that many think they can dethrone Clemson as ACC champion. Clemson and Florida State are currently tied at +175 in the odds to win the ACC championship. The Tigers and Seminoles are tied for seventh with a price of +1800 to win the national title.
Back-to-back road games in October against Miami and North Carolina State will not be easy. That is followed by a home game against Notre Dame.
Follow us on Twitter
---
Can't get enough? Here's more!