Can Dillon Johnson Sustain Success Rushing The Football With Washington?
Dillon Johnson 2023 Stats Exploded After 26-Carry, 256-Yard Performance Against USC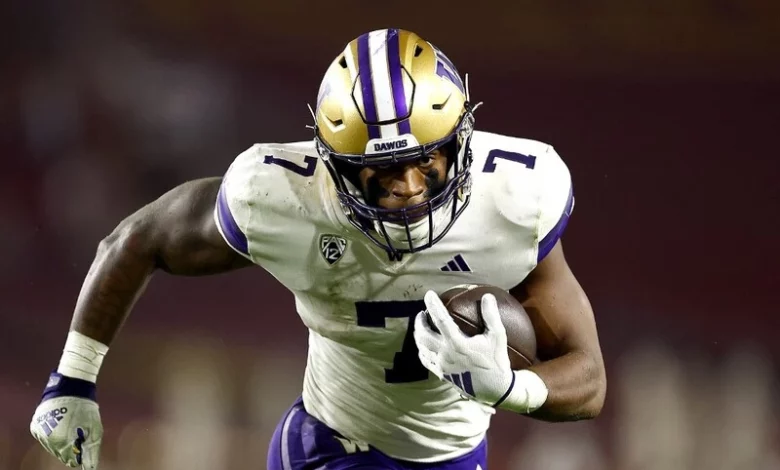 Dillon Johnson
Full Name:
Dillon Alexander Johnson-Norris
Current Team:
Washington Huskies
---
Although Michael Penix Jr. is the Heisman favorite, if you watched last week's game between Washington and USC, you would've come to different conclusions.
Penix Jr. was terrific, adding 256 yards with two touchdowns and one interception in a 52-42 win. But it was Dillon Johnson who shined bright in the game.
Johnson rushed for a career-best 256 yards on 26 carries. He also added four rushing touchdowns and averaged 9.8 yards per carry.
This was only Johnson's second game with 100 or more yards this season. But he didn't just run for around 100. He didn't even double 100. He earned 2.5 times 100 to add 256 yards on the ground.
Some believe this will be the junior's breakout game. Others believe Johnson will still be a solid running back but nothing more.
Let's take a look at what we can expect with Johnson moving forward on this undefeated Washington Huskies squad.
Check out the Dillon Johnson 2023 Stats along with his career stats at Washington.
Where Does Johnson Rank Among College Football Running Backs?
Most casual college football fans never heard of Dillon Johnson until the weekend.
That's fair.
Johnson has had three games this season with just eight or fewer carries. But when Washington saw Johnson's production against USC, the Huskies couldn't help but give Johnson the ball more frequently. And it worked.
So now the question remains if the Huskies will run more often moving forward.
The answer is probably no.
Washington has the best quarterback in college football in Michael Penix Jr. He's currently the front-runner for the Heisman Award and has three receivers who will ultimately make the NFL as high draft picks when the time comes.
With those receivers, Penix Jr. has thrown for over 3,200 yards. So Washington is still looking to air the ball out as much as possible. It's just that the Huskies found a weakness in the USC defense last weekend and went with it. Washington took what the USC defense gave them.
Not every team will allow Washington to run all over them. The Huskies have Utah on the schedule this weekend, and those Utes have been projected as one of the best defenses in the Pac-12 conference.
After Utah, Washington will take on Oregon State, regarded as the best defense last year. The Beavers are still one of the best Pac-12 defenses this year, too.
The Huskies won't have as much success rushing the football. Either way, Johnson won't forget this game against USC after touching the ball 28 times to earn over 265 yards in total offense.
Dillon Johnson 2023 Stats & Profile
Johnson began his career in 2020 with Mississippi State, where he rushed 51 times for 225 yards. He averaged 4.4 yards per carry as a freshman and added four touchdowns.
By 2021, he saw 89 carries for 485 yards and averaged 5.4 yards per carry for the Bulldogs. He also nearly replicated those stats in 2022.
But in 2023, with two years of eligibility left, Johnson decided to transfer to Washington to be the No. 1 running back for the Huskies.
It's paid off so far. Johnson has rushed for a career-high 686 yards with 113 carries. He's also earned ten touchdowns when the most he's ever earned in a previous season was four.
| Dillon Johnson | CAREER Stats |
| --- | --- |
| CAR | 342 |
| YDS | 1,884 |
| AVG | 5.5 |
| RUSH TD | 21 |
| REC | 164 |
| REC YDS | 971 |
| REC AVG | 5.9 |
| REC TD | 1 |
| LONG | 53 |
While Johnson hasn't been used in the passing game as much as he was in Mississippi State, he's been able to earn more carries and be effective more on the ground.
| Dillon Johnson | 2023 Stats |
| --- | --- |
| CAR | 113 |
| YDS | 686 |
| AVG | 6.1 |
| RUSH TD | 10 |
| REC | 15 |
| REC YDS | 107 |
| REC AVG | 7.1 |
| REC TD | 0 |
| LONG | 53 |
Dillon Johnson 2023 Stats & Player of the Week Honors
Dillon Johnson was ranked as the second-best running back via PFF in Week 10 with a 91.4 grade.
After that performance, he launched NIL merchandise and remained humble after his massive game against USC on the road.
On Twitter, Johnson gave a shoutout to his offensive line. He acknowledged that nothing would be possible without them.
He also posted pictures with his family about how he was blessed to be in his position.
While his production hasn't been as consistent as the passing game, Johnson's big game will at least keep other defenses honest throughout the rest of the season.
By getting the run game going, the passing game behind Penix Jr. can even be better than it has been. And that's a scary sight.
Washington's NCAAF Championship Odds
Washington has won 16 straight games dating back to last season. They're 9-0 this season and on their way to a potential College Football Playoff berth. The Huskies will likely be favorites in most college football spreads to finish out the season.
The Huskies need to win out the rest of the way despite their difficult NCAAF matchups in November. They're sitting at No. 5 in the CFP rankings, but one spot will eventually open up when Ohio State and Michigan face each other in a few weeks.
Penix Jr. and Johnson have performed at a high level, giving college football one of the best offenses in the nation. Let's see if Johnson and the Huskies can continue this magic to finish the regular season.
For NCAAF betting news, odds analysis, and more, visit Point Spreads Sports Magazine.
---
Can't get enough? Here's more!