College Football Betting: A Look at the Top NCAAF PAC-12 Transfers
USC Put Together the Top-Rated Class of Transfers in the Country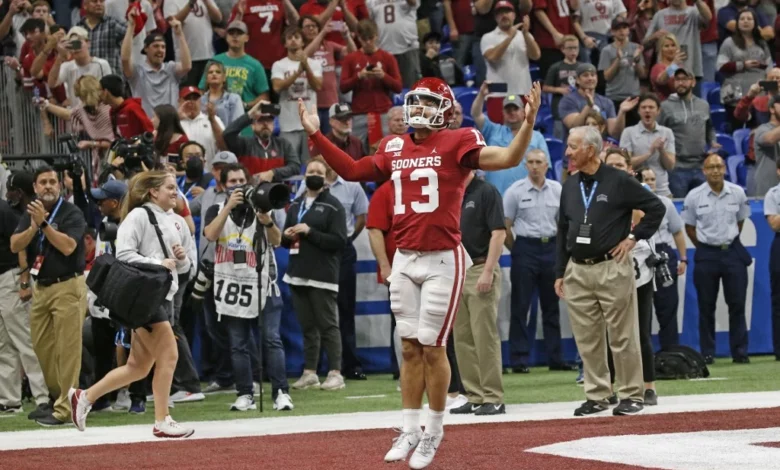 Caleb Williams Ready to Add to USC's Quarterback Tradition
While it doesn't happen often, Baker Mayfield and Joe Burrow are recent Heisman Trophy winners who earned college football's top individual honor after beginning their collegiate careers at a different schools. Who are the top NCAAF Pac-12 transfers? Let's take a look.
Time will tell if former Oklahoma quarterback Caleb Williams follows that path. This much is known, he is the top-rated transfer not only in the Pac-12 but in all of NCAAF. It doesn't hurt that two elite receivers and a 1,000-yard rusher also transferred into Southern California to give the Trojans the top class of incoming transfers. If Williams were to win the Heisman, he would join Matt Leinart and Carson Palmer as USC quarterbacks to join that select group.
Three of the top 10 transfers in the Pac-12 didn't have to go far as they stayed in the conference.
Here's a look at the top Pac-12 transfers and it is a pretty impressive list.
Caleb Williams, QB (Oklahoma to Southern California)
Williams took over for Heisman Trophy candidate Spencer Rattler at Oklahoma in 2021 and completed 73% of his passes in his first four starts and 14 touchdowns and one interception he also ran for three touchdowns. Not long after head coach Lincoln Riley left Oklahoma for USC, Williams took the same route.
Williams only trails Ohio State quarterback C.J. Stroud and last year's winner Bryce Young of Alabama in the odds to win the Heisman Trophy. It is no wonder that he leads the list of NCAA football and Pac-12 transfers.
Jordan Addison, WR (Pittsburgh to Southern California)
The reigning Biletnikoff Award winner as the top receiver in the country, Addison finished his sophomore season at Pittsburgh with 1593 yards on 100 catches. He had four TD catches against Virginia. His eight 100-yard games included 126 yards in the ACC title game and 114 against Michigan State in the Peach Bowl.
It shouldn't take the dynamic Addison long to become one of the best PAC 12 players.
Mario Williams, WR (Oklahoma to Southern California)
One of five Oklahoma players with more than 30 catches a season ago, the Florida native joined his head coach and quarterback at USC. The Pac-12 got a peek at what Williams can do when he had two catches for three yards in a bowl win against Oregon.
Cameron Ward, QB (Incarnate Word to Washington State)
When Jayden de Laura decided to transfer out of Washington State, the Cougars came up with a pretty good Plan B at quarterback.
Ward passed for 4648 yards with 47 touchdowns and only 10 interceptions at Incarnate Ward. In 10 career games at Incarnate Word, Ward had 71 TD passes and 14 interceptions. He should feel pretty comfortable considering that his former head coach at UIW is Eric Morris, who happens to be the new offensive coordinator at Washington State.
While many of the top NCAA Pac-12 transfers came from Power-5 conferences, it will be interesting to see how Ward fares as he takes a step up in competition level.
Eric Gentry LB (Arizona State to Southern California)
The highest rated of the players to transfer within the Pac-12, the 6-foot-6 Philadelphia native had 45 tackles with five tackles for loss as a freshman at Arizona State. Ironically, one of the two games that he appeared in but did not record a tackle came in a win over USC. Gentry had 20 tackles over his last three contests. He is part of a group of transfers that will have USC on top of the NCAAF Pac-12 rankings and perhaps even help the Trojans make a run at the NCAA football national championship.
Jacob Cowing WR (UTEP to Arizona)
Cowing led UTEP in receiving yards in each of the last three seasons. He averaged 18.5 yards per catch during that time. Only former Alabama star Jameson Williams had more catches of at least 50 yards than Cowing during the 2021 season. He ended up with 1367 yards on 69 receptions last season.
Travis Dye, RB (Oregon to Southern California)
Dye finished second in the Pac-12 with 1271 rushing yards and 16 rushing touchdowns. He tied for the Pac-12 lead with 12 runs of at least 20 yards and now he joins a star-studded group of skill position players at USC.
Jackson Sirmon, LB (Washington to California)
It wasn't only offensive stars who headed from one Pac-12 program to another. Sirmon was Washington's leading tackler with 92 stops as a sophomore and now he moves on to play at California. It has been quite the journey for the Tennessee native who spent four years in Washington.
Mohamoud Diabate, LB (Florida to Utah)
There aren't many SEC to Pac-12 transfers, but Utah is more than happy to welcome Diabate to the conference.
After being primarily a pass rusher as a freshman, Diabate had 157 tackles over the last two seasons. He was second on the Gators with 89 stops in 12 games in 2021.
Mar'Keise Irving, RB (Minnesota to Oregon)
Irving was one of the running backs who saw his role increase after Minnesota's top back Mohamed Ibrahim was limited to one game a season ago. He ran for 699 yards and also had eight catches and eight kickoff returns.
With Dye leaving Oregon to play for rival USC, there will be an opportunity for Irving to shine.
Best Of the Rest
Former Colorado safety Christian Gonzalez (78 tackles, 10 pass breakups in 18 career games) stayed in the Pac-12 with his transfer to Oregon. The Buffaloes also saw receiver Brenden Rice transfer to USC. Rice was second in the Pac-12 in yards per kickoff return and he also caught 21 passes.
Former Miami defensive lineman Nesta Jade Silvera (105 career tackles) is now at Arizona State.
There is another member of Oklahoma to USC caravan with defensive back Latrell McCutchin following Riley to Los Angeles.
Edge rusher Xavier Carlton is another of the Pac-12 to Pac-12 transfers as he goes from Utah to Cal.
Former New Mexico running back Aaron Dumas (658 rushing yards) is headed off to Washington.
Hawaii's leading tackler Darius Muasau (109 tackles, 14 tackles for loss, and seven sacks) transferred to UCLA.
On the Way Out
A pair of USC quarterbacks exited the stage right with Williams coming to town. Jaxson Dart is now at Ole Miss with Kedon Slovis heading off to Pittsburgh.
Tight end Michael Trigg left USC and will join Dart at Ole Miss. Ex-USC receiver Bru McCoy is now at Tennessee.
Former UCLA cornerback Jay Shaw (27 tackles and three interceptions in 2021) will suit up at Wisconsin in 2022.
Running back Trey Benson moves from Oregon to Florida State while defensive lineman Jermayne Lole is transferring from Arizona State to Louisville.
Arizona State saw cornerback Tommi Hill land at Nebraska and former starting quarterback Jayden Daniels moved across the country to play for new coach Brian Kelly at LSU. Cal offensive lineman McKade Mettauer is headed to Oklahoma.
We have given you a look at the top NCAAF Pac-12 transfers. Stay tuned for more news from the Pac-12 and around the Power 5 Conferences. College football is just around the corner.
Follow us on Twitter