College Football: Crowded Field Vying for CUSA Regular Season Title
Just Four, Conference USA Teams Projected to Become Bowl Eligible in 2022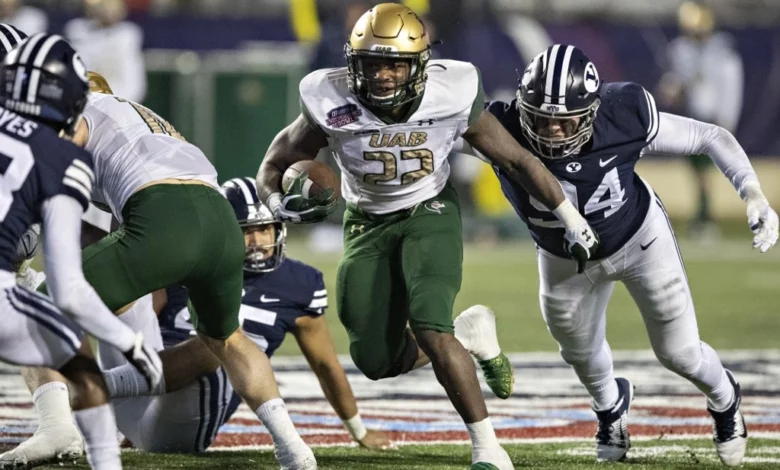 UAB, UTSA, and Western Kentucky lead Conference USA contenders
The Conference USA race is expected to be a battle between Texas San Antonio and Alabama Birmingham as both teams are tied with +200 odds to win the conference title. Western Kentucky is the next closest competitor at +475. It should make a compelling CUSA regular season.
Although Western Kentucky might be trailing UTSA in the conference odds, the pecking order is a little different when it comes to the expected regular-season win totals.
Only four teams have expected win totals that would make them NCAAF bowl eligible so it could be a bit of a struggle for teams to extend their season past the regularly scheduled games. With that in mind, where do the chips fall for a CUSA regular season?
With the college football season CUSA fast approaching, the landscape in Conference USA has changed with the departures of Marshall, Old Dominion, and Southern Mississippi to the Sun Belt. Week 1 games will include UTEP playing Oklahoma, UTSA meeting Houston and Rice meeting Southern California.
Here is a breakdown of the Conference USA regular season race based on the expected win totals.
Alabama Birmingham Blazers (+200 to win the Conference USA title)
UAB is also looked at by the college football odds as likely to come in under the 8.5 projected win total with the odds at -140. The Blazers are one of two teams viewed to have the best chance to have the best regular-season record in Conference USA.
The running game looks to be in good shape thanks to the return of DeWayne McBride (1371 rushing yards) and Jermaine Brown (631 rushing yards as well as 23 catches) while offensive linemen Sidney Wells, Will Rykard, and Matthew Trehern are also back.
On defense, linebacker Noah Wilder (a team-high 93 tackles), cornerback Starling Thomas (41 tackles, two interceptions eight pass breakups) and safety Grayson Cash are among the players to watch.
Western Kentucky Hilltoppers (+475 to win the Conference USA title)
Even with the departure of the quarterback, who led the nation with 5,967 passing yards, top receivers Jerreth Sterns and Michael Tinsley, and top rusher Noah Whittington transferring to Oregon, the expected win total remains at 8.5 with the odds at -155 for the Hilltoppers to go under that number.
Quarterback Jarret Doege comes in from West Virginia. Receivers Malachi Corley and Daewood Davis will take on even larger roles. They will hope to lead Western Kentucky to the CUSA regular season title. Replacing DeAngelo Malone (26.5 sacks over the last three seasons) will be no easy task. Cornerback Kahlef Hailassie is among the returning players on defense.
Texas-San Antonio Roadrunners (+200 to win the Conference USA title)
The expected regular-season win total has moved from 8.5 to 8 in the last month. The odds at -130 for the Roadrunners to go over that total compared to even money to finish under, so that is something for those who bet on NCAAF odds to keep an eye on.
The defense will be aided by the return of safety Rashad Wisdom (team-high 88 tackles). Linebackers Jamal Ligon and Trevor Harmanson return after combining for 120 tackles.
Quarterback Frank Harris is back after completing 66% of his passes for 3,161 yards and 27 touchdowns to go with 561 rushing yards. Receiver Zakhari Franklin is also coming back after leading UTSA with 81 catches and 1027 yards as is Joshua Cephus (71 catches, 819 yards).
North Texas Mean Green (+1600 to win the Conference USA title)
The expected win total has held steady at 6.5 for North Texas. The Moneyline is set at -105 to go over that total and -125 to finish with no more than six wins.
Linebacker KD Davis is back after leading Conference USA with 121 tackles while cornerback Deshawn Gaddie will be a key contributor in the secondary once again. Offensive lineman Manase Mose is ready for his fifth season as a starter.
The Conference USA championship odds have fallen from +1200 to +1600 for the Mean Green.
Florida Atlantic Owls (+900 to win the Conference USA title)
The expected regular-season win total has moved from six to 5.5 in the last month with the odds now at -160 for FAU to finish with at least six wins.
FAU is just a couple of years removed from an 11-win season. The Owls won't hit that mark in 2022, but they could finish in the top half of the Conference USA standings.
Defensive lineman Evan Anderson and safety Teja Young will lead the defense while Nick Weber should be one of the top offensive linemen in the conference.
Middle Tennessee Blue Raiders (+1400 to win the Conference USA title)
Middle Tennessee is another team coming in at 5.5 in the expected win total department. The odds aren't much different for the Blue Raiders to go over (-105) or under (-155) that total.
Defensive lineman Jordan Ferguson (nine sacks, 16.5 tackles for loss) and cornerback Teldrick Ross (12 pass breakups) are defensive players to watch. Quarterback Chase Cunningham is back after throwing 16 touchdown passes with just three interceptions a season ago.
Charlotte 49ers (+2800 to win the Conference USA title)
Charlotte is coming off a 5-7 season as the 49ers dropped five of their final six games. They gave up an average of 46 points in those five defeats. The expected win total is at 4.5 for Charlotte right now with similar odds for the 49ers to go over (-105) or under (-125) that number.
Defensive lineman Markees Watts (61 tackles, six sacks) will lead the defense, but there were heavy graduation losses.
Quarterback Chris Reynolds (2684 passing yards, 26 touchdowns), running back Shadrick Byrd (583 yards), receivers Grant DuBose (62 catches, 892 yards) and Victor Tucker (51 receptions, 639 yards) gives the 49ers plenty of talent at the skill positions.
The conference title odds have dipped from +2200 to +2800.
UTEP Miners (+1800 to win the Conference USA title)
The defense could be much improved with linebackers Breon Hayward (108 tackles) and Tyrice Knight (102 tackles) joined by defensive linemen Praise Amaewhule (13 tackles for loss, 5.5 sacks) and Keenan Stewart all coming back. Will that be enough for the Miners to strike gold by surpassing the expected win total of 5.5? The Moneyline is set at -130 for that to happen.
Running back Ronald Awatt (854 yards) and offensive lineman Elijah Klein will lead the offense.
The odds to win the conference title have improved from +2200 to +1800.
Louisiana Tech Bulldogs (+3000 to win the Conference USA title)
Louisiana Tech is another of the Conference USA programs with an expected win total of 4.5 with the Moneyline at -115 for the Bulldogs to go over or under that mark.
Linebacker Tyler Grubbs (97 tackles, 10 tackles for loss), safety BeeJay Williamson (54 tackles, three interceptions), and defensive lineman Deshon Hall are among the returnees on defense. Smoke Harris not only led Louisiana Tech with 71 catches but was also the top punt returner.
Rice Owls (+10000 to win the Conference USA title)
The odds for the Owls to go under 3.5 wins have only moved slightly from -135 to -140 over the last month. The odds for Rice to be a surprise conference champion have tumbled from +8000 to +10000.
Expect more than 569 yards from running back Ari Broussard while defensive lineman Ikenna Enechukwu (4.5 sacks) and De'Braylon Carroll both return while linebacker Josh Pearcy and defensive back Gabe Taylor should have larger roles as sophomores after the loss of the top three tacklers.
Florida International Golden Panthers (+12500 to win the Conference USA title)
The betting odds for FIU to top the expected win total of 3 have gone from -140 to -120 in the last few weeks.
Receiver Tyrese Chambers had quite the first impression with 1074 yards on 45 catches last season while tight end Rivaldo Fairweather should be busier after making 16 catches as a freshman.
Leading tackler Richard Dames is among the departures on defense. Lineman Davon Strickland (53 tackles, three sacks) is a key returnee on defense.
Follow us on Twitter