College Football – Independent Teams' Odds: A look at the FBS
Notre Dame, BYU Leading Way Among FBS Independents In 2022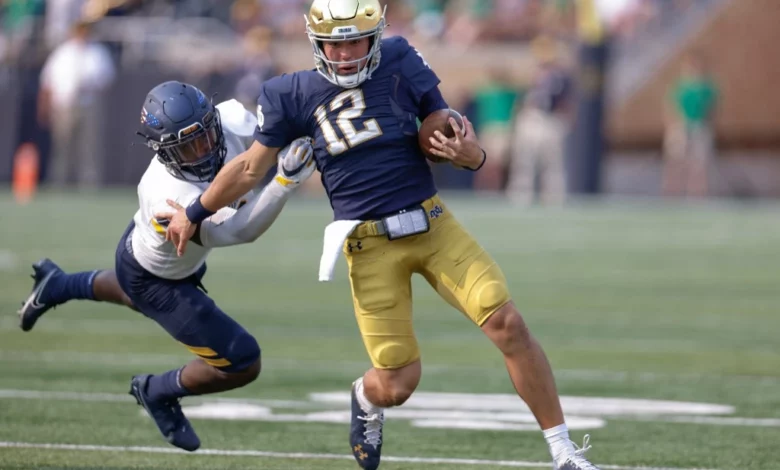 Can New Coach Push Notre Dame Over the Hump in the Postseason?
The landscape for the independent teams' odds at the Football Bowl Subdivision level will be altered again when Brigham Young heads into the Big 12 Conference in 2023. Power-5 Conferences continue to try to entice Notre Dame to become a full-fledged member. Until that happens, they have the best championship odds among the FBS teams not affiliated with a conference.
The Fighting Irish is in the Atlantic Coast Conference for most sports except NCAAF, although four ACC teams are on Notre Dame's 2022 schedule including a huge showdown with Clemson in early November.
After Notre Dame and BYU, things drop off quite a bit when it comes to the championship odds. New Mexico State, UConn, and UMass all have expected win totals of three or lower. When looking at the 2021 College Football standings, those three teams were 4-32,  including a 2-19 mark against the FBS competition. The wins came against each other with UMass beating UConn and New Mexico State defeating UMass.
Here's a look at the unaffiliated teams heading into the 2022 season.
Notre Dame Fighting Irish (+4000 odds to win the national championship)
Notre Dame didn't look very far for a new head coach when Brian Kelly made the stunning move to go from Notre Dame to LSU. Marcus Freeman was a highly respected member of Kelly's staff and he was promoted to the head coach position.
Michael Mayer is one of the top tight ends in the country. The question is who will be throwing him the ball. Tyler Buchner and Drew Pyne will compete for the starting quarterback job.
The offensive line is led by center Jarrett Patterson and left tackle Joe Alt. There is talent at running back and wide receiver, but not a lot of production among the returning players.
Linebacker and leading tackler JD Bertrand, and defensive end Isaiah Foskey who is showing up as a potential first-round pick in the 2023 NFL Draft, will lead a defense that needs to improve after allowing 5.3 yards per play last season.
Could it be another 10-win season for Notre Dame? The expected win total is set at 9.5 so it is a realistic possibility.
Notre Dame covered against the spread in each of its last seven regular-season games in 2021.
Brigham Young Cougars (+35000 odds to win the national championship)
Perhaps the biggest news at BYU came when the top-rated offensive lineman in the transfer portal landed in Provo. Kingsley Suamataia comes in from Oregon and will immediately improve the BYU line. He is one reason why BYU has an expected win total of 8.5 and the second-best champion odds among the NCAAF independent teams programs.
The top nine tacklers all return led by Ben Bywater, who led BYU with 102 tackles. Malik Moore as
Moore and Jakor Robinson, tied for the team lead with three interceptions.
Jaren Hall returns after throwing for 2583 yards with 20 touchdowns and only five interceptions in 10 games a season ago. He is also the top returning rusher with 307 yards after Tyler Allgeier headed off to the NFL.
The top two receivers also return. Puka Nacua had 43 catches for 805 yards and six touchdowns while Gunner Romney added 594 yards on 34 receptions.
Christopher Brooks, who led Cal with 607 rushing yards in 2021 after running for 914 yards during the 2019 season, could line up in the backfield with former Stanford fullback Houston Heimuli.
Cornerback Gabe Jeudy-Lally comes in from Vanderbilt after recording 64 tackles and intercepting two passes over the 2020 and 2021 seasons.
Four of BYU's last five games in 2021 went over the total. That included a wild 66-49 win against Virginia.
Army Black Knights (+50000 odds to win the national championship)
Look for Tyhier Tyler to become the new quarterback following the graduation of Christian Anderson. Tyler was fourth on the 2021 Army team with 486 rushing yards. Tyrell Robinson and Jakobi Buchanan are the top returning running backs. Isaiah Alston is the top receiving option when Army does throw the ball.
Andre Carter returns to lead the defense after recording 18.5 tackles for loss and 15.5 sacks. The secondary should be in good shape thanks to the return of safety Marquel Broughton and cornerback Jabari Moore.
When looking at the , Army comes into the season with an expected win total of eight and that is the third-best mark among independent teams' odds not in a conference.
Liberty Flames (+50000 odds to win the national championship)
It won't be easy to replace quarterback Malik Willis, one of the first QBs taken in the 2022 NFL Draft. Transfer Charlie Brewer could be the start for the Flames. Another transfer, Caleb Snead, figures to become a top receiving target along with Demario Douglas (52 catches, 701 yards) and CJ Daniels (629 yards on 37 receptions).
Liberty added multiple potential offensive line starters via the transfer portal.
The defense suffered heavy losses. Safety Javon Scruggs is back after recording 61 tackles, but much of the front seven will need to be replaced.
New Mexico State Aggies (+50000 odds to win the national championship)
Jerry Kill comes in as the new head coach for a New Mexico State team that was 0-7 on the road last season and outscored 423-184 in its 10 losses.
Second-leading rusher O'Maury Samuels should have a larger role with leading rusher Juwaun Price now at Syracuse. Starting quarterback Jonah Johnson also transferred. The top three receivers are also gone.
New Mexico State won't have the services of leading tackler Caleb Mills but linebackers Chris Ojoh (72 tackles, 16 tackles for loss, six sacks), Trevor Brohard (71 tackles in nine games) and Nick Giacolone (54 tackles) are all back.
New Mexico State is coming off a 2-10 season and has a projected win total of three this season.
UConn Huskies (+50000 odds to win the national championship)
The arrival of former NFL head coach Jim Mora Jr. has breathed some life into a program in need of some positive vibes.
Quarterbacks Steven Krajewski and Jack Zergiotis are among the players to transfer out. Penn State transfer Ta'Quan Roberson joins Tyler Phommachanh as options at quarterback. Running back Nathan Carter could be primed for a huge season. Eight of the top nine receivers in 2021 were either freshmen or sophomores, so there are plenty of options for whoever is the quarterback.
Linebacker Jackson Mitchell (120 tackles) will be a leader of a defense that lost defensive tackle Travis Jones to the NFL.
While UConn struggled to win on the field a season ago, the Huskies did cover in six of the last nine games.
UMass Minutemen (+75000 odds to win the national championship)
Ellis Merriweather is back after rushing for 1138 yards last season. The quarterback spot is up for grabs. Seven freshmen and six sophomores caught passes in 2021 so there is plenty of experience among the pass catchers led by Rico Arnold, who had team-high marks of 27 catches and 461 yards.
Don Brown returns for his second stint at the helm of the UMass program. He is a well-represented defensive coach and he'll have his work cut out for him as only five teams allowed more yards per game than UMass in 2021. UMass gave up 43.1 points per game, the most among independent teams' odds.
Leading tackler Gerrell Johnson joins Da'Shon Rice, Billy Wooden, and Josh Wallace as top returnees on defense.
Follow us on Twitter