College Football Player Of the Week: Frank Harris Football Stats
Veteran UTSA Quarterback Frank Harris Is Coming Off His Best Passing Game of the 2023 Season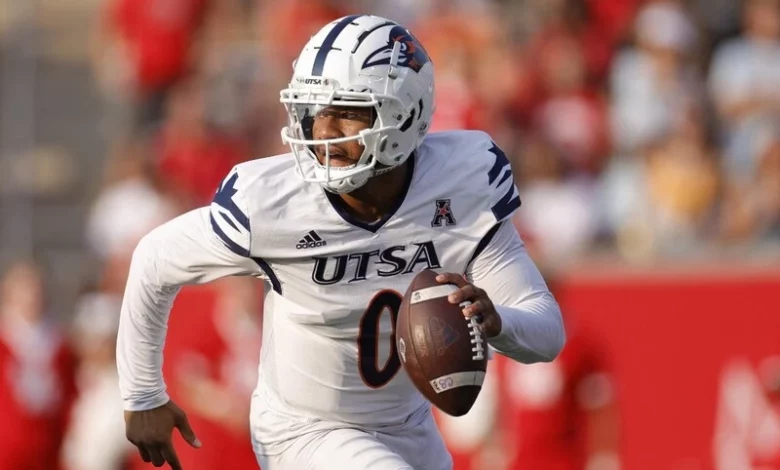 Frank Harris
Current Team:
Texas San Antonio Roadrunners
Age:
24 years old (03-27-1999)
Nationality:
San Antonio, Texas, USA
---
Harris, UTSA In the Running for a Spot in the American Athletic Conference title game
After throwing for 4063 yards and 32 touchdowns for the Texas San Antonio Roadrunners, it has been a much quieter season to date for the veteran quarterback when looking at the Frank Harris football stats.
Harris showed he can still air it out as he completed 20-of-32 passers for a season-high 395 yards with four touchdown passes and one interception in a 41-27 win over East Carolina to earn college football player of the week honors.
When looking at the Frank Harris football stats, he has thrown for more than 300 yards 12 times in his five seasons at UTSA.
Harris has led UTSA to four straight wins after a 1-3 start. The Roadrunners are 36-11 when Harris throws 10 times in a game.
UTSA joins Tulane and SMU as teams still perfect in conference play as the American Athletic Conference title race heats up.
Here's a look at the prolific run for Harris since he arrived at UTSA.
More is Better
Since Harris arrived in San Antonio, the Roadrunners have thrived when they have let him cut it loose.
UTSA is 11-1 when Harris throws for at least 300 yards, and that includes a 2-0 record this season.
Harris missed two games this season, and he has been playing catchup ever since. It didn't help that his favorite receiver from the 2022 season (Zakhari Franklin) transferred to Ole Miss.
A quick look at the college football injury news shows that DeCorian Clark, who had 51 catches a season ago, and tight end Dan Dishman are both out indefinitely, as are offensive linemen Makai Hart and Ayomikun Daniel Ogundipe.
He ran for 609 yards and nine touchdowns last season. He hasn't run as frequently so far this season.
Joshua Cephus returned for the Roadrunners, and he leads UTSA with 56 catches and 681 receiving yards. Tykee Ogle-Kellogg, in his sixth season at UTSA, has added 434 yards on 24 catches.
How He Got Here
Harris was rated as the 107th best player in the state of Texas in the Class of 2017, according to the 247sports.com recruiting database. Baylor and Georgia Tech were among the NCAAF teams to offer Harris a scholarship out of Samuel Clemens High School before he committed to the Roadrunners in 2016.
After a redshirt season, he threw for 208 yards and three touchdowns in the 2018 NCAAF season opener in his UTSA debut.
Eye On the Prize
In the final two seasons that Texas San Antonio played in Conference USA, the Roadrunners won the Conference USA championship game. Harris passed for 341 yards with four touchdown passes and no interceptions in a 48-27 win over North Texas in the 2022 title game.
In 2021, Harris was 19-of-28 for 218 yards with two TD passes in a 49-41 win over Western Kentucky. Western Kentucky was the last team to win back-to-back Conference USA championship games.
With the departures of Cincinnati, Houston and UCF to the Big 12, UTSA joined Charlotte, Florida Atlantic, North Texas, Rice and UAB in a new-look American Athletic Conference.
The combined record of the next three opponents are 11-13 before ending the regular season against Tulane in what could decide a spot in the AAC title game. UTSA and SMU don't face each other during the regular season.
Tulane, SMU and UTSA had the best odds to win the American Athletic Conference title coming into the season.
A Look At the Numbers
When it comes time to make NCAAF predictions, remember that UTSA is just 3-5 against the college football betting lines this season. The Roadrunners have covered in just one of four home games while going 2-2 against the spread away from home.
The Roadrunners are 3-4-1 against the total, with a 2-2 mark at home and a 1-2-1 record away from home.
What's Next?
Next up for UTSA is a college football matchup with a familiar foe as the Roadrunners meet up with North Texas. They have played every season since 2013 and met twice in 2022, including the Conference USA title game.
UTSA has won the last two meetings. North Texas took four of the previous five matchups. The NCAAF scores and odds have visiting UTSA as a 7.5-point favorite.
When looking at the Frank Harris football stats, Harris has completed 85 of 114 passes for 782 yards with eight touchdowns and rushed for 328 yards to go with three more scores in his career against North Texas.
Seven of the last nine meetings finished under the total. The total is set at 71 for Saturday's matchup, and only the Washington-Southern California matchup has a higher total among Week 10 games featuring Football Bowl Subdivision teams. It will be the third straight time that the total is 70 or higher heading into a UTSA-North Texas showdown.
For NCAAF betting news, college football spread, and more, visit Point Spreads Sports Magazine.
---
Can't get enough? Here's more!