Drake Maye Stats Projections: Is The Best Yet to Come for North Carolina Quarterback?
How Much Will Drake Maye Miss Leading Receiver Josh Downs In 2023?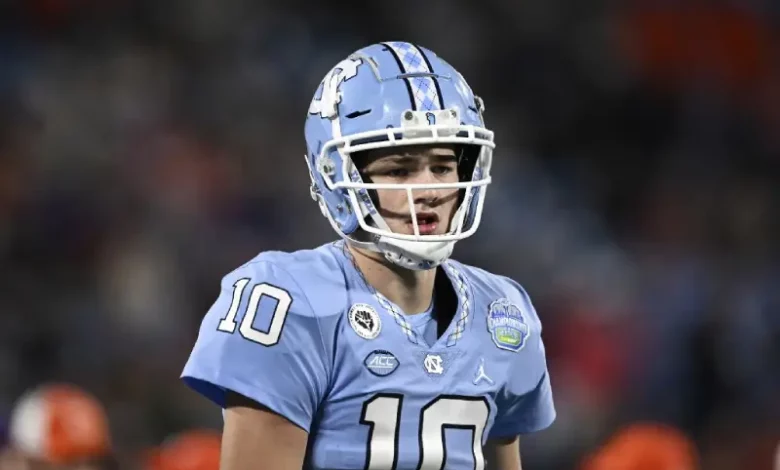 North Carolina's Maye Is Just One of the Talented Passers in the ACC in 2023
There were more than a few questions about how the North Carolina offense would look during the 2022 season with Sam Howell off to the NFL.
With sophomore QB Drake Maye having 19 touchdown passes and one interception through the first five games, the answers came pretty quickly.
By season's end, Maye had thrown for 4,321 yards while completing 66% of his passes to go with 38 touchdown passes as the Tar Heels played in the ACC title game for the first time since 2015. When looking at Drake Maye stats, can he top those numbers in 2023?
There will be plenty of eyes on the strong-armed Maye heading into the 2023 season, likely his last in Chapel Hill with the NFL scouts more than happy to welcome Maye to professional football.
When looking at NCAAF player stats, he was fourth among Football Bowl Subdivision players in passing yards, tied for fifth in touchdown passes, and was the only player to top 5,000 yards in total offense.
Exceeding All the Expectations
The group of quarterbacks in the Class of 2021 was a quite impressive group.
The injury is still out on Quinn Ewers, the No. 1 player in his recruiting class. He is expected to begin the 2023 season as the starting quarterback at Texas. His numbers in 2022 were nothing to get too excited about as Ewers completed 58% of his passes for 2,177 yards with 15 touchdown passes and six interceptions. Now he has the much-ballyhooed Arch Manning joining him in the quarterback room with the Longhorns so any early struggles could make for an interesting decision at Texas.
There is no such lack of production issues for the second-rated QB in that recruiting class as Caleb Williams followed up a brilliant freshman season at Oklahoma by winning the Heisman Trophy in his first season at Southern California.
The only other quarterback ranked ahead of Maye was Sam Huard. After throwing just 44 passes in two seasons at Washington, he transferred to Cal Poly where Sheldon Cross, his former coach at Kennedy Catholic High School, is the offensive coordinator.
Huard's father Damon Huard and uncle Brock Huard were former quarterbacks at Washington.
Maye knows all about having a former quarterback as a father as his dad Mark threw for nearly 3,500 yards at North Carolina in the 1980s. When looking at Drake Maye stats, he topped his father's college passing yardage numbers in the 2022 season alone.
Checking Out the Supporting Cast
North Carolina will need to replace leading receiver Josh Downs, who is coming off a season with 94 catches, 1,029 receiving yards, and 11 touchdowns. Antoine Green, who had 798 yards on 43 catches, is also gone.
Tight ends Bryson Nesbit and Kamari Morales and receiver J.J. Jones are all back while five freshmen had catches a season ago so there will be plenty of familiarity when Maye drops back to pass.
Devontez Walker, who had 58 catches for 921 yards during the 2022 season at Kent State, and former Georgia Tech receiver Nate McCollum (60 catches, 665 yards) have transferred in.
Elijah Green, who led all North Carolina running backs with 558 rushing yards a season ago, is also returning, as are offensive linemen William Barnes, Corey Gaynor, Ed Montilus, and Spencer Rolland so there is plenty of talent for Maye to work with.
One thing that North Carolina coaches would likely prefer to change would be for somebody else other than Maye to be the team's leading rusher in 2023.
Lofty Expectations
While Drake Maye stats were eye-opening during the 2022 season, they aren't the only numbers to consider. Maye is tied for seventh in the current Heisman Trophy odds as he is priced at +1600. He might be a little undervalued considering that he finished 10th in the voting for the 2022 Heisman Trophy and six of the players who finished ahead of him were selected in the 2023 NFL Draft.
The only player from the ACC ahead of Maye in the Heisman odds is Florida State quarterback Jordan Travis as he is second at +900 only to USC's Williams in the current Heisman Trophy odds. North Carolina and Florida State aren't scheduled to play each other in 2023.
Speaking of the draft, only Williams (-550) has better odds to be the No. 1 overall pick in the 2024 NFL Draft than Maye, who comes in at +400.
If the 2022 season proved nothing else, it demonstrated that Mack Brown and his staff are just fine with Maye airing things out in the pass-happy ACC.
A Look At the Schedule
The Tar Heels aren't easing their way into the 2023 season as they face South Carolina in a neutral-site game in Charlotte.
South Carolina finished fifth in the SEC in passing yards allowed. The last time the Gamecocks faced North Carolina came in the 2021 Duke's Mayo Bowl and the Tar Heels finished with just 201 passing yards. Maye got into that game late with his only passing attempt falling incomplete in a 38-21 loss. He added 24 yards on two carries.
There is a Week 3 home game against Minnesota before conference play begins on Sept. 23 at Pittsburgh.
Miami comes to Chapel Hill as does North Carolina State while there could be plenty on the line when the Tar Heels head to Clemson for a Nov. 18 matchup.
North Carolina (+650) trails only co-favorites Clemson and Florida State in the odds to win the ACC championship.
North Carolina has +10000 odds to win the national title and that is currently tied for 19th nationally.
Keep it tuned right here this upcoming season for all NCAAF scores, stats, and highlights.
Follow us on Twitter
---
Can't get enough? Here's more!